Ever Wonder Why Kangaroos Have Major Muscles? Here's How Kangaroos Get so Buff
Why are kangaroos so buff? The huge muscles of many kangaroos might amaze you. Here are some reasons why kangaroos can look like bodybuilders.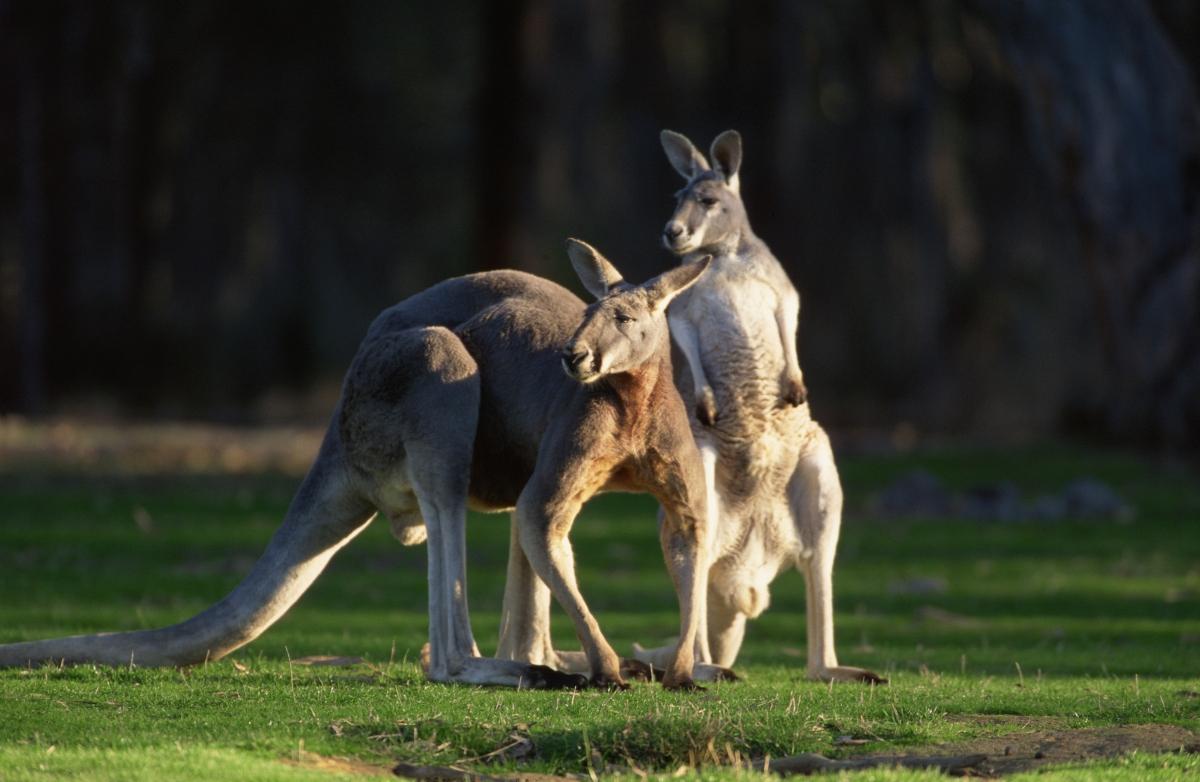 In the animal kingdom, we sometimes come across bizarre or unusual creatures. Traits that make perfect sense for an animal to thrive in their habitat may seem unorthodox to humans observing them. For example, kangaroos can grow to enormous sizes and astound onlookers with their huge muscles. Why are kangaroos so buff and strong-looking?
Article continues below advertisement
Here's a look at how kangaroos can build up so much muscle that they look like human bodybuilders. It comes down to natural processes and habits in their daily lives, for the most part.
Hopping builds insanely strong muscles in kangaroos.
Kangaroos use their legs with large stretchy tendons to hop long distances around their native Australian terrain. As DiscoverWildlife.com notes, kangaroos can hop at a rate of about 25 kilometers per hour, enabling them to cover great distances in short lengths. All that hopping can build up serious leg muscles.
Article continues below advertisement
Kangaroos build strength through fighting.
Certain kangaroos can become so "buff" because of their penchant for fighting one another. As A-Z Animals notes, male kangaroos have boxing matches regularly, which can be quite brutal. Males push, punch, and scratch each other in often-bloody battles, but another outcome of these fights is that they gain a lot of muscular strength and mass.
According to LuckyKangaroos.com, kangaroos also fight by balancing on their tails, which enables them to use their strong legs to kick at their opponent's abdomen. Kangaroo fights can happen to earn the right to mate with females, but other reasons are for battling enemies or securing their place in the hierarchy of kangaroos. Their kick can pack 759 pounds of force, according to Popular Science.
Article continues below advertisement
Kangaroos also establish dominance through fighting.
The kangaroos known for their muscular physique are typically males, and red kangaroos are most likely to have extreme muscles, per A-Z Animals. The importance of dominance is a key reason these male kangaroos get ripped. Female kangaroos tend to be most attracted to muscular males, and the biggest and strongest males get all the glory (i.e., the right to mate with females).
Genetics are part of why kangaroos are so buff.
Kangaroos, especially red kangaroos, are somewhat genetically predisposed to be muscular. According to the National Institutes of Health, about half of their skeletal body mass consists of muscle. This lends a natural element of "buff-ness" to the marsupials' physique.
Article continues below advertisement
Roger was a well-known buff kangaroo.
At The Kangaroo Sanctuary, an organization founded in Australia, a tiny joey named Roger grew up to be one of the most famous large-muscled kangaroos in the world, per NPR. Roger was the alpha male of his community for years and reached a height of 6 feet, 7 inches while weighing almost 200 pounds.