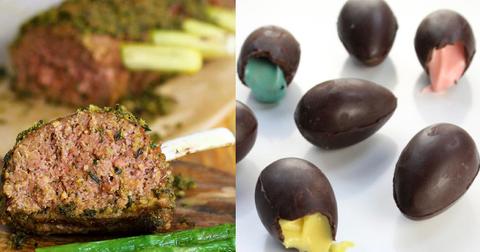 Vegan Easter Recipes for an Eco-Friendly Easter Sunday
By Sophie Hirsh

Updated
The Easter Bunny will be joining a lot of Zoom calls this year.
Due to the COVID-19 pandemic and social distancing measures in place all around the world, Easter celebrations at churches, family homes, and even the White House have been canceled. But just because you'll be socially distancing doesn't mean celebrations are off the table — in fact, the smaller crowd may actually help you plan a low-impact Easter Sunday.
If you live with children, instead of buying single-use Easter decorations is, encourage them to make DIY Easter decorations out of upcycled materials laying around the house. If you're holding an Easter egg hunt in your house or backyard, a great way to lower the impact of the hunt is to invest in wooden Easter eggs that can be reused year after year, rather than using plastic eggs or hard-boiled chicken eggs. And speaking of chicken eggs…
You can lower the impact of your Easter meal by cooking vegan recipes.
Vegan meals always have a lower environmental impact than meals centered around animal products. A University of Oxford study found that going vegan is one of the most positive lifestyle changes we can make to protect the Earth. That makes sense, considering the high emissions, water, and grain involved in the animal agriculture industry — for example, to produce one pound of meat, 16 pounds of grain are required. Not only that, but eating vegan also helps reduce harm to animals and to human health.
Here are 10 easy vegan Easter recipes.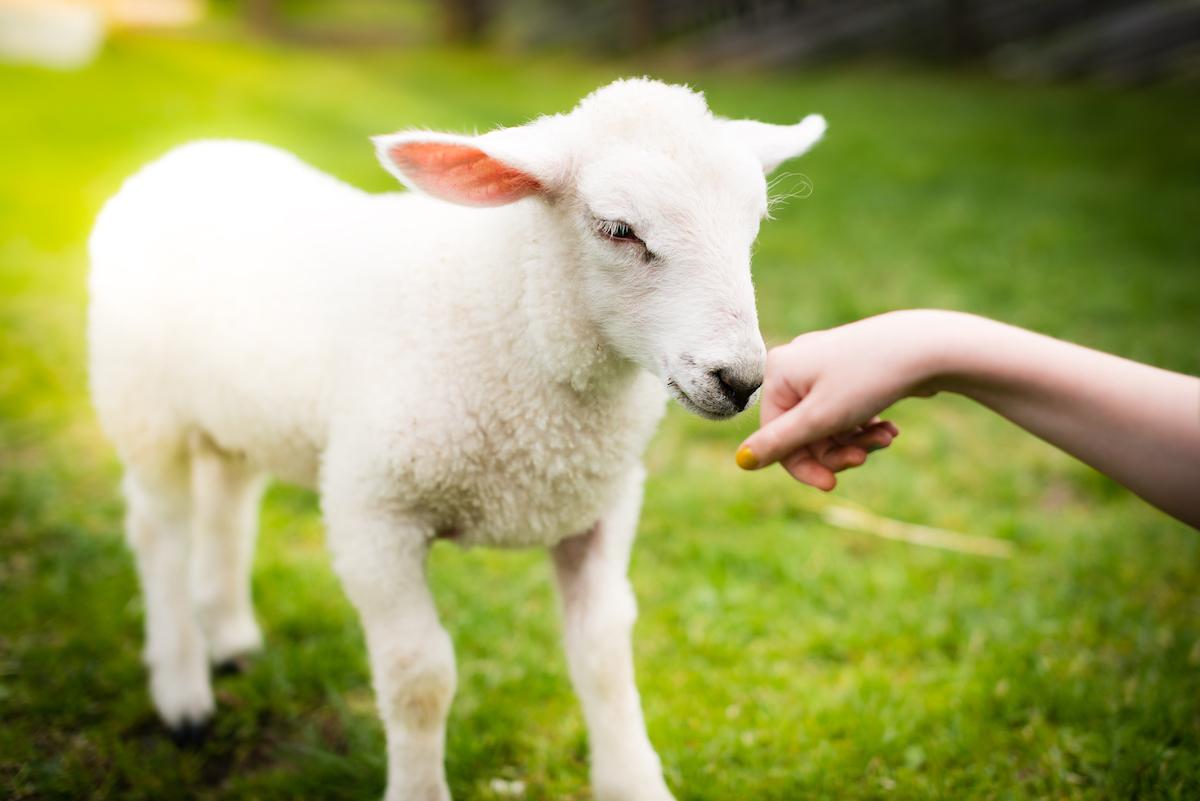 No need to eat an adorable lamb this Easter. Read on for 10 easy vegan recipes perfect for the holiday — most of which use simple ingredients that you may already have stocked up for your coronavirus quarantine.
Vegan Rack of Lamb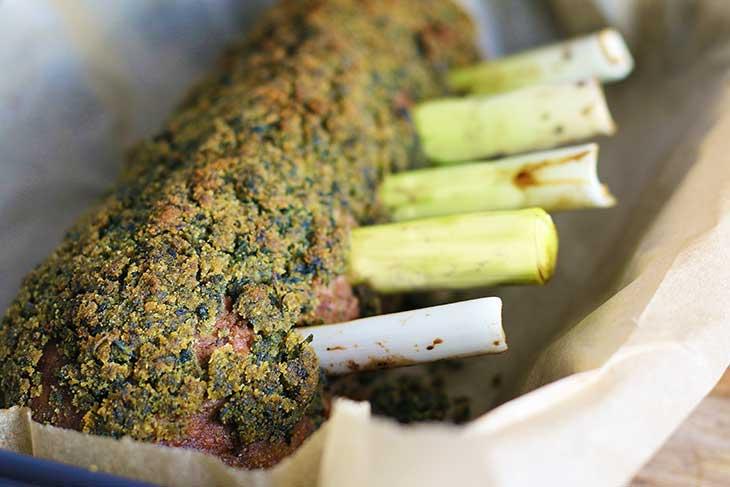 According to the USDA, most lambs are slaughtered when they are between 6 and 8 months old. Even though eating lamb is a tradition on Easter for many, you can enjoy Easter just as much (if not more!) when you replace the baby on your plate with a vegan alternative, such as this recipe for a Vegan Rack of Lamb by the blog Gourmandelle. The recipe uses the white parts of leeks or scallions to create cruelty-free bones, and is sure to impress (even over video chat).
Ultimate Vegan Lentil Walnut Loaf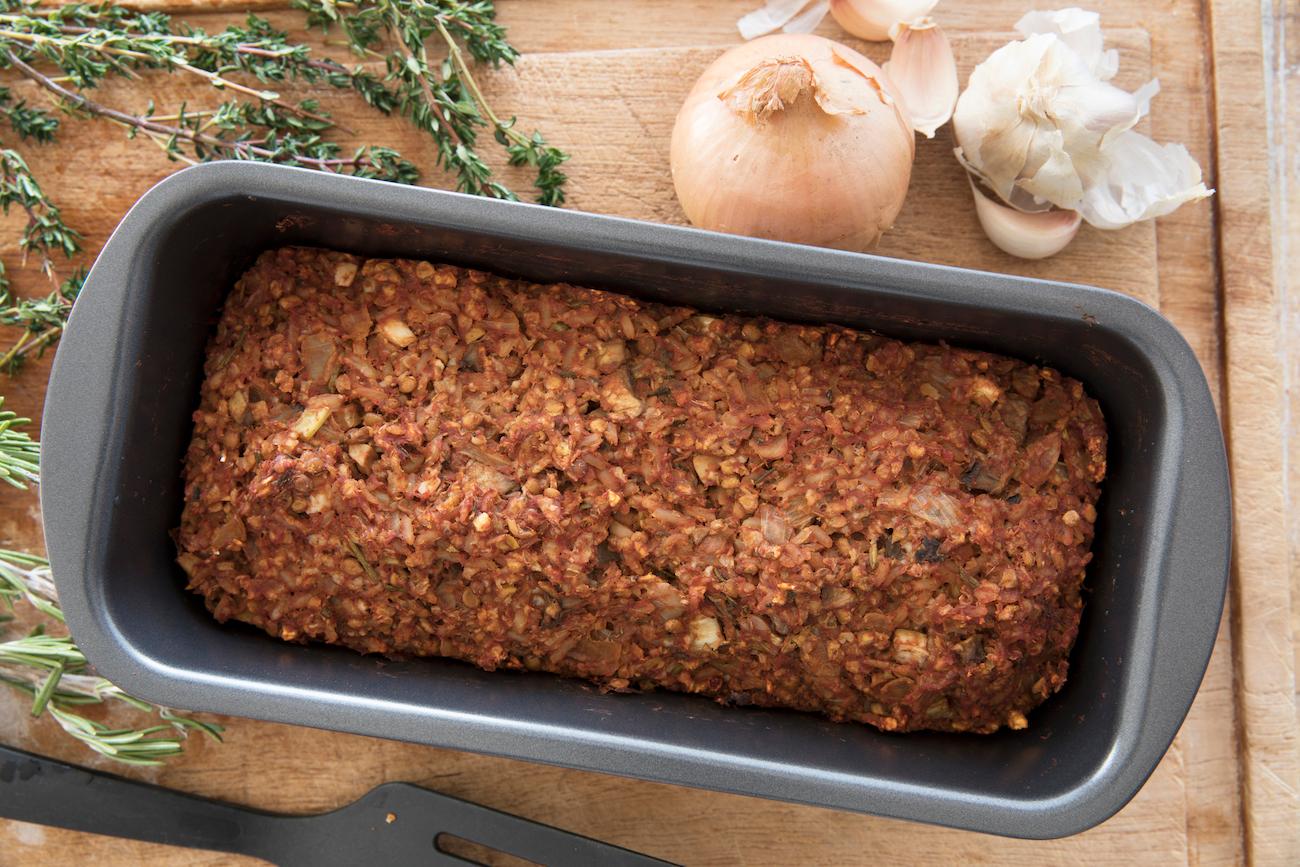 If crafting a vegan rack of lamb is a little too complicated for you (same), consider making Oh She Glows' Ultimate Vegan Lentil Walnut Loaf as your main dish instead. Made primarily from lentils, walnuts, and vegetables, this lentil loaf is so hearty and flavorful that no one will miss the animal-based meat.
Vegan Deviled Eggs
So many of us have potatoes in our kitchens right now, since they stay fresh for weeks at a time — and if you have small potatoes, you have the perfect base for Vegan Deviled Eggs. This recipe by YouTuber Nikki Vegan is super simple, healthy, and looks just exactly like traditional deviled eggs.
Vegan Hot Cross Buns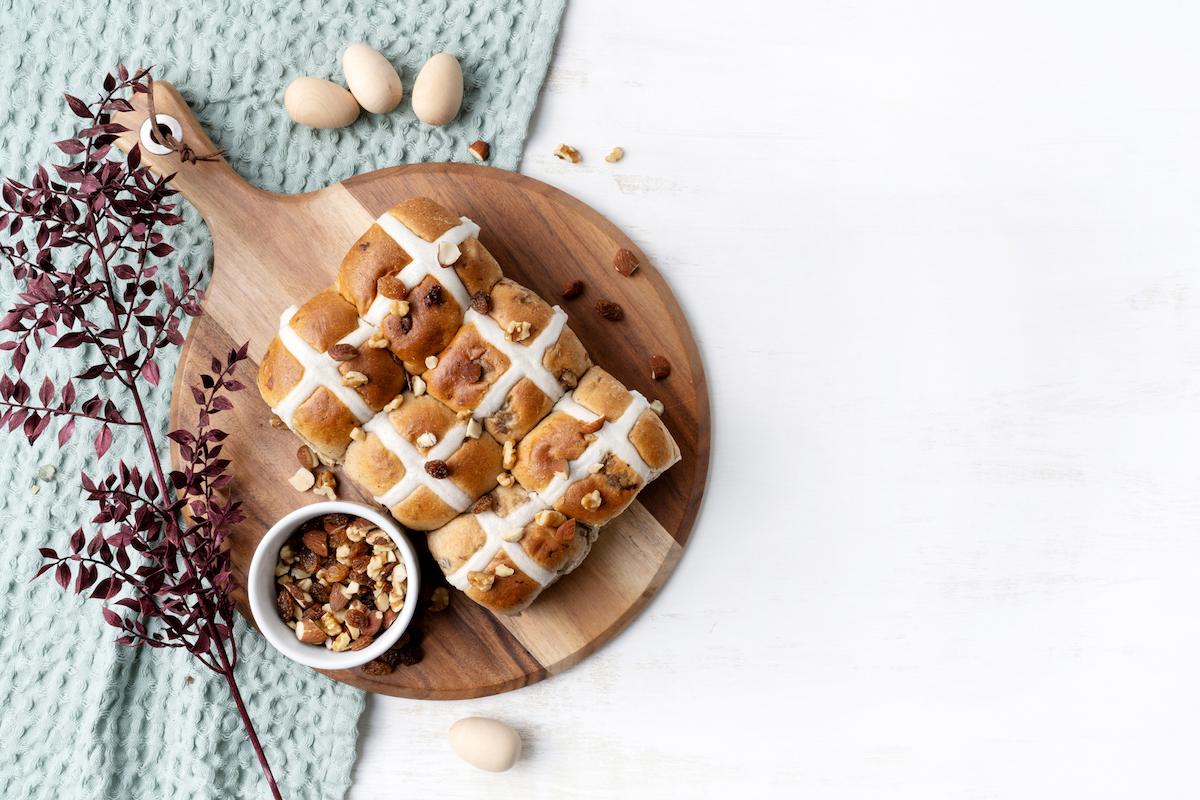 Herb-Crusted Asparagus Spears
Asparagus comes into season every spring, making it a fixture at many Easter tables. This year, consider making this recipe for Herb-Crusted Asparagus Spears, developed by Naked Food Magazine and published by the official Forks Over Knives blog. The spears not only sound delicious (and reminiscent of parmesan-crusted asparagus), but they're also packed with nutrition!
Vegan Scalloped Potatoes
Scalloped potatoes, aka potatoes grand mere, is another Easter dinner classic. This recipe for Vegan Scalloped Potatoes from the blog Nora Cooks is made with a creamy cashew-based sauce, which lusciously brings the savory dish together.
Cheesy Vegan Spinach and Artichoke Dip
It's too bad crowds aren't allowed this Easter, because Minimalist Baker's recipe for Cheesy Vegan Spinach and Artichoke Dip is a real crowd-pleaser. Cashews and nutritional yeast help create a creamy base for this glorious, perfect-for-Easter dip.
Vegan Easter Dessert Recipes
Keep things sweet with these vegan dessert recipes that are all perfect for Easter. No judgment if you make and devour all three.No need to eat an adorable lamb this Easter — read on for 10 easy vegan recipes perfect for the holiday — most of which use simple ingredients that you may already have stocked up for your coronavirus quarantine.
Vegan Chocolate Creme Eggs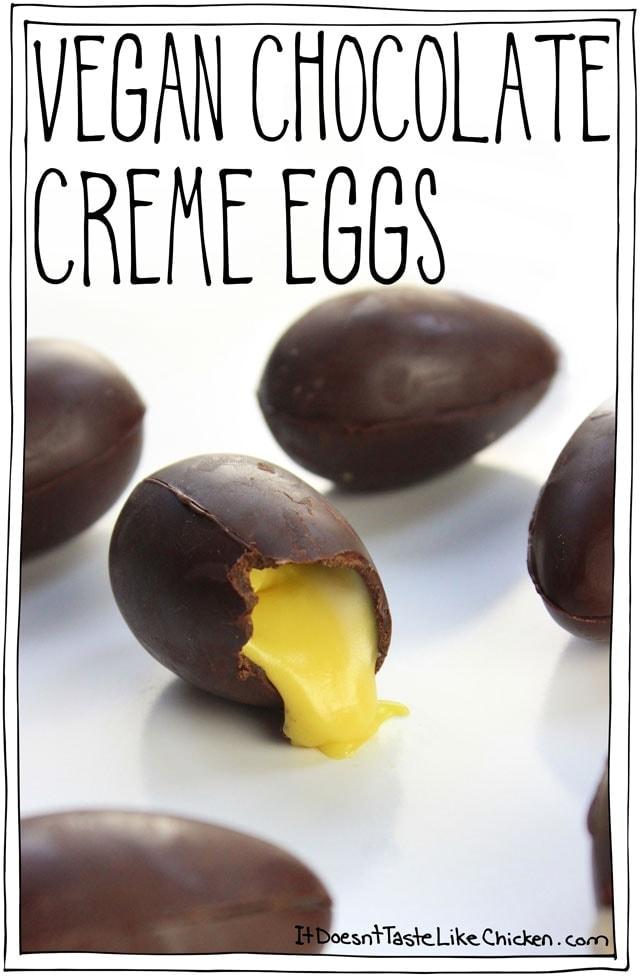 Make your very own Cadbury Creme Eggs, minus the dairy! Blogger It Doesn't Taste Like Chicken's recipe for indulgent Vegan Chocolate Creme Eggs uses super simple ingredients, most of which you probably already have in your pantry. This recipe works best with a chocolate egg mold, but the blog also provides instructions for forming the chocolate eggs by hand.
Vegan Carrot Cake with Vegan Cream Cheese Frosting
Even though the carrot-loving Easter Bunny may not be attending your quarantined Easter celebration this year, you can still impress him from afar with a delicious carrot cake. The Edgy Veg's recipe for Vegan Carrot Cake with Vegan Cream Cheese Frosting is fluffy, moist, and indulgent.
Classic Vegan Chocolate Cake
You can never go wrong with a classic chocolate cake. This recipe by Lauren Toyota of hot for food (as published by Chatelaine) uses basic ingredients to create a sweet, moist, and rich Classic Chocolate Cake using 100 percent plant-based ingredients.