Nike's Vegan Collection Includes Air Force 1s Made From Pineapple Leather
Nike also makes vegan Air Force 1s that look exactly like the originals, as well as a few in collaboration with Billie Eilish.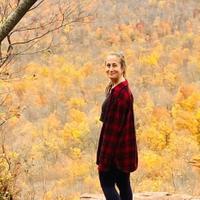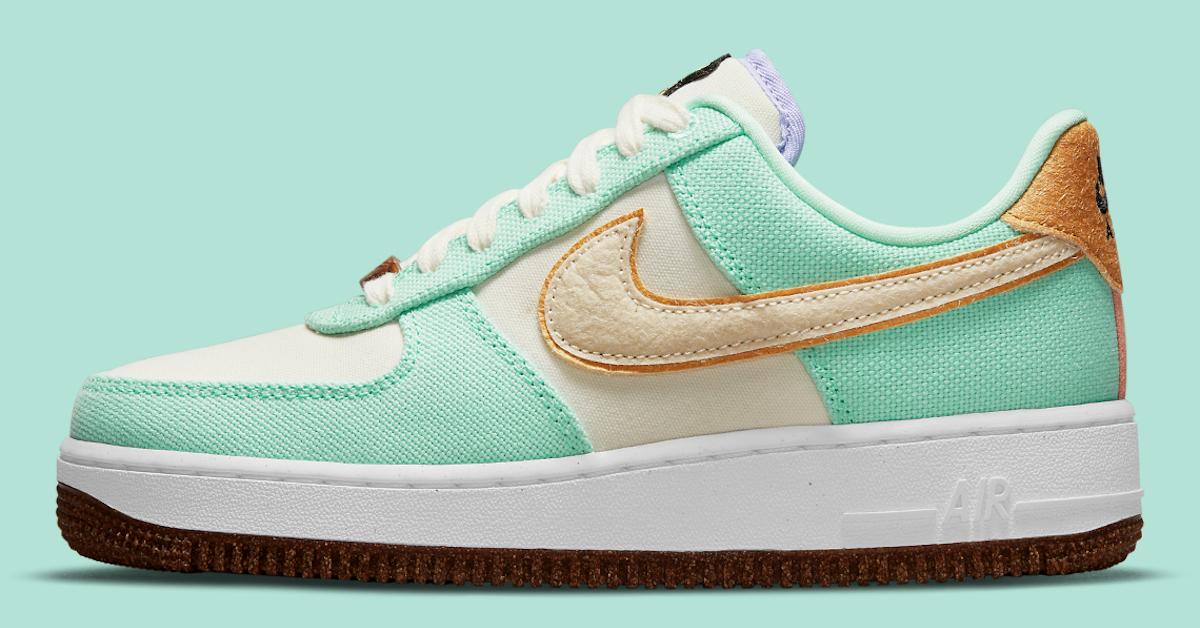 One of Nike's most popular styles is undoubtedly the iconic Air Force 1s — whether you're a Gen Z teen or a middle-aged adult, it's a timeless classic. However, the beloved sneakers have traditionally been made from cow leather, which, for a long time, has deterred the brand's vegan fan base. That's why the sneaker giant decided to release a few vegan versions of Nike Air Force 1s.
Article continues below advertisement
Keep reading to learn about all of Nike's vegan Air Force 1s, which include some made with pineapple leather, cork, as well as a collection made in collaboration with Billie Eilish.
The Nike Air Force 1 '07 Next Nature shoes are vegan versions of the originals.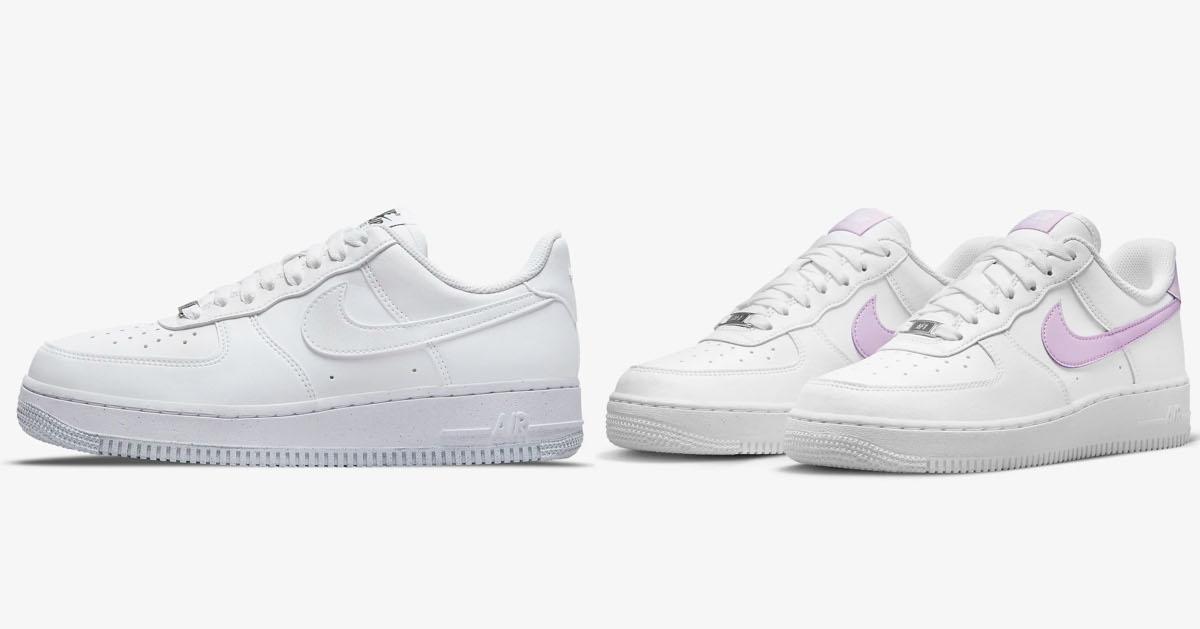 In August 2021, Nike released the "Next Nature" Air Force 1s and Dunks, which are designed to look exactly like the originals. However, the shoes are made of completely vegan synthetic materials, including at least 20 percent recycled materials by weight.
As Futurevvorld pointed out at the time of the release, "the shoes don't scream 'Earth-friendly' by focusing its materials as the center of design but can actually be disguised as its non-sustainable counterparts."
Article continues below advertisement
The original launch found the Nike Air Force 1 '07 Next Nature in two colorways, and as of May 2023, the shoes come in five colorways: white, mint green, lavender, pale coral, and orange, all of which feature a white base. A pair of the shoes retails for $115 (with certain colorways on sale as of publication), which is just $5 more than the leather-based counterpart.
Billie Eilish collaborated with Nike on a line of vegan shoes, including Air Force 1s.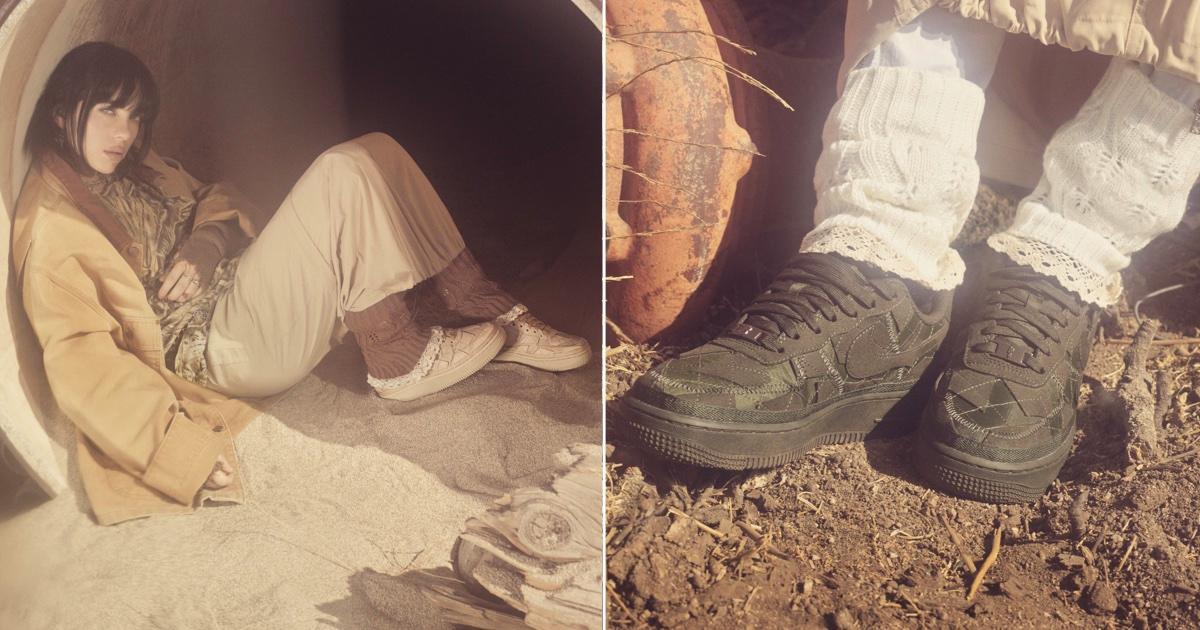 Grammy-winning superstar Billie Eilish is a proud vegan — so when she collaborated with Nike on a line of shoes, her fans were anything but surprised that the collection was entirely animal-free. The line, launched in 2022, includes the Nike Air Force 1 Low Billie, which is a "refreshing take on the Air Force 1," according to Nike.
Article continues below advertisement
The shoe features a patchwork mosaic, a Triple White colorway, and a cork insole, which has "Billie Eilish" stamped on it. You can shop the kicks on Nike's website for $130.
There's also mushroom and sequioa versions of the shoes available on Eilish's website, which feature upper patches made from leftover fabric waste from the making of the Air Force 1 High.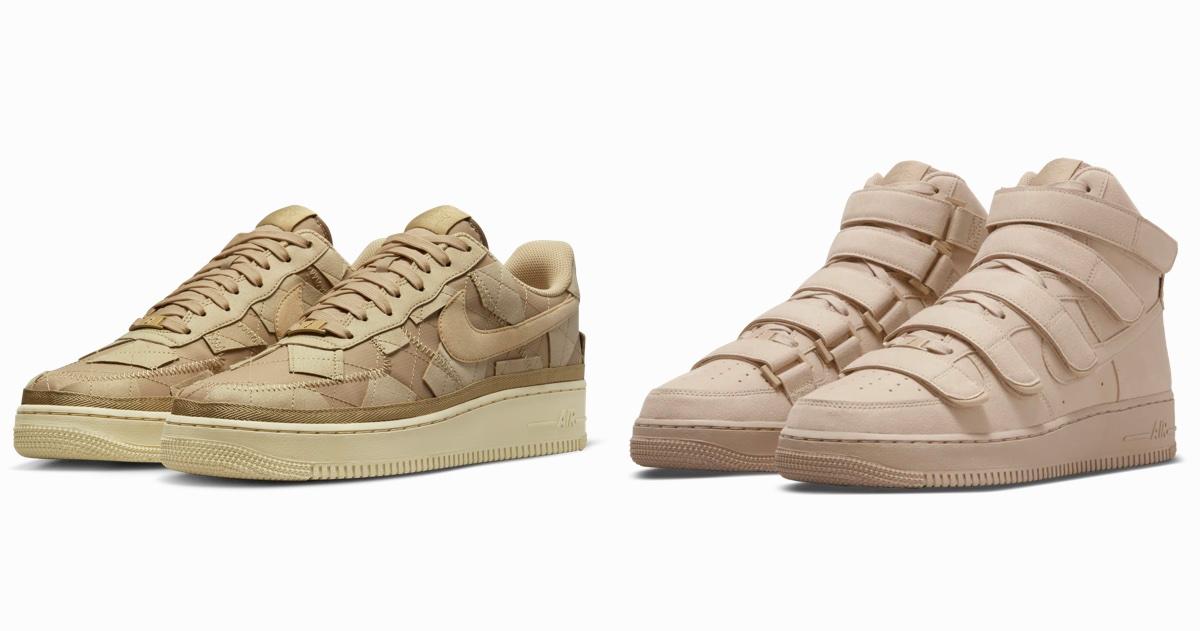 Article continues below advertisement
Additionally, the line includes a hightop version of the Air Force 1, made with a synthetic nubuck leather, and featuring several straps covering the laces. These come in both a mushroom colorway and a sequoia colorway, and are composed of 80 percent recycled materials. As of May 2023, this design is no longer available on Nike's website, but can be purchased via Eilish's website, Ssense, or Revolve.
There's also the Billie Eilish x Air Jordan 1 Ko, which is sold on Eilish's website in a lime green colorway.
"The challenge and opportunity with this collection was to respect the originals, but make them my own," Eilish stated when the collection dropped, as per Vegconomist. "It was also important for me to mix in environmentally preferred materials where we could and present them in a way that felt fresh."
Article continues below advertisement
Nike's vegan Happy Pineapple collection uses pineapple leather and cork.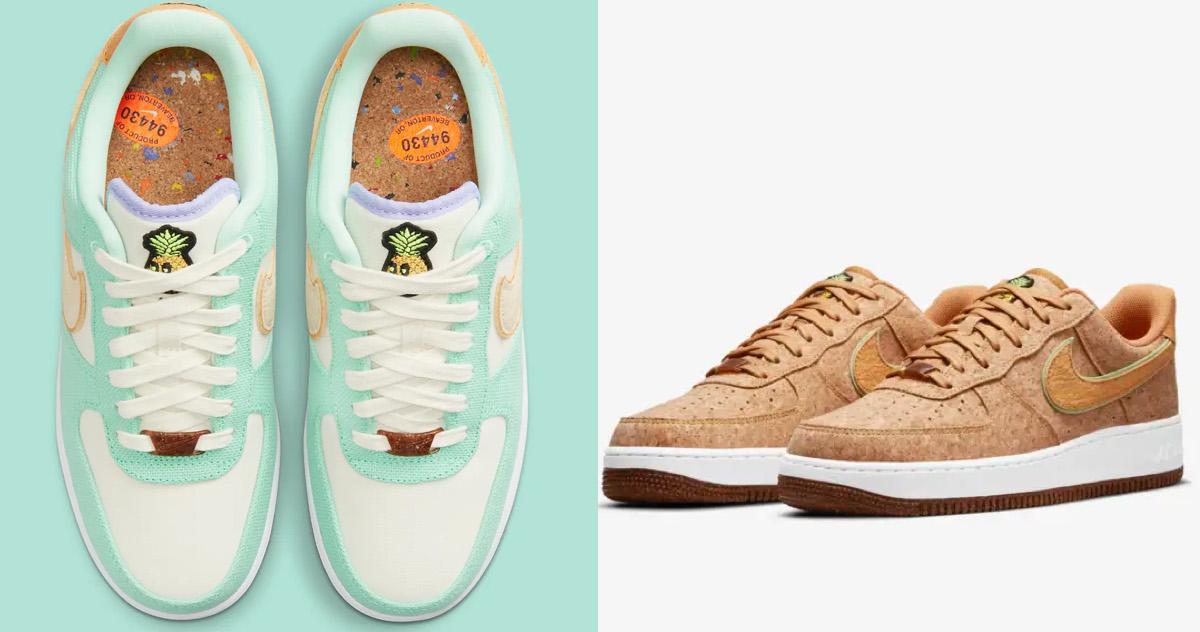 Following in the steps of Adidas, which released a fungi leather shoe in early 2021, Nike unveiled a new entirely vegan line called the Happy Pineapple Collection in June of that year. According to VegNews, the collection included animal-free versions of the brand's classic styles, including the Free Run Trail Premium, the Air Max 90, the Air Max 95, Air Force 1, and the Air-Zoom Type. The line was released as part of Nike's Move to Zero program, as the brand aims to become carbon neutral.
"This summer has just gotten sweeter. Nike merges their innovative silhouettes with juicy hues and clever details paying homage to a summertime staple — the pineapple," Piñatex wrote in an Instagram post at the time. "Piñatex has been used on the brand's iconic models in key parts of the shoe together with other sustainable materials such as cork."
Article continues below advertisement
Each style within the Happy Pineapple collection, including the Air Force 1s, are comprised of Piñatex, a vegan leather made from pineapple leaves, according to Vegconomist. The animal-free leather replaces the traditionally leather uppers, and the rest of the shoe is made from sustainably-sourced cork. The original release came in two colors, available via Nike's SNKRS app: "Green Glow" and "Coconut Milk." Both tongues on the shoe don a smiling pineapple patch, which — let's face it — is seriously adorable.
As of May 2023, the pineapple-based Air Force 1s no longer appears on Nike's website, but you can still shop them on websites including Amazon, Stadium Goods, and StockX.
What is Piñatex?
As previously mentioned, Piñatex is a vegan leather substitute made from pineapple leaves, according to the brand's website. The company was founded by Dr. Carmen Hijosa, a leather goods expert from Spain, who was disappointed by the environmental impact of leather production. After learning more about how plant fibers can replace leather, she did some research her own, and eventually realized using treated pineapple leaves was lower-impact and provided a similar material.
Article continues below advertisement
Usually, after pineapples are harvested in the Philippines, the leaves are left behind — but Hijosa wanted to give them a second life. The long fibers are extracted, and dried in the sun. They're then purified and combined with a corn-based polylactic acid (PLA), before they're turned into a mesh-y material. They are shipped by boat to Spain or Italy, and they undergo a finishing process, before receiving a top coating that increases their strength and water resistance.
More and more sneaker brands are turning to vegan leather alternatives.
Nike and Adidas aren't the only big brands transitioning to plant-based leathers. In 2021, Gucci released three vegan sneaker styles, comprised of bio-based polyurethane made from wheat and corn, viscose, and wood pulp compounds derived from sustainably-managed forests, according to LiveKindly.
Less than a week prior, Vans also launched a new collection called Eco Theory, according to LiveKindly. It emulates classic styles such as the Authentic, Slip-On, Sk8-Hi, and Style 36. Each is made from certified organic cotton, cork-lined Ultracush footbeds, as well as hemp fiber-based laces, and ethically and sustainably sourced rubber, instead of the usual petroleum-based rubber.
This article, originally published on June 23, 2021, has been updated.
Additional reporting by Sophie Hirsh.