Making the transition from genuine to vegan leather is a total must for fashion brands in the name of sustainability. Until recently, most vegan artificial leather was composed of manmade materials such as plastic, which can take years to break down. However, companies like Adidas and Stella McCartney are about to start utilizing a new type of biodegradable, plant-based leather that's made of one of our favorite sustainable, natural goodies: mushrooms — er, fungi — by a company called Bolt Threads.
Article continues below advertisement
"We believe that solutions to our most vexing problems can be found in nature and use this to create and scale sustainable materials for the apparel and beauty industries," Jamie Bainbridge, VP of Product Development at Bolt Threads told Green Matters in an exclusive interview earlier this year. "Our materials can be turned into incredible products that solve the problems of a resource-constrained world."
Keep reading for more on how Adidas will be adopting vegan fungi leather within the year.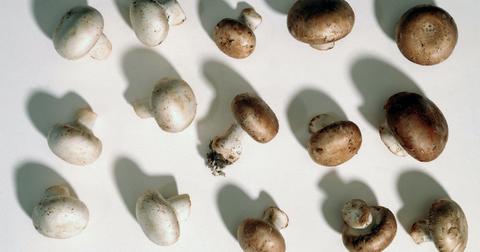 Article continues below advertisement
Adidas and Stella McCartney plan to transition to vegan fungi leather by next year.
It seems as though Adidas' long-winded sustainability initiatives are actually coming to fruition — the German sneaker brand is currently one of many companies in the process of developing plant-based, fungus leather goods, according to Plant Based News. Earlier this year, the brand unleashed its "Our Icons Go Vegan" range, recreating plant-based versions of the Stan Smith, the Continental, and the Samba, which could mean your favorite classics will be entirely comprised from fungi by 2021.
Stella McCartney is another high-end fashion company looking to start making vegan leather goods from mushrooms. The natural material is soft, supple, and is able to take on any color like traditional leather. And although genuine leather is often a staple of luxury goods, fashion designer Stella McCartney has made waves by completely eschewing animal-based leather for vegan leather in her product line. She plans to release products made with Mylo sometime in 2021.
Article continues below advertisement
"Many people associate leather with luxury but since the beginning I always wanted to approach things in a different way because killing animals for the sake of fashion is quite simply not acceptable," Stella McCartney said in a press release. "Working so closely with Bolt Threads since 2017 has been a career changing experience and I cannot wait to launch Mylo products to market in 2021."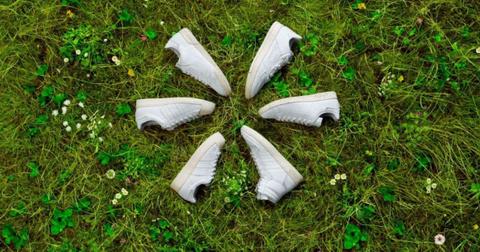 Article continues below advertisement
How will Adidas' fungi "leather" sneakers be made?
As previously mentioned, vegan leather company, Bolt Threads, specializes in developing a mushroom leather called Mylo. The startup came to life in 2018 when the company's founders realized that mycelium, the stringy roots derived from mushrooms, could be manipulated in a very similar manner to leather.
Producing Mylo is much quicker and more sustainable than making leather — first, mycelium is grown on a bed of sawdust for ten days. Then, the resulting product is tanned, dyed, and finished. Now that the demand for vegan leather is on the rise, Bolt is currently in the process of finalizing even more partnerships beyond Adidas and Stella McCartney, to ideally make the world of fashion a little greener.
Article continues below advertisement
"These companies have agreed to work collaboratively and transparently to bring this animal-free, sustainable material to millions of people, marking a major milestone in the industry and taking a step forward to creating better materials for a better planet," Bainbridge says. Hopefully, more major brands will hop on the fungi leather train within the year.