Ed Winters' New Book 'This Is Vegan Propaganda' Makes a Case for a Plant-Based World
"Every time we eat, we have the power to radically transform the world we live in," according to Ed Winters, better known as Earthling Ed. Ed Winters' This Is Vegan Propaganda (And Other Lies the Meat Industry Tells You) just came out in the U.S., several months after it debuted in his home country of the U.K.
The popular vegan activist and content creator's debut book is a must-read for vegans, vegan skeptics, and anyone in between who cares about living an ethical life and protecting the planet. Keep reading to learn more about Winters and his debut book.
Article continues below advertisement
Who is Ed Winters, aka Earthling Ed?
Ed Winters is a vegan educator, content creator, public speaker, podcast host, and now an author.
On social media, Winters is better known as Earthling Ed. He regularly posts videos on his YouTube channel, where he has amassed more than 432,000 followers as of publication. His videos primarily show him debating with non-vegans, whether on a college campus, at a food festival, or on a live news program or talk show.
In these conversations, Winters somehow always manages to stay impressively calm, always relying on his logic and communication skills, which his subscribers regularly applaud him for in the comments.
Article continues below advertisement
Ed Winters' new book 'This Is Vegan Propaganda' is an informative and easy-to-digest read.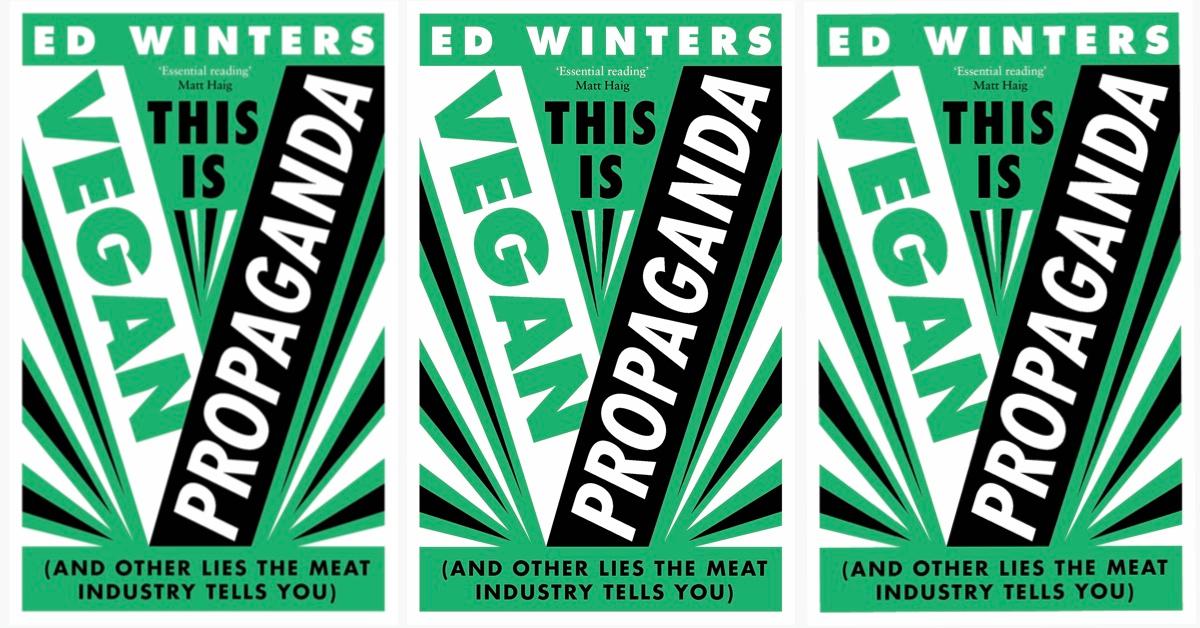 In January 2022, Winters released his debut book, This Is Vegan Propaganda (And Other Lies the Meat Industry Tells You), in the U.K. Five months later, in June, the book hit the market in the U.S.
Article continues below advertisement
The nonfiction book is a worthwhile read for anyone on the vegan spectrum, whether you have been vegan for years and want to learn more about the animal agriculture industry, or if you are just dipping your toes into this world. In fact, Winters "always kept the reluctant reader in mind, the skeptic who would need the most convincing" while writing This Is Vegan Propaganda. "After all, that was the person I used to be," he writes in the book.
In the first chapter, titled "Veganism Is the Moral Baseline," Winters shares his "vegan story" with readers.
He explains that he was raised in a family that routinely made fun of vegetarians; that he never thought to consider why some people choose to abstain from eating animal products; and that he used to identify as a "KFC addict," going to the fast food restaurant for fried chicken twice a week.
Article continues below advertisement
But in May 2014, his perspective totally changed when he heard about a truck transporting about 6,000 chickens to a slaughterhouse in England crashed, immediately killing and severely injuring thousands of chickens.
Article continues below advertisement
"I was forced to confront the fact that these animals have the capacity to suffer, something that, although obvious, I had never stopped to consider," Winters writes, recalling how he felt when he learned about the truck crash. "They were suffering because of the choices that I made."
That moment inspired Winters to go vegetarian. And about seven months later, he watched the documentary Earthlings.
Narrated by Joaquin Phoenix, Earthlings shows undercover footage of slaughterhouses, factory farms, puppy mills, animal testing labs, and other animal exploitation facilities. Winters was shocked to see what really went on behind the scenes, especially when considering how much he loved his pet hamster Rupert. This inspired him to go vegan — something he never thought he would do.
Article continues below advertisement
As the book goes on, Winters addresses a number of issues related to veganism and animal exploitation, past and present.
Throughout Part One, "It's a Question of Morality," he discusses the history of animal farming, as well as the current reality farmed animals face. In Part Two, "Playing With Fire," he talks about the benefits of veganism for the planet, for human health, and in terms of preventing zoonotic diseases and future pandemics.
Article continues below advertisement
In Part Three, "Breaking Down the Barriers," Winters discusses psychological roadblocks to veganism, media bias against veganism, and how to talk about veganism. And finally, he proposes why a vegan world would be better for everyone.
Though these ideas may sound extreme to someone new to learning about the meat industry and veganism, Winters makes a very clear case that veganism is not extreme — what's extreme is the way that the animal agriculture industry treats animals, and deceives the public into thinking that the animals they are eating were treated and killed humanely.
As Winters argues in the book, being began and "avoiding forcing animals into gas chambers and macerators and onto kill lines isn't an act of benevolence — it's an act of justice and respect for the basic moral consideration that all animals deserve."