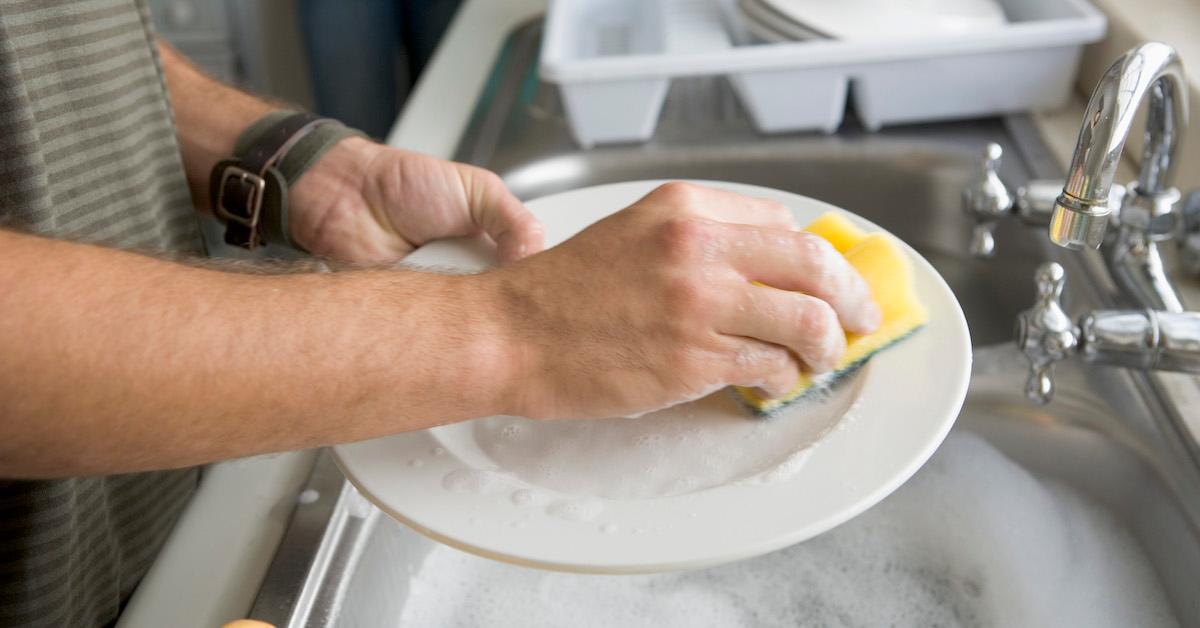 The Best Zero-Waste, Sustainable, and Non-Toxic Dish Soaps for Sensitive Skin
Getting your dishes clean shouldn't cost you your soft hands — or the planet. So, we've rounded up a few of the best dish soaps for sensitive skin, all of which are vegan and cruelty-free.
Many of the dish soap brands on this list are also zero waste and plastic-free, and a few are EWG Verified as well. Here's hoping buying a shiny, new, eco-friendly dish soap will help make the process of washing up slightly less boring.
Article continues below advertisement
Dropps' Dish Spray
Best known for its laundry pods, zero-waste company Dropps also makes a Power Dish Spray, in both Unscented and Lemon Verbena varieties. According to the brand, the dish spray's formula is non-toxic, and made with biodegradable, plant-derived ingredients and natural essential oils.
Dropps' Power Dish Spray Starter Kit comes with a refillable amber glass spray bottle, as well as a refill concentrate that includes enough to make six more bottles of dish soap. To refill your spray bottle, just pour in a small amount of the refill concentrate, and fill the rest with water, keeping this product zero waste. Dropps is also fully cruelty-free, vegan, and paraben-free, and mails orders in plastic-free packaging.
Article continues below advertisement
etee's Dish Soap Concentrate
Small business etee identifies as an "indie brand" with a mission to "make plastic free living for everyone." The company makes a Dish Soap Concentrate that is packaged in small, biodegradable pods. Just open the pod and pour the concentrate into a dispenser (you can buy a glass soap dispenser from etee or use your own), and combine with water.
The dish soap is made with 100 percent plant-based ingredients, and is free from SLS, phthalates, sulphates, and synthetic fragrance. The etee concentrates come in scents including Unscented, Lavender Lime, and Citrus.
Article continues below advertisement
Grove Collaborative's Ultimate Dish Soap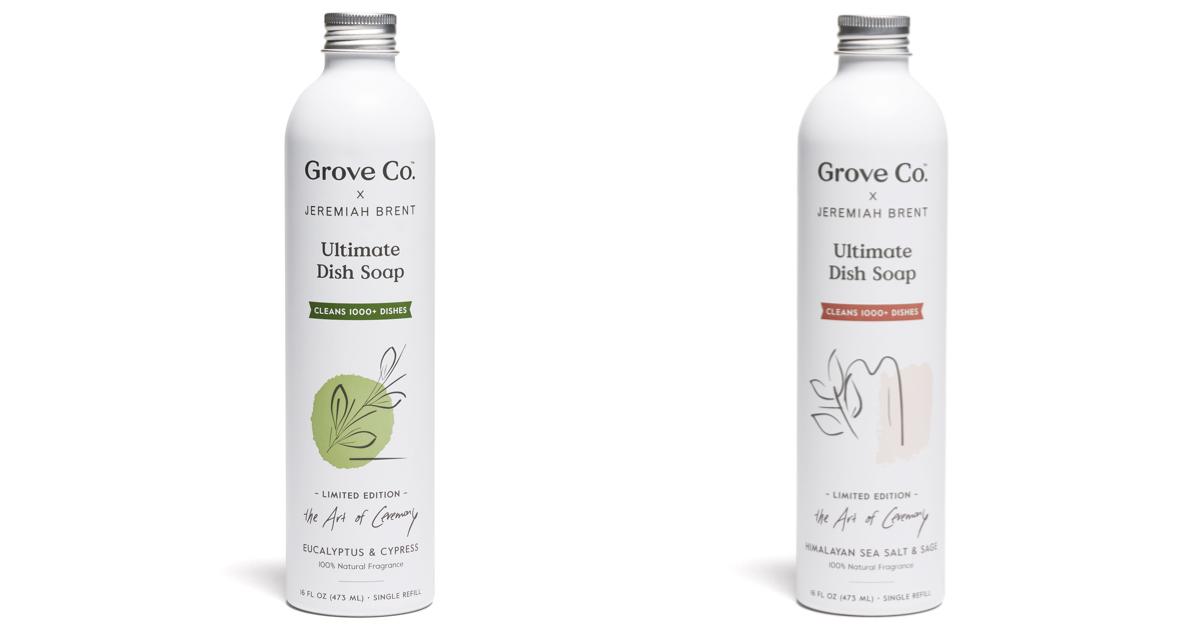 If you prefer a dish soap that already comes as a liquid, Grove Collaborative's Ultimate Dish Soap may be the zero-waste solution for you. The cruelty-free and vegan dish soap is sold in aluminum refill bottles, which you can either keep by your sink, or pour into a squeeze or pump bottle (Grove Co. sells glass pump bottles, but you can also just use one you already have).
Article continues below advertisement
Grove Co.'s dish soap refills come in Free & Clear (unscented) as well as a few scented varieties, including Lavender Blossom & Thyme, Lemon & Eucalyptus, and Apple & Pear Blossom, all of which are scented with natural fragrance. Plus, HGTV's Jeremiah Brent partnered with the brand in January 2022 to create a few products, including dish soap refills in Eucalyptus & Cypress and Himalayan Sea Salt & Sage, both of which are currently sold out but will be back soon.
Article continues below advertisement
These are the best best dish soap brands according to the EWG:
Though no consumer should live and die by the Environmental Working Group's ratings, checking out which products are EWG Verified can be a good place to start when looking for a new product. Interestingly, only two dish soaps made the cut and are EWG Verified. There's the AspenClean Dish Soap, which is cruelty-free, vegan, fragrance-free, hypoallergenic, and sensitive skin-friendly; and while the product comes in a plastic bottle, it is at least packaged in a 100 percent recycled plastic bottle.
Article continues below advertisement
Article continues below advertisement
The other EWG Verified dish soap is Attitude's Nature+ Dish Soap in the Unscented variety, which is cruelty-free, vegan, and free of ingredients like phthalates, parabens, and formaldehyde. Attitude's dish soaps also come in a few scents, such as Coriander and Olive, Wildflowers, and Citrus Zest, which are scented naturally. Though this dish soap also comes in a plastic bottle, you can also order refills that come in large cartons, which help save on waste.
Article continues below advertisement
If You Care's zero-waste, eco-friendly dish gloves can also protect sensitive skin when washing dishes.
In addition to using a gentle dish soap to wash your dishes, you may want to consider using reusable rubber dish gloves. While most dish gloves are made from plastic and therefore landfill-bound, we have found one option that is actually zero-waste: If You Care's Household Gloves.
Article continues below advertisement
The gloves are made from FSC Certified latex (meaning that the natural rubber is sourced from a responsibly-managed farm) and lined with cotton. And the best part is that these gloves are actually compostable — just use scissors to cut them into 1-inch pieces before tossing them in your compost bin.