Alexandra Richards' Love for Nature Was Inspired by Her Rockstar Dad
Green Matters spoke with Alexandra Richards on her involvement with Project Zero, motherhood, and how she learned to love nature from her rockstar dad.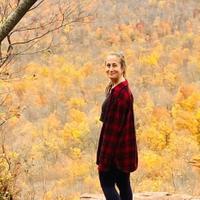 Whether you're familiar with Alexandra Richards from her DJ sets in New York City, for her longstanding modeling career, or from appearances she's made with her rock n' roll icon father, Keith Richards, the 34-year-old Connecticut native is no stranger to environmental activism. In fact, the soon-to-be mom is a longtime Board Member of the organization Project Zero, which brings together scientists, business leaders, campaigners, and ocean experts who advocate for the protection of the ocean.
Article continues below advertisement
Green Matters was able to catch up with Richards via email regarding her involvement with the organization, her latest environmental endeavors, and how her love for the planet stemmed from her upbringing.
"Did you know that every second breath you take comes from the ocean?" Richards asks. "Everything is connected. We are part of nature. I have a deep profound love for our oceans and I want my future children to as well. I want them to able to experience a beach day the way I did as kid."
Article continues below advertisement
Project Zero is a cause near and dear to Richards' heart.
Richards' activist journey began when she saw the 2009 documentary The Cove, which delves into Japan's questionable dolphin hunting practices. She tells us after seeing the film, she wanted to find a way to protect our oceans.
"I started to DJ events for the early days at Project Zero back then so I could learn more," she explains.
"Nan Hauser, a Marine Biologist was speaking at one of the events I was playing at and I was just so deeply moved by what she experienced and had been seeing in our oceans that I was officially addicted to learning more and how I can imprint onto others how to do better," Richards tells us, saying her favorite part of what she does is inspiring and teaching people to love and make a change, for the sake of the ocean.
For more on the organization, watch the video, below.
Article continues below advertisement
For Earth Day, Project Zero ran a rockin' campaign with Richards — and Georgia May Jagger.
For Earth Day, Project Zero ran a campaign dedicated to restoring the ocean and curbing climate change, including a variety of famous ambassadors who sported a limited-edition "Ours To Solve" tee designed by Cavier Coleman. Some of the big names involved, who also shared their own unique ocean coordinates which they "adopted" to protect, included Richards, Cara Delevingne, Ronen Rubinstein, Hayley Hasselhoff, Georgia Fowler, Kenya Kinski-Jones, and fellow Rolling Stones daughter, Georgia May Jagger.
Article continues below advertisement
Richards and Jagger are now not only connected through their rockstar dads, but also through environmental activism — and Richards tells us how special it's been to work together.
"Georgia and I didn't grow up together per se...we lived in different countries," Richards explains. "But we did see each other a great deal because our fathers worked at the same office. Georgia is a close friend and it's always amazing to see her and watch her grow into the beautiful woman that she is today."
Article continues below advertisement
Richards' one piece of advice for living sustainability is to remember "no one is perfect."
Living sustainably is incredibly important to Richards, though she reminds us that every bit of effort to protect the ocean — and the planet — counts. If you're looking to live a more eco-friendly and low-impact lifestyle, she recommends starting small, and not beating yourself up about making mistakes.
"Being sustainable is a way of life so it carries across all aspects of my life. I'd also like to point out that no one is perfect," she tells us.
"What is important is that we are all doing something to reduce our individual impact on the ocean — and our planet. I believe a great way to start is to start small and get in the rhythm of that change you made to better our planet. I first eliminated the use of plastic straws and brought a tote bag with me everywhere."
Article continues below advertisement
With a baby on the way, Richards has been more eco-conscious than ever.
Richards recently announced that she and her husband, visual artist and filmmaker, Jacques Naude, were expecting a new baby. And like most new and soon-to-be parents, Richards says they are becoming increasingly attentive to the foods they eat, products they use, and beyond. And, she says she can't wait to teach her daughter about the importance of low-impact living.
Article continues below advertisement
"We are really conscious about everything from the products we use, to the food that I eat now, to the things we're going to be using when the baby arrives," Richards says. "It's all just the same sustainable continuum. By teaching my child that less is more will hopefully make them more aware of our human consumption of 'things' that we may not really need."
Article continues below advertisement
Richards credits her love for the planet to her upbringing — and from spending time with her dad.
After growing up in rural Weston, Conn., and from her worldly travels, Richards learned to love nature from a very young age.
"I am very lucky to have spent a great deal of time in nature, either up in Connecticut where I grew up, or through places that I have traveled. Nature is miraculous and it's all around us," she says.
She also says that her dad definitely helped inspire her love for the planet.
"My dad is a lover of nature, and stays pretty informed about our planet. He's pretty good at recycling and being mindful of the world around him," she tells us of the Stones' lead guitarist, whom she shares a mutual obsession of nature documentaries with.
"We love watching Planet Earth together, David Attenborough is a saint!"