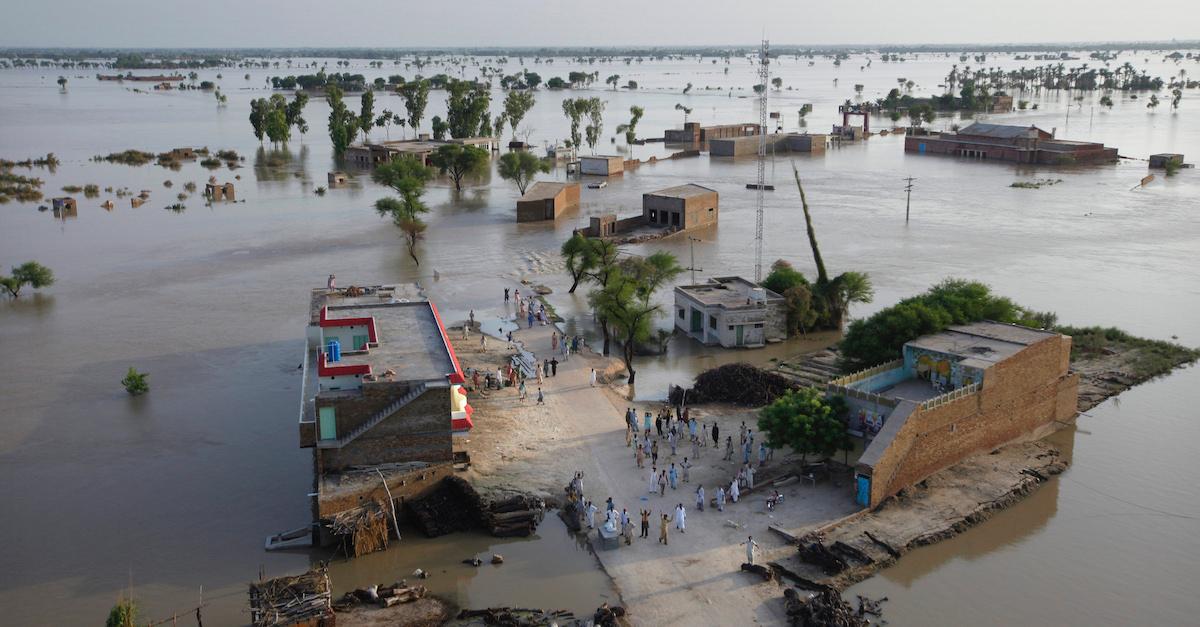 Are Climate Reparations the Remedy for Environmental Injustice?
What are climate reparations? While you may have heard of reparations in regards to paying back racial minorities, this is a slightly different concept.
Over the last few years, you may have started becoming increasingly familiar with the term "reparations." Because of how minorities have been treated since the U.S. came to be, some sort of redress is necessary for marginalized groups to truly gain equality.
But environmental justice leaders have recently brought the concept of climate reparations to light, which would involve those largely responsible for the climate crisis to pay back those who have been wronged as a result.
Article continues below advertisement
Climate reparations not only benefit the planet, but also those who were affected by environmental wrongdoings.
"Climate reparations directly benefit those affected by systems of oppression, such as colonialism and racism — i.e., those who are also the most affected by the climate crisis," Regina Cabrera, a climate activist with Fridays for Future Mexico explained, as per Yes! Magazine.
"We can't talk about reparations if we don't also talk about inequality and how the economic system destroys communities all around the world, and marginalize — for example — Indigenous communities, racialized communities, and queer people," fellow FFF Mexico activist Náme Villa del Ángel, also stated.
Article continues below advertisement
What are climate reparations?
As previously mentioned, climate reparations give back to those who have suffered environmental injustices. According to EarthRise, there are two ways to give climate reparations — one involves litigation against major fossil fuel companies for misinformation and climate degradation, which has led to losses and damages.
The other way is corrective justice, which requires high greenhouse gas emitters to compensate those who have been disproportionately harmed financially.
Article continues below advertisement
This would give such communities an economic means of fighting disaster, and to adapt to new climate conditions.
Even though tools such as Green Climate Fund (GCF) heavily advocate for issues like these, it's difficult to monetize climate destruction, and to determine how much communities need to prepare for disasters that result from climate change. While GCF has funded $20 billion in more than 100 countries, it's minuscule compared to the cost of our planet's climate damage.
More work is to be done, to get climate reparations for those who need them — particularly to smaller U.S. communities such as Flint, Mich. for its ongoing water crisis, or the cancer victims of Cancer Alley, which have both been harmed disproportionately because of environmental injustices.
And while many feel reparations are a fair system of compensation in regards to climate damage, others feel it may be unnecessary. But why is that?
Article continues below advertisement
Are climate reparations necessary to curb climate change?
After floods in Pakistan killed 1,700, affected 33 million, and costed the country at least $30 billion, calls for climate reparations have come to light. But University of Oxford climatologist, Friederike Otto, claims they aren't useful.
″[Climate reparations are] the ethical thing to do," she told CNBC, "but a more equitable world is much better able to solve the complex crises we deal with. If all parts of society are involved in decision-making, ultimately everyone will be better off."
Otto said there needs to be a direct way to benefit those who were affected, and an exact classification of weather and environmental hazards. She claims vulnerable countries should invest in social security, health care and education.
While this may be the case, it's up to wealthier nations to put their money where their mouth is, regardless — especially because they are predominantly responsible for these types of catastrophes.