Tornadoes Killed Dozens in the Midwest This Weekend — Was Climate Change a Factor?
Can climate change affect tornadoes?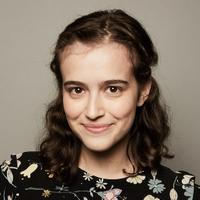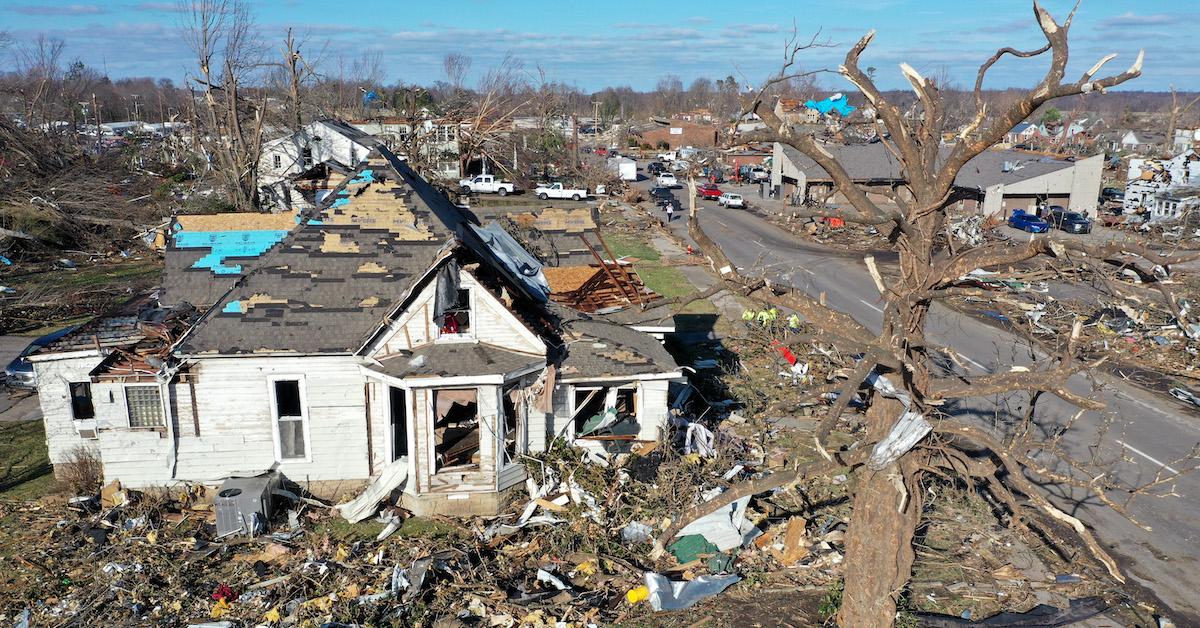 Over the weekend, a series of tornadoes tore through the Midwest, leaving people dead and injured in six states: Kentucky, Illinois, Arkansas, Missouri, Mississippi, and Tennessee. Like any natural disaster, this tornado is absolutely devastating. But the truth is, most natural disasters are not all that natural. In fact, we may have the power to prevent them — because climate change can affect tornadoes, and we are causing climate change.
Article continues below advertisement
Keep reading for the basics on how global warming affects tornadoes, as well as a rundown on the heartbreaking December 2021 tornadoes.
The December 2021 tornado wiped out a Kentucky candle factory, among other locations.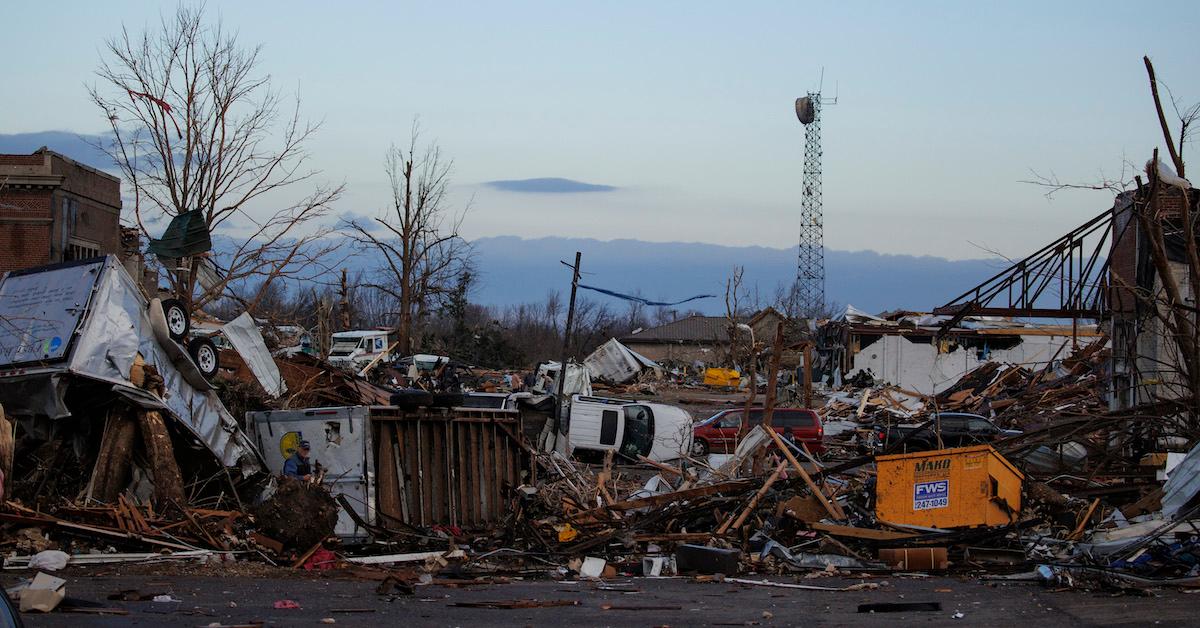 On the night of Friday, Dec. 10, over 30 tornadoes tore through six Midwestern states, with the biggest one running along about 250 miles, as per Live Science. The brunt of the damage impacted Kentucky, knocking down the Mayfield Consumer Products' candle factory, where over 100 people were working the overnight shift. According to Reuters, a Mayfield spokesperson stated on Sunday, Dec. 12 that eight workers have been confirmed dead, and eight are still missing.
Article continues below advertisement
Article continues below advertisement
Do global warming and climate change affect tornadoes?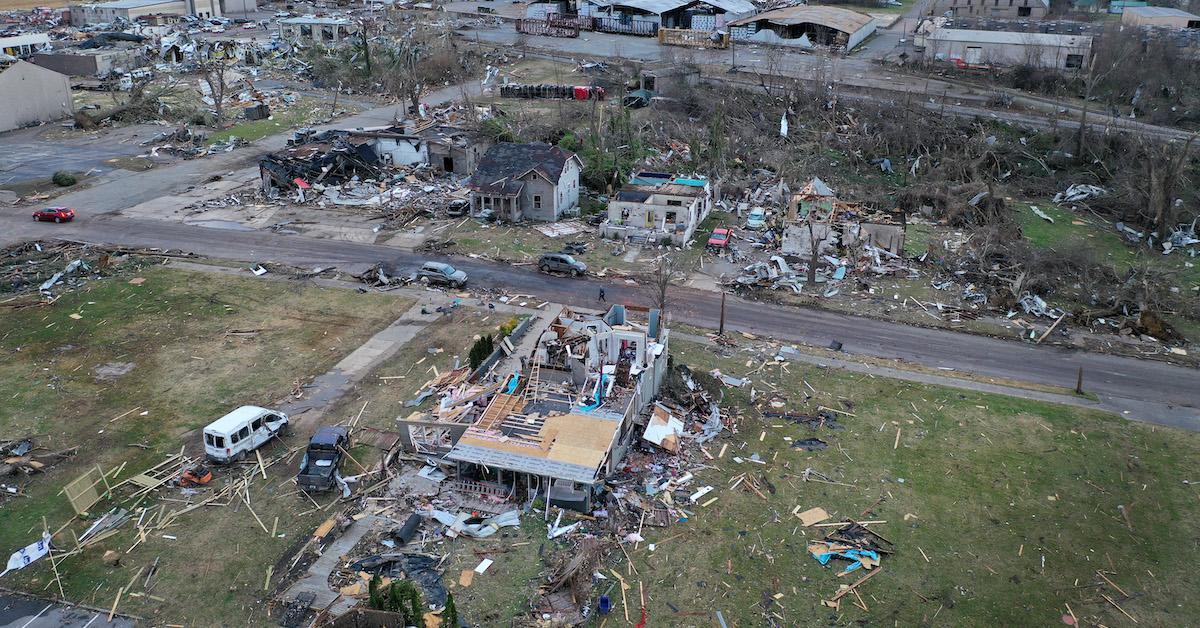 There is strong evidence that climate change causes and increases the severity of natural disasters such as hurricanes, wildfires, and floods. However, the research is actually a bit less conclusive when it comes to tornadoes, as noted by C2ES. That is partially because tornadoes are more difficult to measure than other natural disasters, as tornadoes are pretty small in comparison to things like hurricanes, as explained by National Geographic.
So, rather than explore how the climate crisis may impact tornadoes, scientists can only look at how climate change causes weather conditions that make it easier for tornadoes to form, such as moist, warm air; wind shear; and atmospheric instability, according to National Geographic. And since rising global temperatures — a major component of the climate crisis — can give tornadoes a boost, some experts do believe that curbing the climate crisis would cause less tornadoes.
Article continues below advertisement
For instance, In response to the December 2021 tornado, Federal Emergency Management Agency (FEMA) administrator Deanne Criswell stated "This is going to be our new normal," on Jake Tapper's State of the Union, as per CNN. "The effects we are seeing of climate change are the crisis of our generation."
Additionally, Yale Climate Connections pointed out that even though the connections between the climate crisis and tornadoes are "nuanced," it is still "truly shocking" for the U.S. to experience such devastating tornadoes in December, which can be partially attributed to the rising global temperatures that are making winters warmer.
Article continues below advertisement
Climate change causes many natural disasters.
But whether or not the climate crisis is significantly affecting tornadoes, we still need to put an end to this crisis. As noted above, there is endless evidence that the climate crisis is both causing and amplifying the effects of many other kinds of "natural" disasters — and we don't have much more time to waste.
Majorly reducing polluting industries such as fossil fuels and animal agriculture will significantly lower greenhouse gas emissions, therefore halt the global temperature rise, reduce the frequency and severity of natural disasters, and even save lives.