Leah Thomas of 'Intersectional Environmentalist' Details Her Activism Journey (Exclusive)
Green Matters spoke with Leah Thomas, the author of 'Intersectional Environmentalist' and creator behind @GreenGirlLeah, about her activist journey.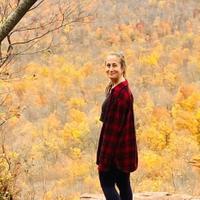 Article continues below advertisement
We interviewed the environmentalist and creator via email, who gave us her Green Routine, as well as details on her activist journey. And we were beyond impressed with what she had to say.
Article continues below advertisement
GREEN MATTERS: How did you first get started in climate activism? Did you know you always wanted to work in the environmental field?
LEAH THOMAS: No, I didn't know I wanted to work in the environmental field. I even took an AP environmental science class in high school and it didn't fully click for me then, but I've always loved biology and ecosystems ecology and had kind of a natural inclination to adore all that nature has to offer. I got interested in climate activism and education when I went to college and I started studying environmental science and policy, kind of during the start of the Black Lives Matter movement. I got really motivated to find ways to educate people about the importance of environmental justice.
GM: What is the biggest issue in sustainability and environmentalism that you're looking to tackle right now?
LT: There are so many things that are all very important, but I have a couple specific areas of focus — one of them being environmental justice, which is a very broad topic. However, it means taking in mind protecting both people and the planet and keeping those things in mind in environmental work. One of those things that I believe falls within that is the importance of regenerative organic agriculture practices, which can not only reduce our carbon footprint, but also ensure worker rights and farmer safety.
TAZO, which has been a long-term partner of mine, is a perfect example of a company doing this by investing in regenerative teas and being a leader and a pioneer in this space to show consumers the importance of regenerative agriculture (you can learn more here!).
Article continues below advertisement
GM: What's the most important thing you've learned through your work?
LT: I'd say the most important thing is to be yourself. I know that might sound incredibly cliché, but I wouldn't be able to sustain doing this work if I wasn't accepting of myself. Finding the strengths that I naturally have has been incredibly helpful versus trying to be someone else. I really enjoyed leaning into things that I naturally love like reading and writing, art and creativity, and bringing that into my work. Whether it's creating climate art or climate concerts, I find it to be creatively fulfilling. It's really important to utilize the skills that you have and apply them to the movements that you really care about.
Article continues below advertisement
GM: What is one lifestyle change you've made recently and to live more sustainably?
LT: An example of a lifestyle change that I have made recently is probably to really look at my consumer behaviors and choose brands that really 'walk the walk' instead of just 'talking the talk.' I look at things like certifications—for example, Regenerative, Fair Trade USA, USDA Organic, Rainforest Alliance Certified, and 1% for the Planet. These sorts of certifications are not fail-proof, but they can help put you in the right direction of brands that are doing things ethically and sustainably.
Article continues below advertisement
GM: What are you working on right now?
LT: I am in the early stages of working on a book proposal for my next book, which is really exciting, and I'm also planning a climate justice concert series with Intersectional Environmentalist, called Earth Sessions. I'm also continuing my long-term partnership with TAZO as they continue to unveil their regenerative organic practices and making sure that equity is at the center. Recently, I had a really amazing farm visit to the California Rodale Farm, and I just learned a whole lot about what regenerative agriculture looks like. It was only 40 minutes or an hour away from my house in Los Angeles. I've just been spending a lot more time really getting in the dirt and learning more about some of these practices.
"Green Routine" is a series from Green Matters that invites notable people in the environmental space to share the efforts they make to live more sustainably.