Dreaming of a Sustainable Backyard Pond? Here Are Some Creative, Peaceful Ideas
A pond is a beautiful and fun addition to your backyard, but building one can be daunting — here are some eco-friendly examples that will inspire you.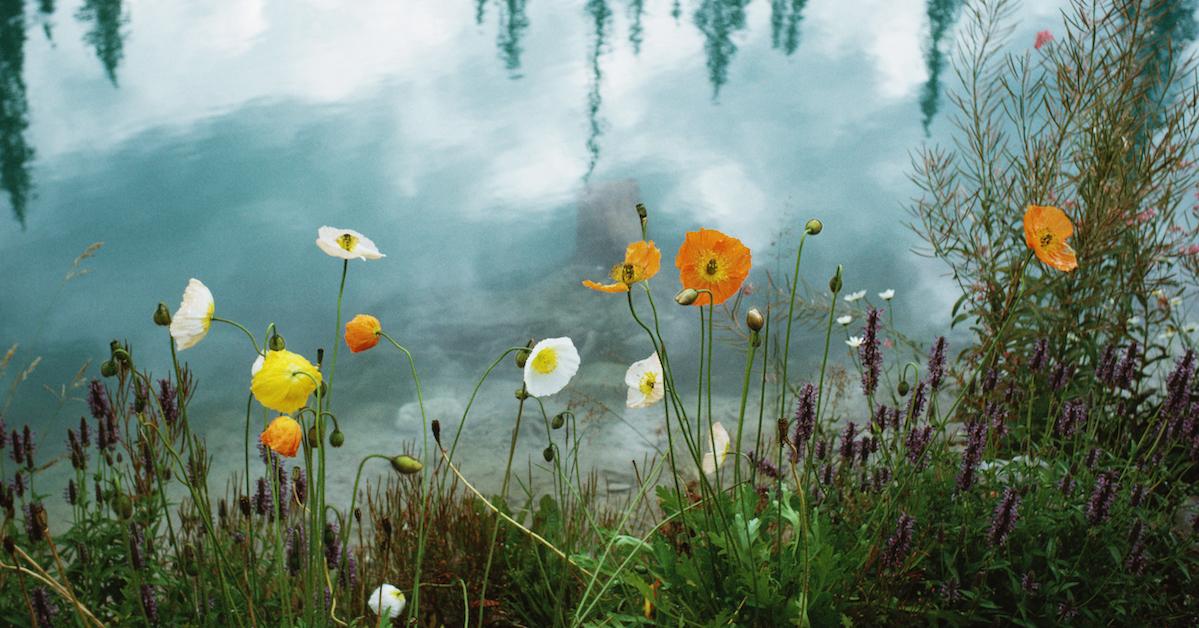 If you're looking for a new addition to your yard that will add beauty and diversity, a backyard pond might be for you! The crucial part is making sure your latest addition is sustainable and eco-friendly. Whether your space is big or small, there are a few tips to keep your pond clean and green.
Article continues below advertisement
Here's what to remember when shopping for materials — you need a properly sized pump for circulation, a mechanical and biological filter, aquatic plants, and rocks and gravel for the base. Plus, including koi and other pond fish is a good idea.
Now that you know what to add to your water wonderland, it's time to design the setup. Here are seven ideas to get you started.
Add dimension with a rocky waterfall.
A waterfall with your pond is an eye-catching addition that will not only add to the aesthetic atmosphere but also benefit the pond's ecosystem. The flowing water aids circulation and oxygenates the water, benefiting aquatic plants and fish friends.
The natural filtration thanks to the rocks will help purify the water, giving your installed filtration system a hand. I recommend setting up both a filter and a waterfall since it will ensure the water is cared for from top to bottom.
Article continues below advertisement
Another benefit of this addition is that the waterfall will be good for you too. Imagine having the soft sound of flowing water as the soundtrack to your day — we can all agree that means instant relaxation. Your mood will improve, and research by University of California, Davis found that it can even lower your blood pressure.
Article continues below advertisement
Consider an above-ground pond.
Not a fan of digging? This above-ground option might be for you. Above-ground ponds are safer for small children and animals since it's a little more difficult to drown in them. Keep this slice of nature in mind — just because it's not in the earth doesn't mean it won't help your backyard ecosystem.
Article continues below advertisement
This option is also a great choice for renters since you can take it with you when moving. This also appeals to indecisive people (such as myself) if you want to move your pond from the far-right corner of your yard to the center.
Article continues below advertisement
Small yard? Not a problem.
Want an in-ground pond that will fit anywhere? Try this idea for a rectangular water feature, as seen in the above photo by Ben Harris Gardens. Only a few feet in length and width, you can squeeze this pond into practically any space. Choosing a simple layout lets you focus on selecting the perfect native plants to surround your oasis, boosting your home's support of the local insect population.
Article continues below advertisement
Try an aerating fountain.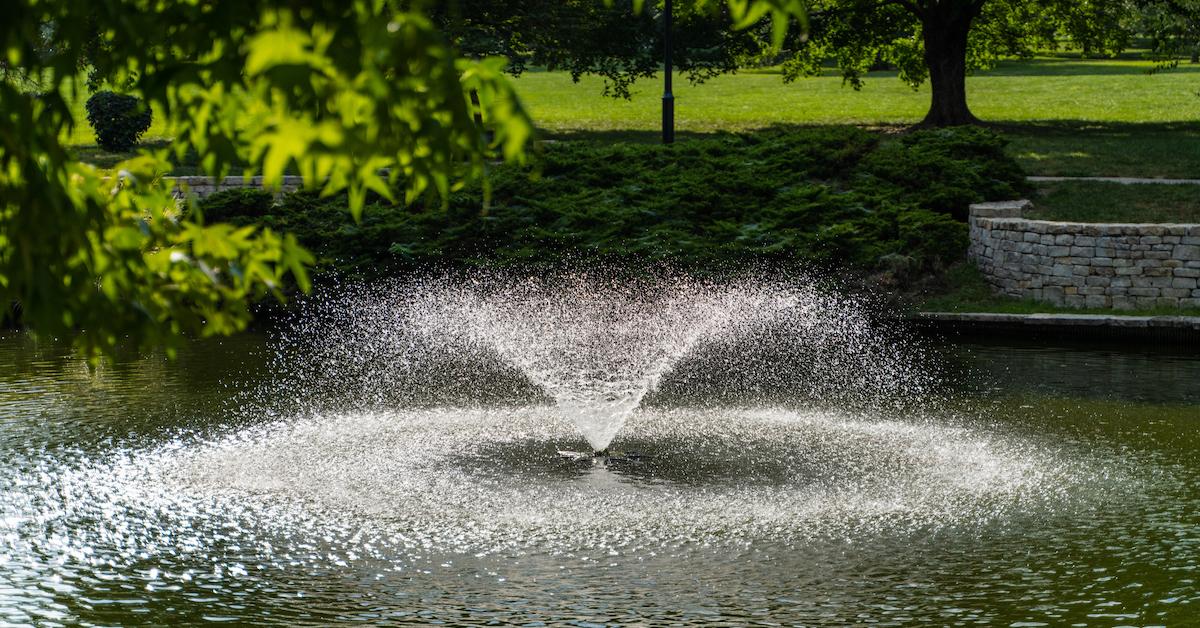 Similar to a waterfall, a fountain is a great option for oxygenation. The fountain spray will aerate the water and help keep surface vegetation at bay while adding a beautiful centerpiece to your space. It's important that your pond is not overgrown with plants like algae — it will limit the sunlight entering your pond and can cause thermal stratification.
Article continues below advertisement
This is a more pricy edition, running from $600 to $4,500 based on our research, and typically used in larger ponds. If this aligns with your budget, plenty of solar-powered options are on the market!
Article continues below advertisement
Take a dip in a natural swimming pool.
This dual-function pond is a fun element to add to your yard. Not only can you enjoy a thriving ecosystem and beautiful ripples, but you can also swim in it! Instead of using pounds of harmful chemicals to keep a pool clear, carefully selected aquatic plants will keep your pond fresh and clean.
Article continues below advertisement
This design definitely takes up space since it requires depth and size for comfortable swimming. Plus, you're going to need some deck or stairs to help swimmers get in and out.
Article continues below advertisement
Create a DIY pond in a pot.
This DIY project is the perfect solution for those looking for something smaller or budget-friendly — you can find many materials in your backyard! Create a serene paradise on your porch without draining your pockets, and wait for local populations to enjoy.
Article continues below advertisement
This pond also takes significantly less water to fill. If you have a rainwater collection system like this TikToker, you won't even need to use a hose.
Article continues below advertisement
Skip over stepping stones.
If you like the idea of a path across the water but don't want the bulk of a bridge, you should consider a stone path. Adding this allows you and your guest to access all areas of your new lagoon, making it the forefront of your peaceful paradise.
There are many options for stone paths, ranging from classic slabs to natural stone dotting the surface of your pond — get creative!