We're Lucky to Have These Vegan St. Patricks' Day Desserts
Even though St. Patrick's Day is notoriously not vegan friendly, we've rounded up a number of recipes you can make for festive vegan desserts.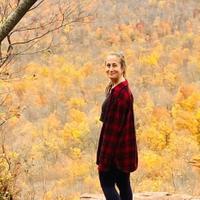 Veganism and St. Patrick's Day aren't generally synonymous — with the holiday generally comes heaping plates of corned beef; Irish soda bread (which is often made with buttermilk); the McDonald's Shamrock Shake; black pudding (aka blood sausage); and shepherd's pie. But plant-based eating is technically green, right? With that in mind, we've rounded up a number of vegan dessert recipes for St. Patrick's Day, that everyone at the party will love.
Article continues below advertisement
From a five-ingredient Thin Mint Pie, to gorgeous Oreo Truffle Balls, there are so many delicious recipes that definitely won't leave you missing the animal byproducts. Even your drunk uncle who "wouldn't touch tofu with a 10-foot pole" won't notice the dairy and eggs are missing.
Thin Mint Pie
Vegan chef and Instagram foodie @audreydunham has a recipe for Thin Mint Pie that will totally win the hearts (and stomachs!) of everyone at your St. Paddy's Day celebration — regardless if they're plant-based, or if they've already filled up on corned beef and cabbage.
"If you love all things mint and chocolate, then you have to stop what you're doing right now and make this 5-Ingredient Vegan Thin Mint Ice Cream Pie," she writes. "It's so easy and soooo insanely delicious."
Article continues below advertisement
The recipe famously only contains five ingredients: 42 Thin Mint Girl Scout Cookies (which yes, are vegan!); dairy-free butter; dairy-free vanilla ice cream (she recommends So Delicious); green food coloring; and peppermint extract. Just keep in mind it's a frozen dessert, so you'll want to make it the evening before your party or the morning of, if it's at night!
Article continues below advertisement
Irish Liqueur-Chocolate Vegan Mousse
Instagram user @veggiesattiffanis took to the app to share her recipe for Irish Liqueur-Chocolate Vegan Mousse, because who said vegans can't have a little fun? The base of the mousse is silken tofu, which is blended with Baileys Almande Almondmilk Liqueur, dairy-free dark chocolate, and maple syrup, for the sweetener. It looks and tastes just like a non-vegan dessert, and though it seems elegant AF, it's secretly super easy to make! And you can use the leftover Bailey's for drinks later!
Article continues below advertisement
Matcha Raw Dusted Brownies
Healthy and delicious? While it sounds like a prank concocted by an evil little leprechaun, it's all too real. Vegan baker, @flora_and_vino, took to Instagram to share this festive and secretly healthy recipe that's made from dates, nuts, and seeds. For those who have allergies or special diets, it's also gluten-, grain, and refined sugar-free — and that energizing matcha finish will help you continue partying through the night.
Article continues below advertisement
Vegan Shamrock Shake
Plant-based foodie and culinary genius, @itdoesnttastelikechicken, shared this incredible vegan shamrock shake recipe that certainly won't leave you missing the McDonald's version. The combination of full-fat coconut milk and plant-based milk makes for a creamy and truly tasty base for a shake — and if you can find vegan whipped cream, it'll make for an even more decadent treat. Needless to say, you'll want to make one, like, yesterday.
Article continues below advertisement
"... before I knew it, the entire vegan shamrock shake was gone, and there I was trying to noisily slurp up the last few drops with a straw," she writes.
Taking only 10 minutes to make, it sounds like an easy and truly worthwhile endeavor.
Article continues below advertisement
Oreo Truffle Balls
Though @novavegano doesn't share the measurements in this recipe, I think we could all pretty easily eyeball it based on texture.
Her Oreo Truffle Balls, as shown above, combine a package of crushed Oreos; 1/2 of a package of Girl Scout Thin Mints; an 8-ounce package of softened vegan cream cheese; a package of melted white chocolate chips; food coloring; and sprinkles — the results are magical.