These Vegan Christmas Dinner Dishes Will Have Everyone Asking For Seconds
Although traditional Christmas dinners tend to contain animal byproducts, these vegan Christmas dinner ideas will be popular among friends and family.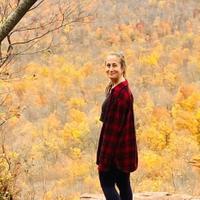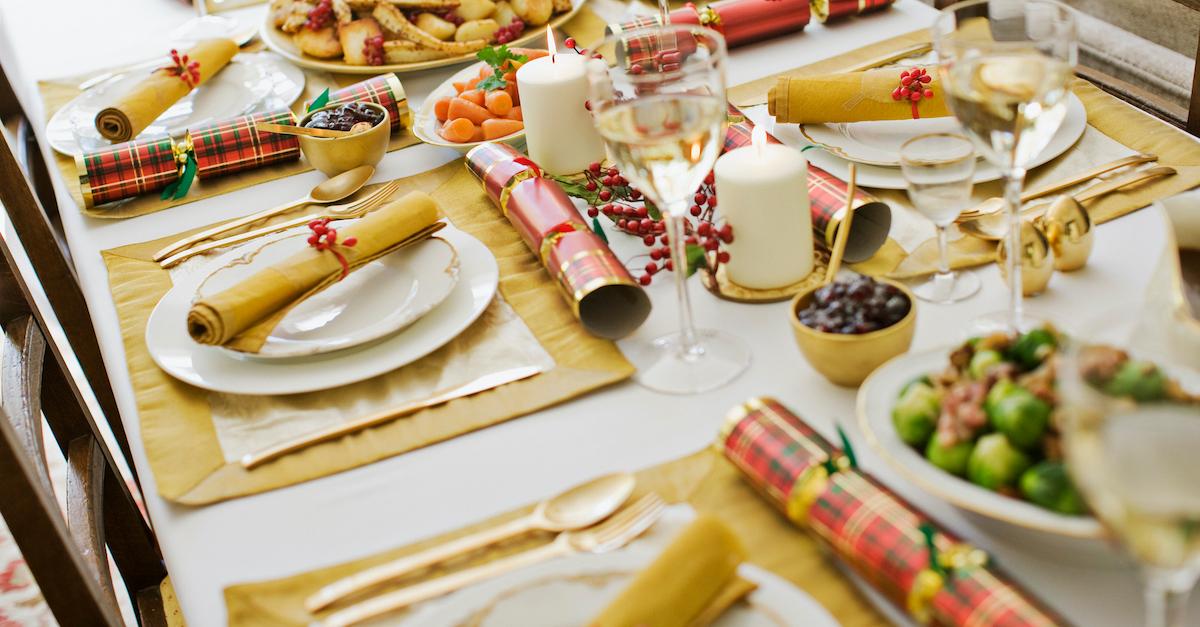 Traditional Christmas dinners aren't generally suitable for plant-based folk — the annual feast is often predominantly focused on turkey, honey-baked ham, or seafood. However, Christmas cheer isn't only for meat eaters, as there are countless ways to make your Christmas spread vegan-friendly, from appetizers, through the main course, and obviously, dessert.
Article continues below advertisement
That being said, we've compiled a list of vegan and plant-based appetizers, main dish ideas, sides, and desserts to serve on Christmas or Christmas Eve that are guaranteed to satisfy everyone — vegan or not.
Appetizers
Appetizers are a must for hungry guests. Although most of your guests (hopefully) didn't travel this year, those attending your holiday feast are expecting to nosh immediately upon walking in. Therefore, making a droolworthy amuse bouche that will have them wanting more is absolutely vital.
Beet & Arugula Naan Bites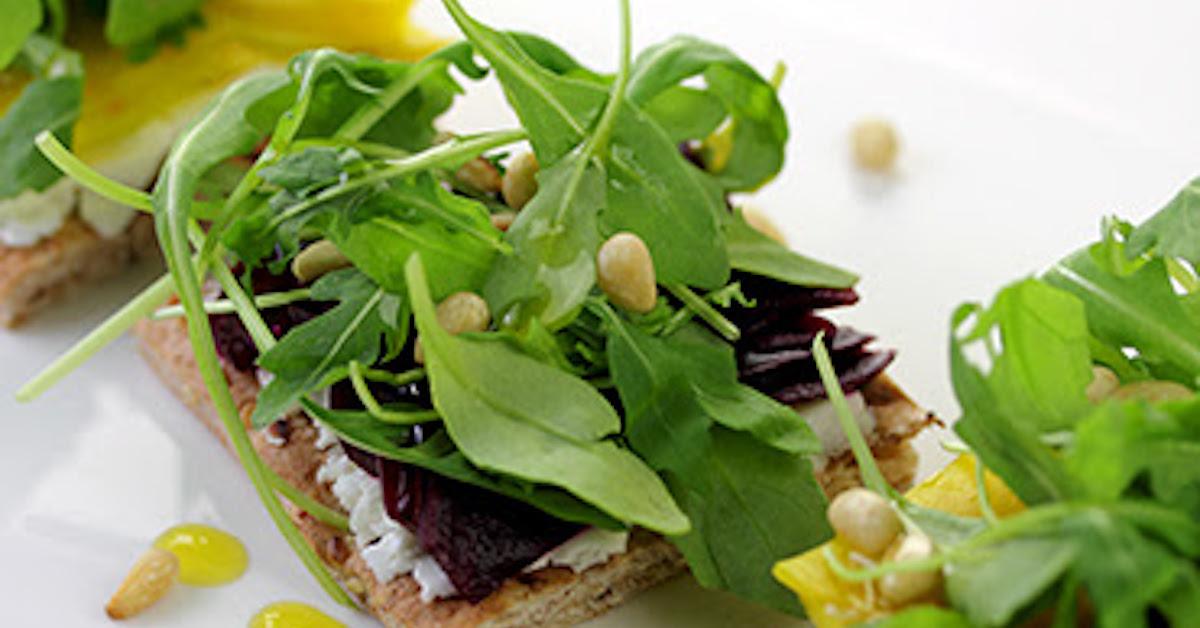 For a bite-sized (and seriously colorful!) appetizer, heat a piece of Atoria's Family Bakery Naan in the oven at 350 degrees Fahreheit for five minutes, before cutting it into 2-inch by 2.5-inch pieces. Spread a plant-based cheese alternative firmly onto each bread square, and layer thinly sliced red or yellow beats on top. Sprinkle with pine nuts and drizzle each piece in olive oil before serving.
Crispy Cauliflower
@thefoodietakesflight's Crispy Cauliflower requires 1/2 cup of all-purpose flour, 1 tablespoon of corn starch,1 teaspoon of baking powder, 1 teaspoon of salt, and 3/4 cups of water for the batter, as well as two small heads of raw cauliflower cut into florets, frying oil, and 2 cups Japanese breadcrumbs. Start by mixing the batter ingredients, and coat each floret, before dunking them in bread crumbs. Then, heat a frying pan with oil, and cook each floret until golden brown, before serving with your sauce of choice.
Article continues below advertisement
Impossible Beef Dumplings
Impress your guests beyond belief with this Impossible Beef Dumpling recipe — by stuffing a pack of 20 dumpling skins with Impossible Ground Beef, onion, diced pickled beets, and sesame seeds seasoned with garlic powder, paprika, pepper, salt, you'll have a delicious dish that looks way more complicated than it was.
Article continues below advertisement
Main Dishes
Obviously, the main dish is incredibly important — but with one (or all) — of these mouth-watering options, even steak enthusiasts at your dinner table will forget about the meat missing from the table.
Article continues below advertisement
Good Catch's Fish Risotto with Lemon and Arugula
A Feast of the Seven Fishes may not be possible as a vegan, but you can recreate something reminiscent of the sea, such as Good Catch's fish risotto with lemon and arugula recipe. You'll make your own risotto with vegan butter, evoo, yellow onion, garlic, short-grain Arborio rice, white wine, salt, pepper, and cold water, before adding Good Catch's Naked in Water Plant-Based Tuna, baby arugula, vegan parm, lemon zest, and lemon juce. Your guests are bound to be impressed.
Article continues below advertisement
Vegan Ricotta Meatballs
@thevegansara's Vegan Ricotta Meatballs are comprised of grated zucchini, mashed chickpeas, Panko bread crumbs, nutritional yeast, Italian seasoning, vegan Worcester sauce, and tomato paste, which are combined with vegan ricotta, a tantalizing combo of almonds, cashews, nutritional yeast, apple cider vinegar, and sun-dried tomatoes. Make them on the stove or in the oven, and serve on their own, with veggies, or even spaghetti.
Article continues below advertisement
Butternut Squash Spinach Pasta
@HealthyLittleVittles' Butternut Squash Spinach Pasta simply mixes butternut squash, minced garlic, onion, spinach, veggie broth, vegan parm, red pepper flakes, salt, pepper, and toasted pine nuts into pasta. It's the perfect winter dish that's perfect with a cup of hot mulled wine, or even a cup of cocoa.
Article continues below advertisement
Sides
There's really nothing we love more than a good side dish. Sometimes, it's arguably the best part of the meal. From potato-based treats to salads, there are so many options — you're bound to score some smiles from your dinner guests.
Article continues below advertisement
Chili-Lime Sweet Potato Gratin
@cleanfoodcrush's recipe for Chili-Lime Sweet Potato Gratin can't be beat. After properly cleaning and slicing your sweet potatoes, you'll mix them with evoo, maple syrup, lime juice, garlic, smoked paprika, cumin, oregano, salt, red chili, and vegan parm, before baking them in the oven for 45 minutes, and sprinkling with extra vegan parm, if desired. They're about to seriously spice up any meal.
Article continues below advertisement
Health-Ade's Grape Glazed Brussels Sprouts
Combining two of the greatest things in life — Brussels sprouts and kombucha — this unlikely combo makes for a seriously solid side dish, Health-Ade's Grape Glazed Brussels Sprouts. Simply toss your sprouts in grapes, garlic, rosemary, and olive oil, while making a sauce of kombucha, maple syrup, and cayenne. Combine and sprinkle with walnuts.
Article continues below advertisement
Simple Hasselback Potatoes With a Tahini Sauce
Everyone loves a classic helping of crispy Hasselback potatoes. According to this recipe by earthofmariaa, after properly cleaning your taters, make thin slices in each, without slicing all the way through, and roast them for 45 minutes. Then, make a tahini sauce to drizzle on top with tahini, tamari, lemon juice, and plant-based milk.
Article continues below advertisement
Dessert
We all know the best part of any meal is dessert. Need we say more? With a sweet treat at the end of the meal, your guests are bound to be fully satisfied.
Article continues below advertisement
Pumpkin Pudding
365cleaneats' delectable pumpkin pudding recipe requires bakers to make the pudding and caramel sauce to drizzle on top, but it's definitely worth the effort. The pudding mixture simply combines unsweetened pumpkin purée, plant milk, cashews, maple syrup, cinnamon, agar powder, and vanilla bean paste, while the caramel sauce is mostly comprised of coconut sugar and water. Don't forget to buy plant-based whipped topping, though, because that's bound to make it extra special.
Article continues below advertisement
Holiday Bliss Balls
sculptedkitchen's holiday bliss balls are festive, easy to make, and secretly healthy. To make them, you'll blend hazelnuts, almonds, dates and cocoa powder in a food processor, before blending and rice malt syrup into the mix. If the batter is sticky, roll them into balls, dip into melted vegan chocolate, and roll through a powder of your choice — coconut sugar or shavings, cocoa, or powdered sugar are a few stellar options.
Article continues below advertisement
Vegan Chocolate Mousse
theconsciousplantkitchen is the mastermind behind this five-ingredient chocolate mousse. The recipe simply calls for ripe avocado, dairy-free milk or cream, unsweetened cocoa powder, and unrefined sweetener. It's so decadent, and clearly, quite easy to make on your own.
Article continues below advertisement
We cook and bake to impress even the most loyal meat eaters, so prepare for an influx of compliments this holiday season.