The Skinny on Slim Jims: Are These Popular Snacks Unhealthy?
If you're looking for a healthy snack, a Slim Jim isn't one of them. The beef stick snacks are loaded with salt and saturated fats.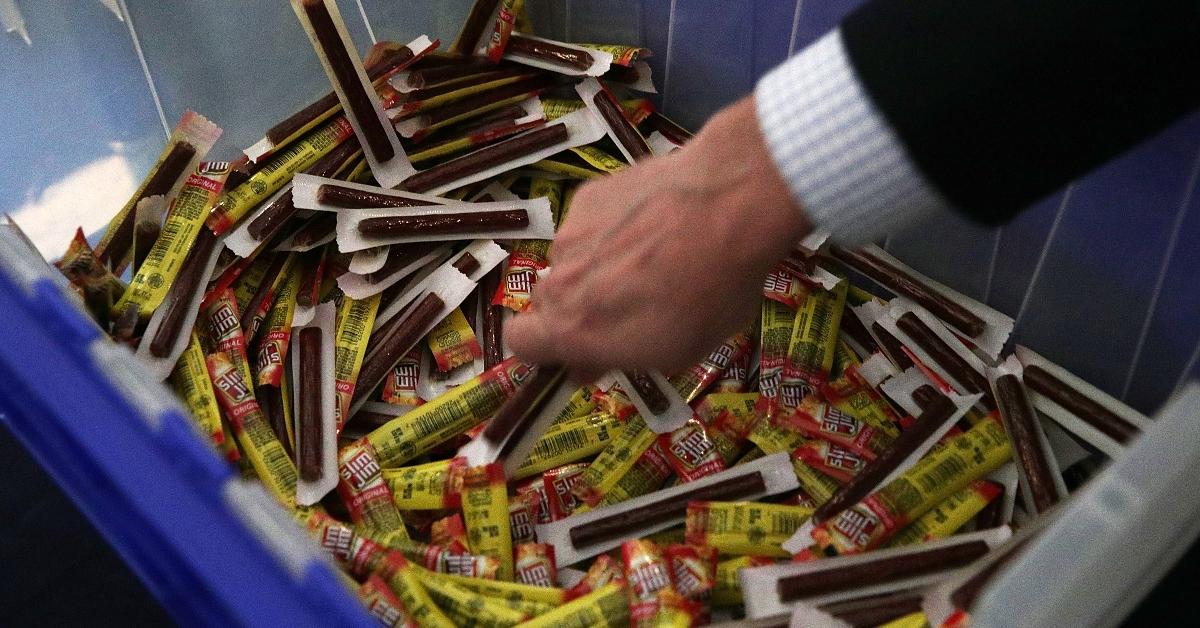 The Gist:
Slim Jims are far from the healthiest snack out there.
Slim Jims contain high amounts of sodium and saturated fats.
There are healthier alternatives to Slim Jims, including vegan jerky.
Article continues below advertisement
When you are trying to reduce your carb intake, it can be hard to find healthy snacks that can satisfy your hunger. You may grab a Slim Jim, thinking it's a healthier alternative to a bag of chips or cookies — but is it?
Article continues below advertisement
Are Slim Jims bad for you?
Yes, Slim Jims are bad for you. While they may be low in carbs, they are chockful of other unhealthy ingredients like sodium, saturated fats, cholesterol, nitrates, corn syrup, and other additives, per the Environmental Working Group (EWG).
Article continues below advertisement
According to the EWG, Slim Jims contain 31 percent of the daily sodium intake recommended by the Institute of Medicine. One 27-gram stick has 130 calories, 11 percent of which is protein and 13 percent that is fats — primarily saturated fats, per EWG.
Article continues below advertisement
What are Slim Jims made of?
You may call Slim Jims a beef stick, but you should use the term "beef" loosely. The ingredients include beef as well as pork, "mechanically separated chicken," and hydrolyzed soy protein.
Article continues below advertisement
Here's the exact list of Slim Jim ingredients, per the EWG: "Beef, Pork, Mechanically Separated Chicken, Water, Textured Soy Flour, Corn Syrup, Salt, Contains Less Than 2% of: Natural Flavors, Dextrose, Paprika and Extractives of Paprika, Hydrolyzed Soy Protein, Maltodextrin, Lactic Acid Starter Culture, Barley Malt Extract, Citric Acid, Soy Lecithin, Sodium Nitrate."
Dr. Blake Livingood, a doctor of natural medicine and licensed chiropractor, is not a fan of Slim Jims.
"Anything mechanically separated starts to freak me out a little bit, and I start to really wonder where did that exactly come from, " Dr. Livingood said in a video on his YouTube channel.
Article continues below advertisement
"Mechanically separated chicken is a paste-like meat product referred to as white slime," Livingood said. "White slime is from the carcasses that are forced through a device that is at high pressure and it separates the bones from edible tissue that's still left on the animal."
Article continues below advertisement
There are some healthy alternatives to Slim Jims.
So, next time you're on a road trip and stop at the gas station to grab a snack, avoid those Slim Jims. The chips may actually be a better choice.