7 Meat-Free Proteins Perfect For The Grill
Going meat-free doesn't mean skipping protein on the grill this summer!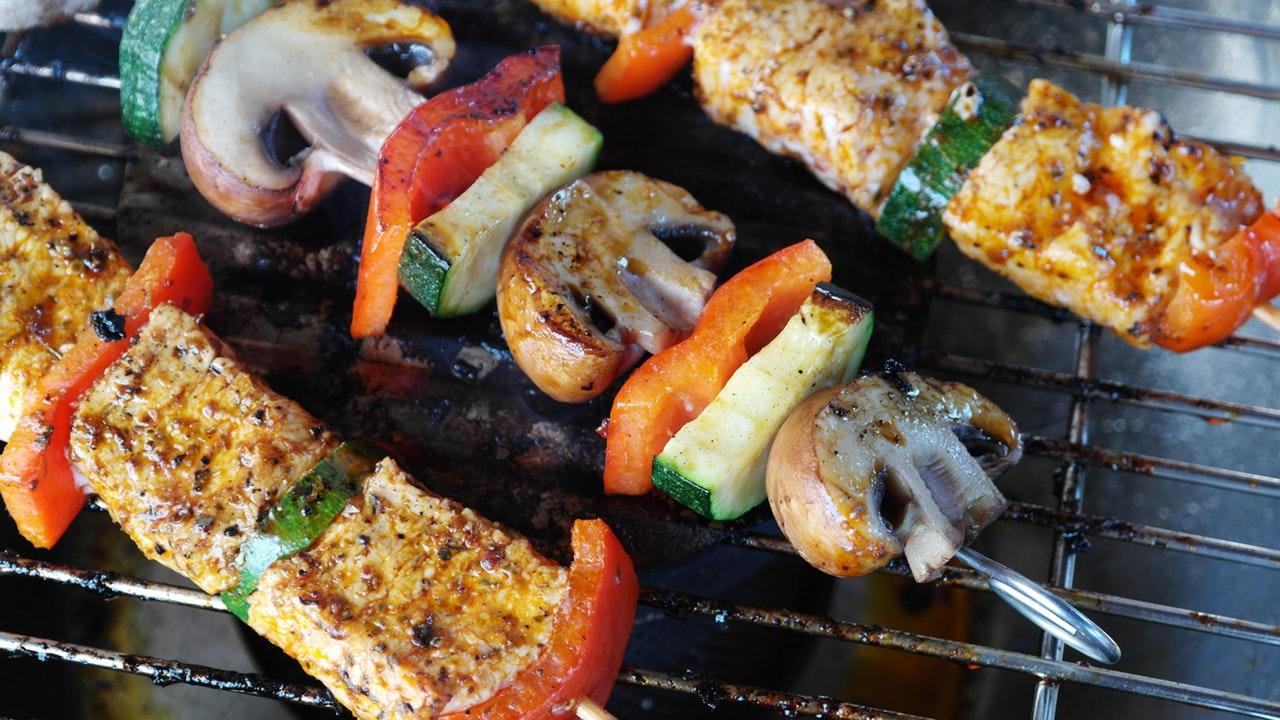 It's the middle of summer, and just about everybody is yearning for a dinner on the grill. Whether you're having a family party, date night at home, or just want to get creative with your meal prep, the grill has something for everybody. Traditionally, meat reigns supreme on the grill, but plant-based options are certainly picking up speed. It can be as simple as a couple of vegetables, to as innovative as making your own plant-based wings out of seitan. No matter what you're craving, it's entirely possible to get a healthy amount of protein while keeping your grill meat-free.
Article continues below advertisement
Here are some easy and unique options for your next BBQ. And remember, it's easier than you'd imagine to keep your grill night zero-waste, too.
1. Tofu
Article continues below advertisement
Tofu can be intimidating, but preparing it on the grill is surprisingly easy. That's right: It's not just for scrambles anymore. When it comes to grilling, aim for a firm tofu (avoid silk ones). To prepare it on your grill, the key is to get all of the water out, then let it sit in a thick marinade for as long as possible in the fridge. Aim for about two hours.
When it comes time for the grill, many suggest that an indirect heat works best. This means you'd want to put your tofu on a cooler side of the grill and close the lid, ideally getting a tofu that is cooked through the middle while also crispy on the outside. Don't forget to flip!
Article continues below advertisement
2. Tempeh
Article continues below advertisement
Tempeh is another plant-based protein that raises skepticism at first, but it's actually very easy to prepare. Put your tempeh in your marinade for at least one hour (though overnight works best). Then, simply grill your tempeh until it's browned one side, reapply some marinade, and flip over. Flavor-wise, people tend to use tempeh as a bacon replacement, but when it comes to the grill, it's also great in place of chicken wings.
3. Portobello Mushrooms
Article continues below advertisement
Mushrooms are basically a vegetarian's dream food, and it's no wonder why. They easily take on any flavor you give them, they're a plant-based source of the "meaty" texture people tend to crave, and they work well with melted cheese, easily miming a burger. On the grill, they continue to be a crowd pleaser. Flavor is key, so you'll want a marinade to start. Let the mushroom caps soak for about fifteen minutes, turning twice. Then simply turn your grill onto medium-high heat, brush with oil, and let grill for five to eight minutes on each side. If you'd like to add cheese, add it in the last two minutes of grilling.
Article continues below advertisement
4. Veggie Burgers
Article continues below advertisement
Veggie burgers have a bad reputation. People assume they are bland, chalky, or simply not "meaty" enough. Thanks to some recent innovations, that's definitely changing. For example, Beyond Meat's "Beast" burger certainly holds up on the grill, as do their three-part variety of plant-based sausages. Field Roast has an impressive line of plant-proteins perfect for the grill, including burgers with 24 grams of protein. Gardein is widely available and offers a fantastic black bean burger that delivers protein without the "meat" texture.
It's also easy to make your own veggies burgers at home. For example, fillings like black beans, barley, and quinoa are inexpensive, healthy ways to fill up.
5. Cheese
Article continues below advertisement
While obviously not a vegan option, cheese can definitely be a filling way to avoid meat at a BBQ. When combined with plants, it can also provide an awesome amount of protein and healthy fat. For example, halloumi is popular on the grill, as it tends to be ready after just two minutes on each side. Other options include quesadillas with grilled vegetables, paninis with vegetables, or even a simple grilled cheese.
Article continues below advertisement
6. Seitan
Article continues below advertisement
Seitan is possibly the least known of the meat-free proteins, which is unfortunate, because it actually packs a lot of protein. Seitan is wheat-based, and is essentially wheat-protein. It's definitely savory, and is mild in taste before it's seasoned. When cooked, it has a meaty texture that makes it a great replacement for chicken or beef.
To prepare, you'll want to soak your seitan in a marinade for at least four hours (or overnight), covered, and in the fridge. Then put your grill on medium-high heat and grill for a few minutes on each side, until burn marks appear. Then flip, and apply more marinade. Repeat until ready! This also works well if you want to put the seitan on kebabs.
7.  Veggie kabobs
Article continues below advertisement
Kabobs are pretty much classic grill fare. A mix of mushrooms and eggplant gives you plenty of plant-based protein, while onions give you a nice and caramelized sweetness. They're also easy to make a big batch of for a large group of people, or to make variations to suit everybody's needs.