This Solar-Powered Stove Will Change Your Summer Barbecues
The SolSource Sport makes it easy to have an eco-friendly BBQ without sacrifice.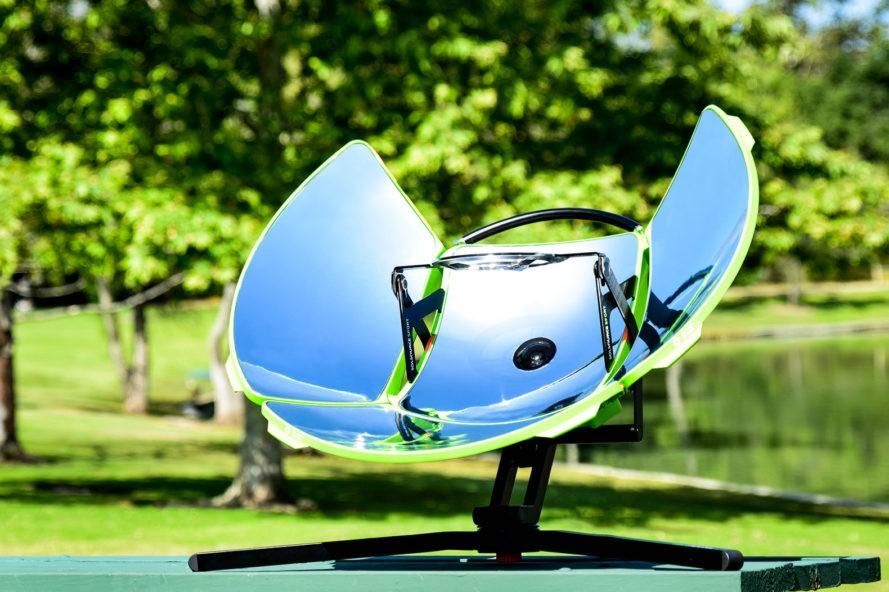 Most third-grade science classes have experimented with solar cookers for hot dogs and dehydrating produce. The concept is simple: harness and enhance the sun's rays with mirrors and glass (or clear plastic) to cook food without gas, fire, or charcoal—and without any carbon emissions.
Article continues below advertisement
But those contraptions of foil, plastic wrap, mirrors, and cardboard have seen a serious upgrade with solar ovens that can replace your whole barbecue or convection oven—and now, with a new portable stove on the market that heats up five times faster than your classic charcoal grill.
The SolSource Sport, currently being crowdfunded by One Earth Designs, is coming out just in time for summer and has already surpassed $101,000—more than five times its initial fundraising goal of $20,000. That means your backyard (or beachside, rooftop, or waterfront) barbecue may be about to turn a whole lot greener.
Article continues below advertisement
The SolSource Sport works by using mirrors to focus sunlight onto a single burner, which gets to a grilling temperature in five minutes, or 10 minutes for searing. That's roughly five times faster than the heat-up time for a charcoal grill. The SolSource works from an hour after sunrise to one hour before sunset and in air temperatures between 30 and 100 degrees Fahrenheit.
Article continues below advertisement
So yes, you can even use it when the ground is covered in snow, so long as the sun is shining. And because the SolSource doesn't require a flame, you can use it places grills and campfires can't go; like rooftops, and certain beaches and public parks. No flame means no fuel to carry around. So no propane, no wood or matches, and zero charcoal.
Article continues below advertisement
The one setback is, of course, the limited cook space. The SolSource isn't going to be your best option for large events—although with eight-person solar cookers retailing at Brookstone for $800, you could always buy several SolSources.
One Earth Designs is a certified B Corp started in 2013 while its founders were working with nomads in the Himalayas. One Earth Designs' flagship product, the SolSource, was designed as a solution for energy poverty: providing emission-free cooking capabilities in places without easy access to, say, propane tanks, charcoal, or dry wood.
Dr. Catlin Powers, the company's CEO and co-founder, was there in the Himalayas when One Earth Designs was born, and has a doctorate from Harvard University as well as two solar energy patents. Dr. Powers additionally serves on the technical advisory committee to the International Standards Organization.
Article continues below advertisement
The burner can hold a frying pan, cast-iron skillet, lobster pot, coffee or teapot, or flattop—making it suitable for just about any dish, and compatible with kitchenware you likely already own. The cooker's surface stays cool to the touch, so no worries about burning yourself while reaching for the food.
One Earth Designs' Kickstarter campaign runs until June 14, but suffice to say the money already raised means this solar cooker is set to be a real thing. Invest now, and you can get yours for $149, but standard retail will be $249.