PETA Activists Go Nearly Naked to Expose the Cruelty of Cashmere
In London, a series of PETA protests included a woman posing as a sheep to demonstrate animal cruelty used for cashmere.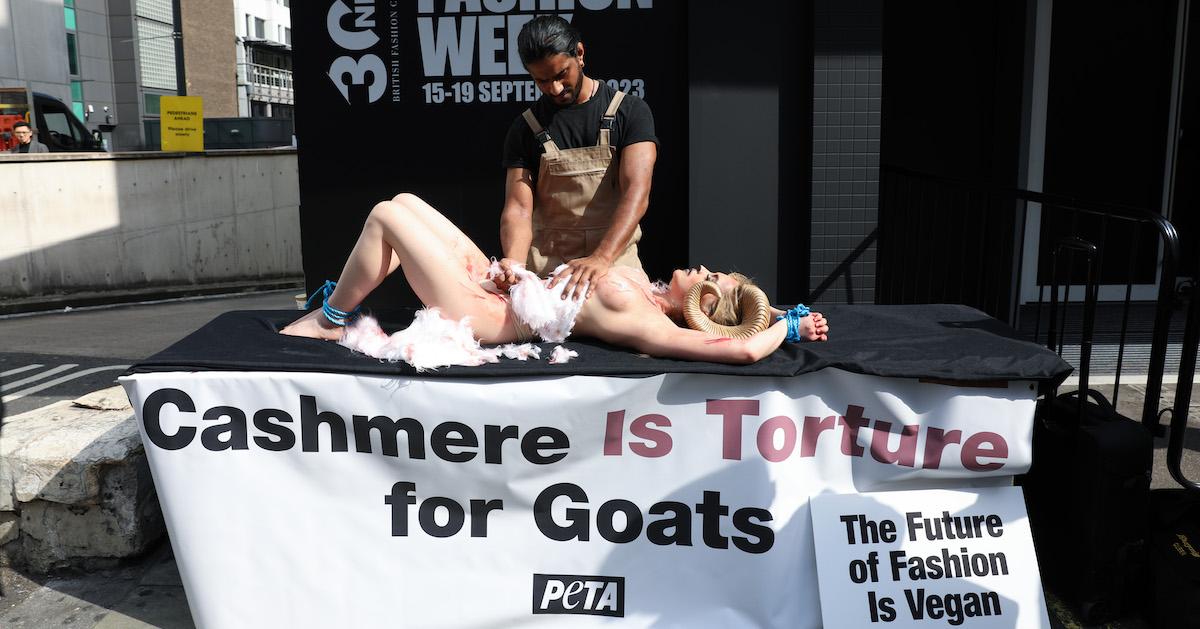 A series of protest in London in September 2023 drew attention to the cruel practices by which the fashion industry acquires cashmere, wool, silk, and other animal-derived materials. The protests were held by People for the Ethical Treatment of Animals (PETA), which launched an international campaign to protest cashmere and other animal-based fabrics in fashion.
Article continues below advertisement
One of the most shocking displays in PETA's cashmere protests was a woman who was almost nude, dressed up as a goat being abused for her cashmere. The protest was meant to shine a light on the animals who suffer for the sake of luxury materials used in clothing and accessories for fashion.
Here's more on how PETA scandalously spoke out for animal rights at this protest.
Article continues below advertisement
PETA protested Urban Outfitters' use of cashmere with a shocking demonstration.
On Sept. 15, 2023, PETA announced via press release that it had begun protesting outside the Urban Outfitters flagship store in London. The organization is demanding that URBN, which owns brands including Urban Outfitters, Anthropologie, and Free People, cease the use of alpaca, wool, leather, cashmere, mohair, down, and silk due to the horrific ways animals are treated in the industry.
According to PETA, many other protesters during the Urban Outfitters demonstration wore animal masks over their faces, holding signs with graphic images of animal abuse, and playing chilling audio clips of animal abuse and cruelty used to harvest their skins.
Article continues below advertisement
PETA director Elisa Allen stated: "Any material that's taken from an animal is a product of fear, and PETA is calling on Urban Outfitters to be true to its commitment to sustainability and ethical standards by selling only animal-friendly vegan fabrics, which it already stocks."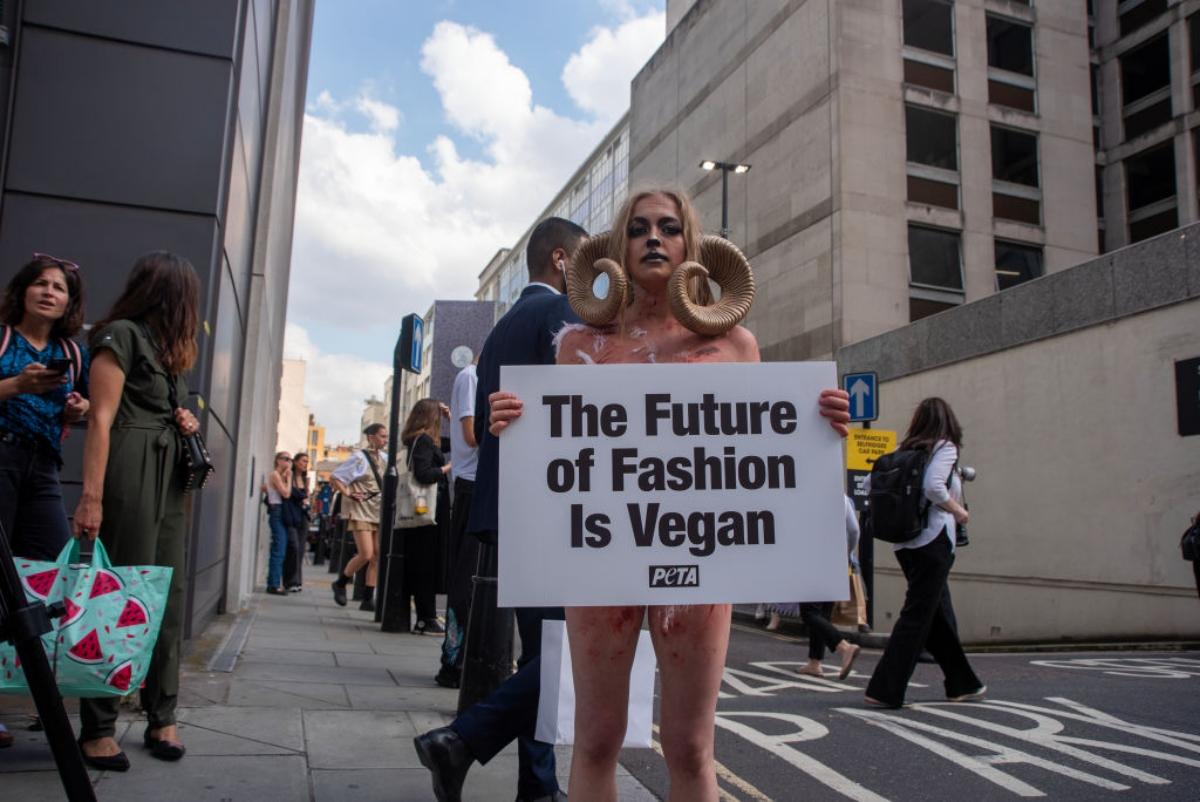 Article continues below advertisement
PETA also protested cashmere at London Fashion Week.
That same day, PETA staged a similar demonstration outside of London Fashion Week's NEWGEN Venue at Old Selfridges Hotel.
"To highlight to [the designers showing at London Fashion Week] that cashmere is cruel and that animal-free fashion is the future, a 'farm worker' pinned down a screaming and nearly nude PETA supporter dressed as a goat and tore' their hair out with a giant silver comb, leaving them with 'bloody wounds' and red raw skin," PETA described in a press release.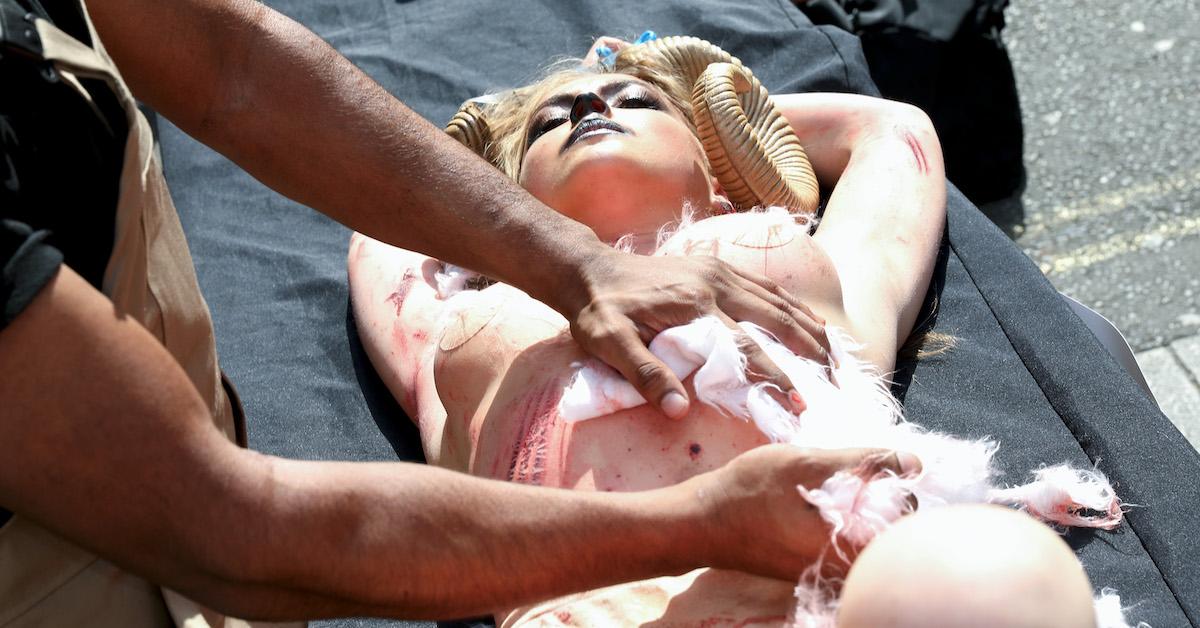 Article continues below advertisement
Article continues below advertisement
Is cashmere cruel? How harvesting the material hurts goats.
While cashmere may be a symbol of luxury to some, the soft material hides the cruel truth: goats are subjected to cruelty and mistreatment in the process of harvesting goat hair to manufacture cashmere. As The Minimalist Vegan explains, cashmere wool comes from breeding specific goats and harvesting their undercoat. There's been footage of impossibly cruel treatment of the goats in China: slit throats, untreated wounds, and premature death.
According to the Royal Society for the Prevention of Cruelty to Animals, combing goat hair to procure fibers for cashmere can be painful and stressful for the animals. The goats' four legs are bound, the combing teeth can scratch their skin, and the goats may suffer pain and stress during the one-hour procedure of hair removal.
Article continues below advertisement
While Sentient Media explains that goats tend to live a less-restricted life than many other animals raised as livestock, they have to live through harsh weather conditions and painful hair removal. Plus, once they've outlived their usefulness in producing cashmere, they're slaughtered for their meat.
Besides the horrific animal maltreatment to produce cashmere, wool, and other materials, the raising of these animals as commodities is contributing to climate change. Degradation of grasslands and damage to soil and vegetation are some of the environmental impacts of raising animals for the fashion industry.