Social Media Users Are Becoming Personal Stylists With "Thrift Bundles"
Social media users are embracing a new form of thrifting known as a "thrift bundle," in which thrifters also serve as personal stylists.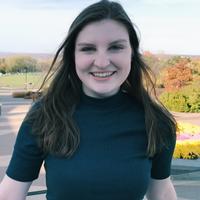 If you're interested in a fun, more sustainable alternative to fast fashion or live for the thrill of a good find, thrifting clothes might be the thing for you. But no one has the time or the money to spend hours pouring through piles of clothing for the perfect pair of jeans or their new favorite kitten heels, which is where the idea of "thrift bundles," sometimes called "style bundles," comes into play.
Article continues below advertisement
Across social media but especially on TikTok, users play personal stylist (for a fee!) and compile "thrift bundles" designed to pair the wearer with their ideal wardrobe right from Pinterest. Let's unpack how this new fashion trend works.
Article continues below advertisement
"Thrift bundles" turn social media users into personal stylists.
The hashtag #thriftbundles has over 11 million views and counting on websites like TikTok, with people posting prices and bundles they've already created as advertisements for their services.
Users such as @esmecarpenter advertise their services by showing off recent bundles, explaining how they matched what the client wanted (in this case, they were looking for woven textures, "Sofia Richie" style glam, and shades of brown).
Article continues below advertisement
Here are some tips if you're looking to purchase "thrift bundles."
Before you dive in, there are a few steps that you can take that might be helpful to make your thrift bundle experience as seamless as possible.
First, you should take your measurements, as many of the stylists running thrift bundle accounts will be shopping for you, so you can't try anything on right away! Good Housekeeping also suggests investing in a solid measuring or tailor's tape for this process.
Article continues below advertisement
Next, figure out your personal style. Although that sounds daunting, taking stock of wardrobe staples you wear year-round, determining what clothes you are uncomfortable in, and noting which color palettes suit you best can help potential thrift bundlers better find items suited to your closet.
According to InStyle, the keys to finding your style are looking outside the trends, experimenting, and ditching fast fashion.
Finally, always remember that tastes change and yours will too! It's a great idea to shop secondhand and donate pieces that no longer fit your wardrobe needs. You never know if a cardigan you hated will end up in someone's most-loved thrift bundle!