Is It Safe to Have Roses Around Cats? What Happens If They Eat Flowers
Roses themselves aren't actually dangerous for cats to ingest. However, there is good reason to be cautious when having roses near your cats.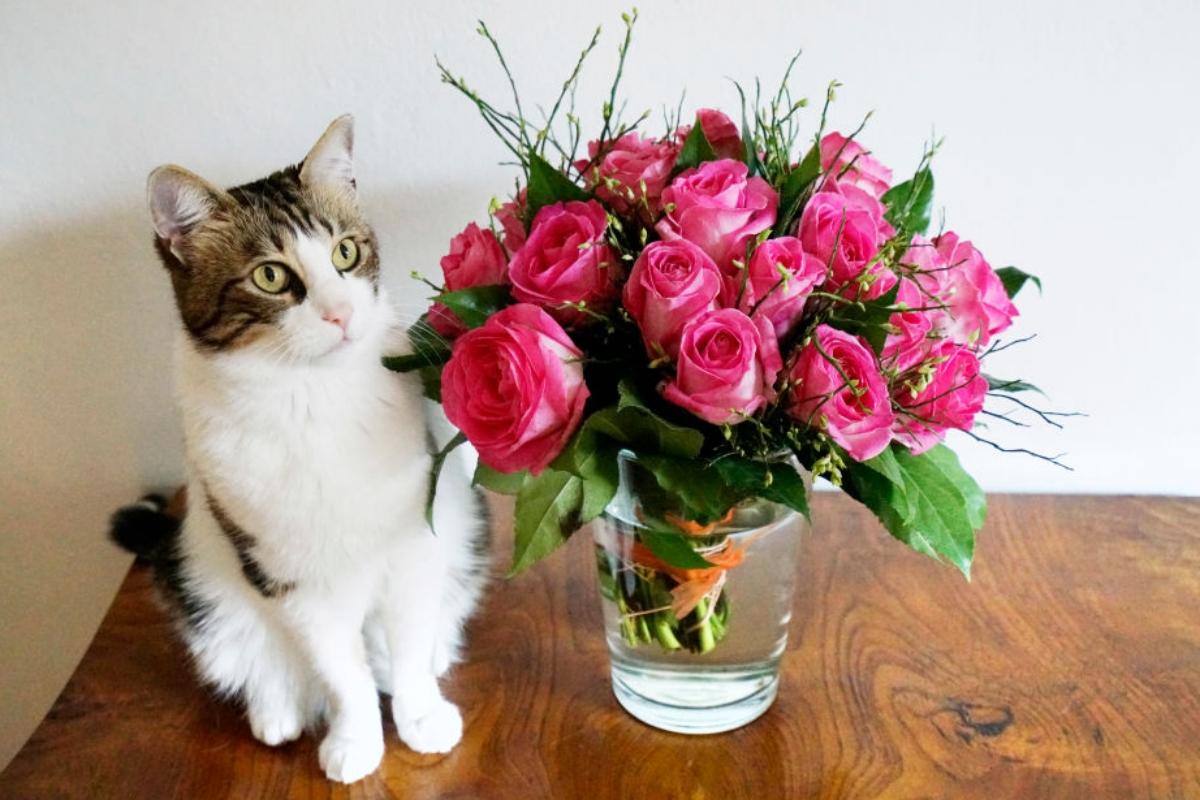 The Gist:
Cat parents often worry about their cats eating plants and flowers around the house.
If you keep roses in your house or garden, cats may nibble on them.
Roses themselves aren't toxic to cats and dogs, but there are concerns you should keep in mind to protect your animals.
Article continues below advertisement
Do you have a curious feline who is prone to chewing on or eating your houseplants? It's likely you already know which foods and plants are safe for cats, but it's a good idea to pay attention to specific items you might keep at home. For instance, a rose garden or bouquet is lovely, but are roses toxic to cats?
The good news is that roses aren't necessarily risky to keep in your cat-friendly home — and the same goes for your dog-friendly home. However, there's one more important question to answer before letting your kitty roam the rosebushes unattended.
Article continues below advertisement
Are roses toxic to cats?
Thankfully, according to the ASPCA, roses themselves are not toxic to cats. That should help you breathe a sigh of relief when your sweetheart brings home a colorful flower arrangement. However, don't stop there — roses can still pose a threat to your kitty under some circumstances.
Article continues below advertisement
Dr. Maureen Murithi, a veterinary spokesperson for Excited Cats, told Southern Living that roses themselves aren't toxic to cats; however, eating roses can cause cats to experience an upset stomach and related issues such as vomiting and diarrhea.
"The chemicals (pesticides) sprayed on roses are poisonous upon ingestion," she said.
And according to The Dodo, veterinarian Dr. Jacob Hawthorne said that pesticides and preservatives that landscapers and growers may use can be dangerous for your cats as well as other animals. So if your cat accidentally eats roses, flowers, or any other plant, and then exhibits symptoms like fever, vomiting, diarrhea, lethargy, or seizures, take her to the veterinarian right away to get her assessed and treated for possible poisoning.
Article continues below advertisement
You can ensure that roses and other plants around the house are safe for your cat by only buying organic plants, which are pesticide-free. Or if you keep your own garden or hire a landscaper for your garden, roses cultivated without the use of pesticides will be fine if left out near your cats. (But nontoxic doesn't mean healthy, so try not to let your cat munch wildly on roses or any other flowers.)
Remember that roses have thorns, too. So watch out that your cat doesn't injure herself playing in a thorny rosebush.
Article continues below advertisement
Are roses toxic to dogs?
If you are a dog parent, you may be wondering the same thing but about your dog. Are roses toxic to dogs? You certainly don't want your dog getting into plants that could make them seriously sick.
Fortunately, according to both Rover and the ASPCA, roses aren't toxic to dogs either. The lovely rose is safe to keep around your dogs, although the same caution applies to dogs as to cats: if your roses have been sprayed by pesticides, that is obviously not good for your pooch. And thorns can cause painful cuts to dogs as well, so awareness of what your dog is getting into is important.