How Feeding Your Dog a Vegan Diet Can Lower Your Carbon "Pawprint," According to an Expert
V-Dog's VP Lindsay Rubin tells us why putting a dog on a vegan diet can be good for their health and for the planet.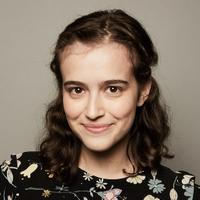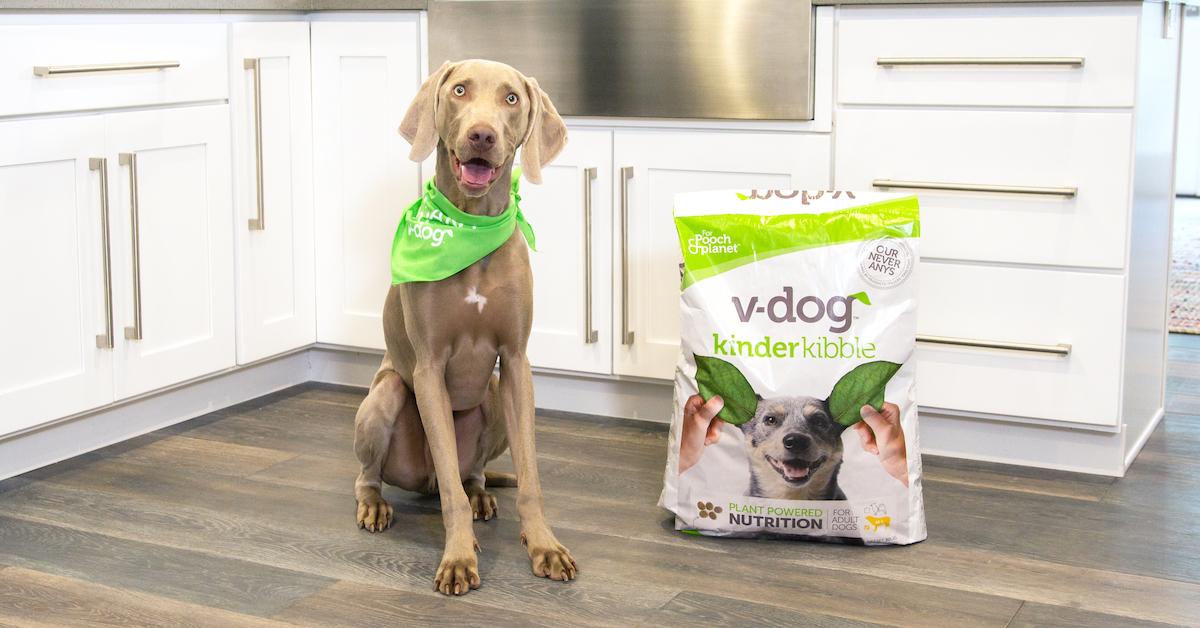 There's plenty of evidence that humans can thrive on plant-based diets — but can our dogs? The matter is often contested, with conflicting information leaving vegan, vegetarian, and eco-conscious dog parents confused as to what the best diet is for their companion animals. To learn more about both the health effects and the environmental impacts of feeding dogs plant-based diets, Green Matters spoke with Lindsay Rubin, vice president of V-Dog, an all-vegan dog food company.
Article continues below advertisement
V-Dog was founded in 2005, and the San Francisco-based company makes allergy-friendly and vegan dog food that is free of corn, soy, wheat, gluten, and other fillers. V-Dog's food is powered by high-protein whole foods like peas, oats, lentils, brown rice, flaxseeds, quinoa, and millet.
According to Rubin, not only is it safe to feed dogs a vegan diet, but vegan dog food can actually help relieve dogs of various health issues. "A vegan diet for dogs has been shown to help dogs maintain a healthy weight and lower inflammation in the body, helping with joints and mobility," Rubin tells Green Matters via email. "If your dog struggles with allergies or digestive issues, switching to a plant-based diet is an excellent option to help them find relief as top culprits of allergy-related issues are animal-based proteins found in beef, dairy, and chicken."
Article continues below advertisement
V-Dog's website elaborates on that, explaining that thanks to evolution, dogs have evolved from carnivores to omnivores, allowing them to process both animal-based foods and plant foods. V-Dog says it can provide dogs with every nutrient they need, and the website notes that a plant-based diet can give dogs benefits including increased energy, better oral hygiene, an improved coat, and even a longer life. Fun fact: A Collie dog named Bramble who was fed a diet of rice, lentils, and veggies lived to 27, earning him a Guinness World Record for oldest living dog at the time, according to Care2.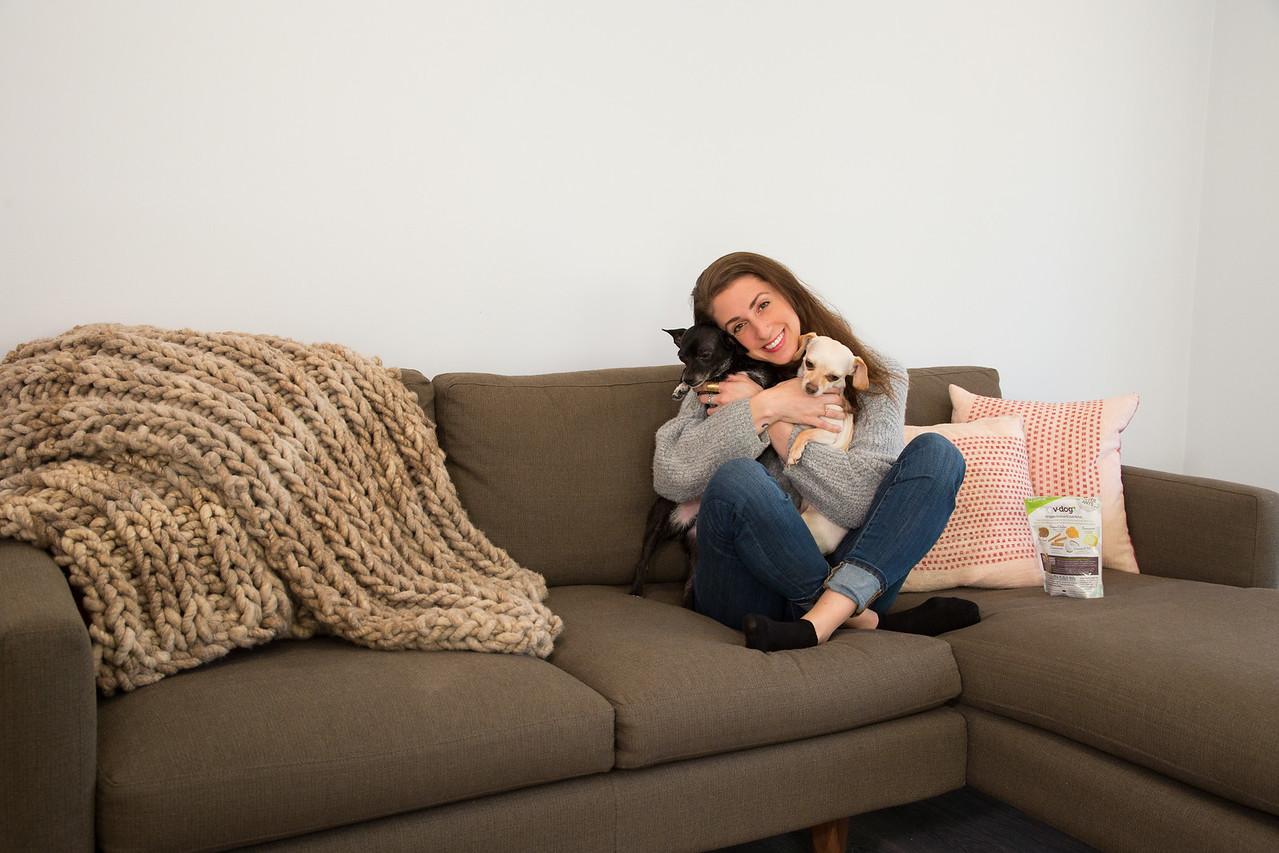 Article continues below advertisement
There have been a slew of studies that found that feeding dogs meat-free diets is healthy. One such study, published in 2009 on NCBI, studied a group of 12 sprint-racing sled dogs, half of which were put on a "nutritionally balanced meat-free diet," while the other half remained on meat diets. Every few weeks for four months, the dogs had veterinary appointments and blood taken. All 12 active dogs remained in superb health throughout the experiment.
Not to mention, if you knew exactly what was in meat-based dog food, you probably would not want to put in your pup's body. Most dog food is made with animal parts that were deemed unfit for human consumption. According to Slate, the U.S. Food and Drug Administration only allows about half of a cow's body to be used for meat for humans to eat. The remainder of the bodies of cows, pigs, chickens, and more — which includes brains, feces, udders, bones, feathers, skin, and hooves — is sent to a rendering plant.
Article continues below advertisement
At a rendering plant, those body parts are ground and heated into food for pets and livestock, according to the National Renderers Association. In addition to leftover body parts from animals raised for food, rendered pet food often contains the bodies of other animals like dolphins that wash up on the beach, zoo animals, euthanized cats and dogs from shelters, roadkill, and expired meat products. Not so appetizing, is it?
Article continues below advertisement
In addition, the environmental impact of feeding dogs conventional pet food is bigger than it may seem. "Pets are responsible for a quarter of the greenhouse gases from animal agriculture," Rubin tells Green Matters. In fact, a 2017 study published by the journal PLOS ONE found that in the U.S., there are more than 163 million dogs and cats, most of which consume meat-based diets. Through those diets, cats and dogs are responsible for about 25 to 30 percent of animal agriculture's environmental footprint, when you look at things like land use, water, and fossil fuel extraction, the study found.
Article continues below advertisement
If you are interested in switching your doggo to a vegan diet, Rubin has plenty of advice. "It's always a good idea to consult your veterinarian before switching your dog's food, vegan or not," she tells Green Matters. "It's also important to note that not all vegan diets are created equal; Always choose a 'complete and balanced' vegan diet for your dog," she says, adding that when dog food shopping, consumers should always look for a message on the bag that the food meets Association of American Feed Control Officials (AAFCO) standards.
Article continues below advertisement
Once you've gotten approval from a vet, you'll want to make a gradual transition. "Switching your pup gradually over the course of a week is usually the easiest transition for a dog. One recommended plan is to start on day one mixing 20 percent of the new food with 80 percent of the old, and adjust the ratios by 20 percent daily arriving at 100 percent new food by day five," Rubin explains. "This gives the dog's stomach more time to adjust to the new formula. Since plant-based diets are gentle on digestion, most dogs have a very easy time transitioning to a vegan diet!"
In addition to transitioning your dog to a vegan diet, there are plenty of other ways to reduce the impact of your pet care. For one thing, Rubin advises dog lovers to adopt, not shop. Due to overcrowded shelters, more than 2.7 million adoptable dogs and cats are put down every year, according to the Humane Society of the United States — so by adopting instead of supporting breeders, you are saving a life. What's more sustainable than that?
Article continues below advertisement
Rubin is also a huge advocate for spaying and neutering. "The most environmentally conscious practice for both kitty and dog parents is to spay or neuter their pet. A single female cat can have up to 24 kittens a year, even in their senior years," Rubin tells Green Matters. "Spay and neuter programs are crucial to curbing the homeless pet problem and lowering the environmental effects of overpopulation."
If you do decide to purchase V-Dog for your furry friend, Rubin notes that the outer paper layer of V-Dog bags is recyclable. Unfortunately, the inner plastic bag is not recyclable — but hopefully in the future, V-Dog will find a more sustainable material to package their kibble. If you are interested in other ways of lowering your dog's environmental "pawprint," click here for our recommendations.