Having a pet doesn't have mean a zero-waste lifestyle is out of the question. Buying in bulk, composting poop, and making sustainable dog treats at home are effective ways to cut back on waste. While finding low-impact solutions for a dog is certainly an adjustment, avoiding packaging whenever possible is one of the key ways to make your dog's care as zero-waste as possible. One of the main ways of doing that is making dog treats at home with a few sustainable ingredients.
Dog treats purchased in-store or online almost always come in packaging — whether it's plastic, a cardboard box, or a mixture of both. If such packaging is purchased, the best option is to recycle it. However, remember that sustainability doesn't necessarily equate recycling; living a low-impact lifestyle doesn't mean recycling more, it means creating less waste in total, so that less recycling is necessary.
In order to combat the wasteful packaging that often accompanies buying dog treats, making them at home with ingredients you either already have or can buy in bulk is more sustainable. Healthy and yummy ingredients for dogs include pumpkin, apples, coconut oil, sweet potato, and peanut butter.
Recipe for Banana Treats
Dogs can eat bananas in moderation. They are an excellent source of potassium, manganese, vitamin B6, vitamin C, fiber, biotin and copper. Because of the high sugar content in bananas, these fruits should not be a regular staple of a dog's diet, but in moderation are perfectly safe. And when combined with chicken stock, deliciously tasty for pups!
This recipe, which comes from Trash Is For Tossers, calls for only four ingredients:
1 cup whole wheat flour
½ cup peanut butter
¼ cup chicken stock
¼ cup ripe banana
Instructions: Preheat the oven to 350 degrees. Combine all ingredients in a mixing bowl, taking care to make sure the banana is fully mashed and no longer chunky. Use a rolling pin to get the dough to a ¼ inch thickness or use a cookie cutter to get the preferred thickness. Bake for 16 to 20 minutes or until golden brown. Note: parchment paper can be composted afterward.
Recipe for PB & Coconut Oil Treats
Coconut oil is really beneficial to a dog's skin and coat. Not only does the oil promote a shiny coat, it also alleviates hot spots, dry skin, and dry paw pads. It's also thought to help with bad breath issues and in eliminating nasty parasites like fleas and ticks.
This recipe calls for only three ingredients and comes from Golden Barrel:
1 cup peanut butter
1 teaspoon cinnamon
1 cup coconut oil
Instructions: No oven necessary. Bring all of the ingredients to a boil in a pot on the stove. Once the mixture starts bubbling, pour it into the spaces in a silicone ice tray, and freeze. Store in freezer.
Please note: This recipe contains cinnamon. According to Pet MD, cinnamon is non-toxic to dogs. However, the cinnamon should be under no circumstances substituted for nutmeg. Nutmeg is toxic to dogs in large quantities.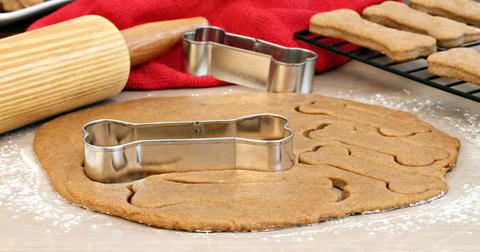 Recipe for Frozen Apple Treats
Dogs love apples, but what they don't know is that apples clean residue off their teeth, freshen their breath, and provide a good source of fiber and vitamins A and C. Apples are also low in protein and fat, which means they are a great alternative for pets who may need to lose weight or for age reasons, need to cut back on meaty treats.
This recipe comes from Irresistible Pets and requires three ingredients:
2 apples
1 cup Greek nonfat yogurt
Water
Instructions: Slice apples, taking care to remove the core and any seeds. Throw apples, yogurt, and a splash of water in a blender. Blend until the consistency is liquid. Pour the mixture into a silicone ice tray and freeze. Store treats in the freezer for best results.
Recipe for Peanut Butter Pumpkin Treats
For doggos suffering from digestion issues, canned pumpkin can help. Pumpkin is full of fiber and beta-carotene, which the body then converts to vitamin A, and can alleviate either diarrhea or constipation.
This recipe from Desserts With Benefits requires a few household ingredients:
1 cup pumpkin puree
½ cup peanut butter
1 ¾ cup oat flour
1 teaspoon ground cinnamon
Instructions: Preheat the oven to 350 degrees and line cookie sheets with parchment paper. Add the ingredients to a mixing bowl and beat on medium speed until the mixture has a cookie dough-like consistency. Roll the dough so it's ¼ inch thick or use a cookie cutter to get preferred thickness. Bake for 15 minutes or until firm. Let treats cool, then store in a sealed container in the fridge. Treats should last for up to one week.
Please note: This recipe contains pumpkin, which the body turns into vitamin A. High levels of vitamin A are toxic to dogs, but in moderation, can help with digestion woes.
Remember that dogs cannot have a lot of the foods that we eat, so always do some research before pulling out the rolling pins and silicone ice trays.