These Vegan Nutellas Are Just What Your Sweet Tooth Ordered
Nutella is not a vegan product, but there are plenty of vegan Nutella alternatives to slake that chocolatey craving.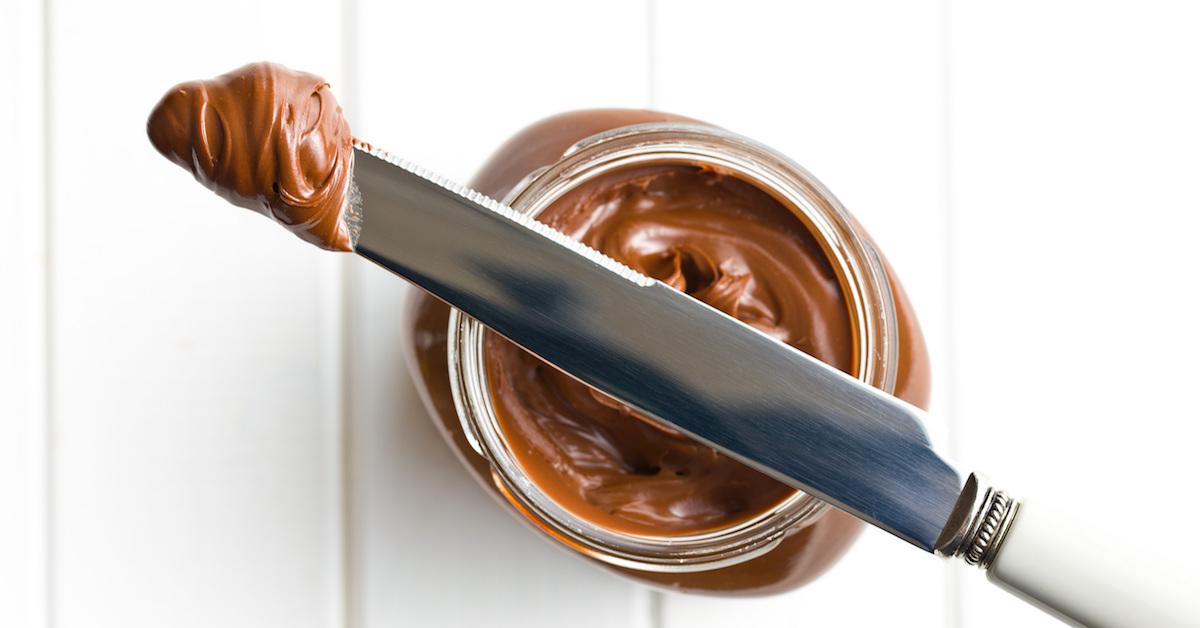 There's nothing quite like the delicious blend of hazelnut and chocolate. Unfortunately, traditional, brand-name Nutella doesn't yet come in animal-free varieties; not to mention, conventional Nutella also contains palm oil, which many eco-conscious consumers try to avoid.
That said, plant-based fans of this delectable combination need not go without. There are a number of vegan Nutella alternatives available today, many of which happen to also be palm oil-free and contain less sugar than Nutella. There are also plenty of recipes that will allow you to make vegan Nutella for yourself at home.
Article continues below advertisement
Noah Schnapp from Stranger Things just rolled out a vegan Nutella.
The first vegan Nutella on this list is the newest one on the market, brought to you by a former kid from Hawkins. According to VegNews, Stranger Things actor Noah Schnapp recently decided to release his own brand of vegan Nutella, called To Be Honest (TBH), after learning that not-so-eco-friendly ingredients like palm oil and dairy milk are found in conventional Nutella. You can buy Schnapp's gluten-free, soy-free, vegan Nutella on the TBH website.
Nocciolata
Made from organic cocoa and hazelnuts, Nocciolata Dairy-Free is a vegan Nutella that also happens to be gluten-free. Many connoisseurs consider this particular brand to be the cream of the crop when it comes to vegan Nutella alternatives. This product is also free of palm oil, hydrogenated fats, preservatives, and artificial colors, and can be found in stores like Whole Foods.
Article continues below advertisement
Nutiva
Nutiva has a potent and delicious combination of cocoa, hazelnuts, flaxseed, chia seeds, and coconut oil. It's much healthier than Nutella, and it comes in both Classic and Dark chocolate varieties, both of which are vegan.
Article continues below advertisement
Don't Go Nuts
If it wasn't clear from the name, Don't Go Nuts' Chocolate Spread is not exactly like Nutella. But its texture, chocolatey taste, and general nuttiness are closer than one might think for a product that doesn't even contain hazelnuts. Still, that kind of works in its favor, as it makes it a nut-free product, hence the brand name Don't Go Nuts. Its main ingredients include non-GMO soybeans and soybean oil, as well as sustainably-sourced palm oil — if there can even be such a thing.
Article continues below advertisement
Recipes for vegan Nutella
This first recipe comes from Yumsome, and uses simple, tasty ingredients to create a chocolaty facsimile of conventional Nutella. Because it uses only dairy-free dark chocolate, coconut oil, vanilla, raw hazelnuts, maple syrup, salt, and coconut oil, it winds up being dairy-free, gluten-free, and soy-free. You'll notice that the recipe doesn't call for refined sugar, and that's because all of its sweetness comes from natural sugars.
Article continues below advertisement
The second recipe, from Minimalist Baker, is also vegan and gluten-free. It only contains four ingredients: raw or roasted hazelnuts (your choice), sea salt, dairy-free dark chocolate, and pure vanilla extract. It's a pretty efficient recipe as well, since it only takes about 30 minutes to complete. If it isn't sweet enough for your tastes, Minimalist Baker recommends adding stevia, maple syrup, or agave nectar rather than attempting to pour in table sugar.