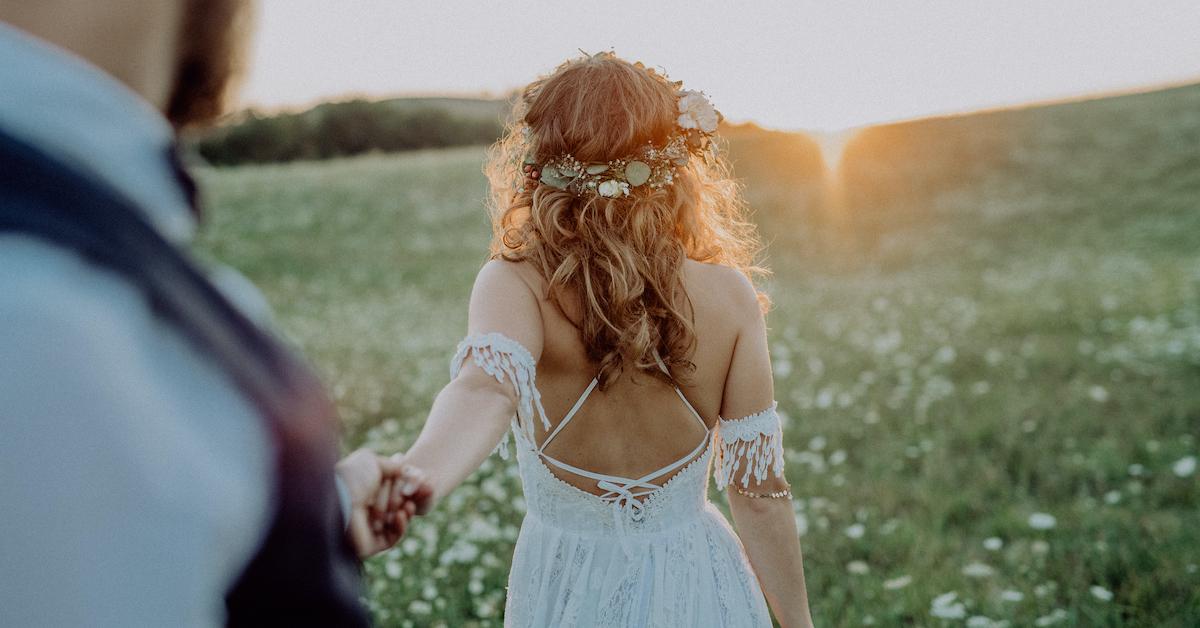 Sustainable Wedding Dresses: Our Favorite Eco-Friendly Designers + Tips for Buying a Vintage Gown
Sustainable wedding dresses totally exist — read our guide for keeping your look eco-friendly on your big day.
There are so many elements that go into a wedding — and if you're trying to match your wedding day to your zero-waste lifestyle, be prepared to do a little extra research before booking everything from your venue to your caterer to your bouquet to, of course, your wedding dress. But do sustainable wedding dresses even exist?
Article continues below advertisement
Fortunately, if you want to dress as eco-friendly as possible on your big day, there are plenty of sustainable bridal gown options out there. Not sure where to start? Read on for our guide to getting the eco-friendly bridal gown of your dreams.
What are the most sustainable materials for wedding dresses?
When it comes to new garments, the most sustainable fabrics are natural, plant-based fibers such as organic cotton, linen, jute, hemp, or bamboo. Wedding dresses are most commonly made from fancy-sounding fabrics like chiffon, organza, lace, satin, crepe, and tulle. These fabrics are made from either synthetic fibers (meaning plastic-derived fibers) or silk (an expensive fabric made by worms, which, while often regarded as a natural fiber, is not vegan, and is pretty cruel to worms). The labels on wedding gowns may not be clear as to whether these fabrics are silk-derived or not, so if you're looking to avoid all animal materials, make sure to do your research.
Article continues below advertisement
That said, depending on the look you're going for, wedding dresses can definitely be made from natural, plant-based fabrics. Another option is purchasing a gown made from recycled or vintage fabric, which means you'll be diverting fabric from the waste stream rather than contributing to the demand for new fabrics.
Article continues below advertisement
Buying a sustainable wedding dress is totally possible.
We've compiled a few of our favorite brands that design and sell sustainable wedding dresses — most of which can be ordered online or from their small shops, if you live locally. But first, learn a little more about the most sustainable option of all: a secondhand wedding dress.
Article continues below advertisement
Secondhand, Vintage, or Heirloom Wedding Dresses
Article continues below advertisement
You can also shop for vintage or secondhand wedding dresses online. After all, most brides just wear their dress one time, and many will put them up for sale online so it can have a second life down the aisle. If there's a dress you love from an unsustainable or expensive brand, you can search on websites like Love Me Twice, Poshmark, Depop, eBay, or The RealReal for the designer or style you're looking for, and then get it altered.
Article continues below advertisement
Additionally, if you have a heirloom dress in your family, you can take it to a tailor that specializes in altering or redesigning vintage wedding dresses into modern styles. For example, Janay A Eco Bridal in Mission, Kans., The Williamsburg Seamster in Brooklyn, N.Y., and The Gilded Thimble in Bedford, Va. can all transform a vintage gown into the modern dress of your dreams.
Article continues below advertisement
Indiebride London
Indiebride London is a made-to-order sustainable wedding dress company that takes "our nature's wellbeing in consideration." Indiebride customers typically work closely with their dressmaker, but you can also order a dress online and get it altered on your own. Most of the brand's dresses are made from natural materials like cotton, ramie, and silk, but the brand also uses some synthetic materials like nylon and rayon. Additionally, Indiebride saves cutoff fabrics from dressmaking and uses them to make sashes, veils, and headpieces, and the rest are donated to students or organizations.
Indiebride London's dresses range from 600 pounds (about $783 USD) to 1,900 pounds (about $2,481 USD).
Article continues below advertisement
The Cotton Bride
The Cotton Bride is a custom bridal studio based in Long Island City, NYC that makes its gowns out of 100 percent natural fibers, including cotton, linen, and silk; the company can also make vegan gowns that do not include any silk.
Most of The Cotton Bride's dresses are in the $2,000+ range.
Article continues below advertisement
Wear Your Love
Wear Your Love is an online-only, made-to-order wedding gown company that makes all of its dresses at a studio in Northern California. Wear Your Love uses eco-friendly fabrics like "ultra soft bamboo and lush organic cotton" in almost all of its dresses, and all of the company's gowns can be made completely vegan by choosing chiffon from vegan (synthetic) materials as opposed to silk-based chiffon.
Wear Your Love's dresses range from $680 to $1,880.
Article continues below advertisement
Rita Colson
Rita Colson is a London-based, Black-owned design house that makes couture wedding gowns and evening wear from ethically- and sustainably-sourced fabric. You can order a pre-designed dress from the company with any adjustments you'd like, or work with the company's designers to create a custom look in Rita Colson's signature style. Rita Colson is by appointment only in London.
Rita Colson does not share prices on her website.
Article continues below advertisement
Rime Arodaky
All of designer Rime Arodaky's wedding gowns are completely animal-free, and for a supplier to work with her, they must share her cruelty-free business values, according to the blog Sweet Potato Soul. Rime Arodaky doesn't only make bridal gowns — she also sells fabulous blazer-style mini dresses, skirts, jumpsuits, two-piece sets, and more for your wedding day. You can shop the French designer's collections on her website, via Net-A-Porter, and in select stores.
Rime Arodaky's wedding gowns range from 290 euros (about $342 USD) to 5490 euros (about $6,474 USD).