Sustainable Sneakers: 9 Trendy and Eco-Friendly Options
Sneakers are getting more and more sustainable – check out these nine low-impact, vegan options.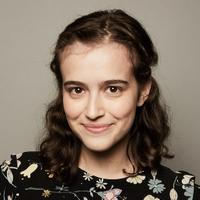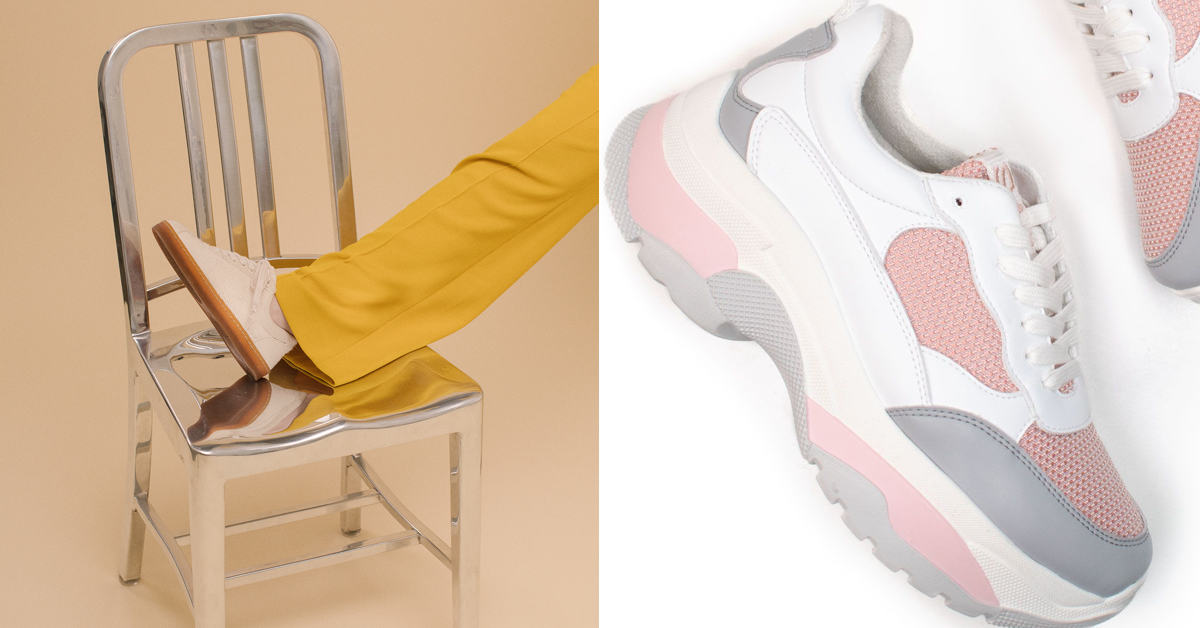 Are you eco-friendly from your head to your toes?
While secondhand shopping is the best way to keep the impact of your shopping routine low, that's not always a possibility when it comes to sneakers, especially when they're being used for athletic activity. Fortunately for those in the market, one of the latest sustainable fashion trends is sustainable sneakers. Is it just me, or did another brand launch a pair of supposedly-sustainable sneakers just about every month this past year?
Article continues below advertisement
Vans' Eco Theory collection
In June 2021, Vans unleashed its Eco Theory collection, as per VegNews. It consists of four classic styles (Authentic sneakers, Slip-Ons, SK8-Hi high tops, and Style 36 shoes). Each are comprised of ethically sourced, plant-based, and sustainable materials — swapping out unsustainable materials like suede, petroleum-based rubber, chemically treated dyes for organic cotton, cork, natural rubber, hemp, water-based inks and glues, and natural rubber for soles. You can find the full collection at select stores, and on Vans' Surf site.
Article continues below advertisement
Native Shoes' Plant Shoe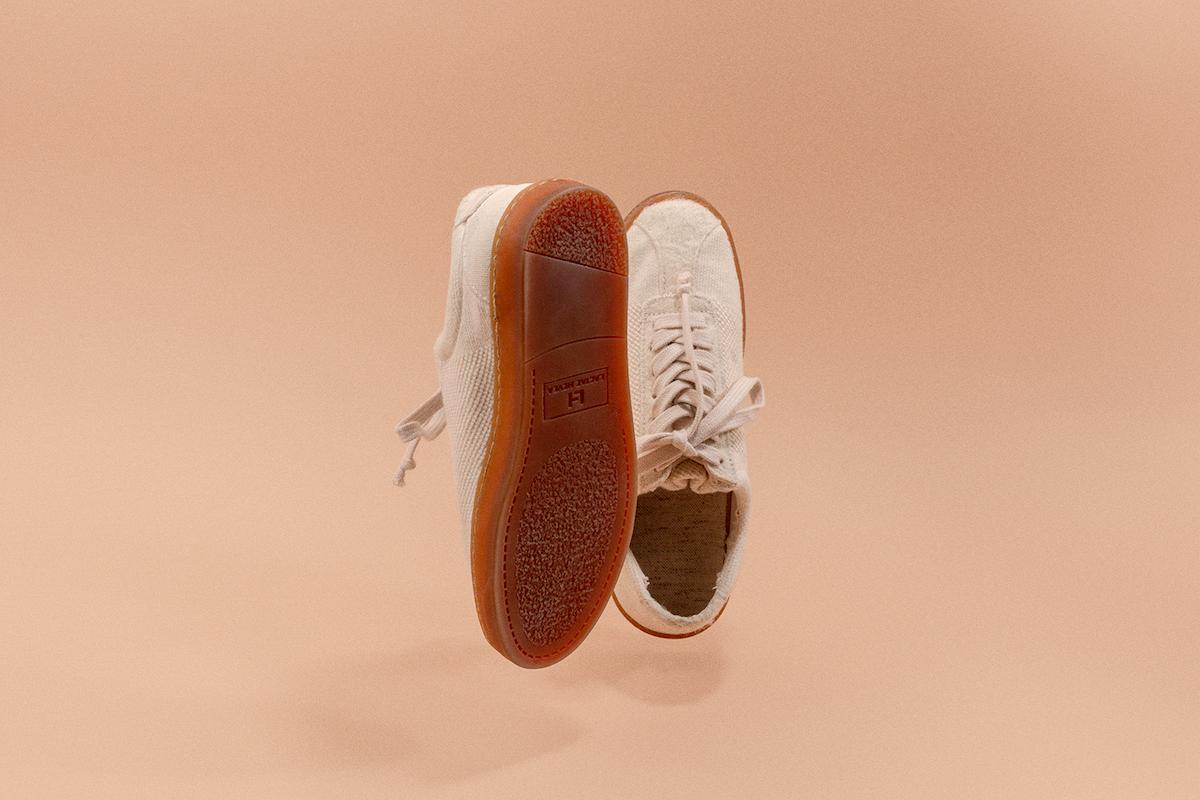 Last year, 100 percent vegan shoe company Native Shoes launched The Plant Shoe, which can actually be backyard composted at its end of life. The $200 shoes are made from a long list of biodegradable materials: natural lactae hevea, eucalyptus, cork, sisal, organic linen, kenaf, corn, olive oil-soaked jute thread, natural latex-based glue, pineapple husk, and organic cotton.
And in partnership with Zappos, the "beast free" shoe company spearheads the Remix Project program, where customers can mail back worn Native Shoes to be recycled.
Article continues below advertisement
Ecoalf
If you're looking for a sporty pair of kicks, check out Ecoalf. The B Corporation sells a variety of comfortable athletic, casual, and fashionable vegan sneakers made from recycled plastic. Specifically, many of their shoes use recycled plastic bottles recovered from the Mediterranean seabed; the company also utilizes recycled cotton, nylon, and tires. Ecoalf ships its packages plastic-free and in recycled paper, and the brand's sneakers range in price from about $57 to $125.
Article continues below advertisement
Enda
Enda is a majority Black-owned sneaker company based in Kenya. The brand sells two styles of colorful running shoes: the Lapatet ("for when you want more miles") and the Enda Iten ("built for speed,") available for both men and women.
Enda is a certified B Corporation, it's Climate Neutral certified, and the company has a variety of initiatives to keep its environmental impact as low as possible, including upcycling waste and using reusable packaging. The vibrant shoes range in price from $100 to $120.
Article continues below advertisement
Nae Vegan Shoes
Nae Vegan Shoes offers a wide selection of sneakers, but if you're looking for a trendy sustainable option, you may be interested in the company's shoe range made with Piñatex, aka vegan pineapple leather! Nae's Piñatex sneakers are made from 80 percent pineapple leaf fibers, as well as PLA fibers, paperboard agglomerate, OEKO-TEX certified microfibers, and natural rubber; the Portugese brand also makes a range of sneakers out of ocean waste.
Nae Vegan Shoes produces its collection in a CO2-free manufacturing system. Nae's Piñatex sneakers range in price from about $60 to $82, and Nae also makes sandals, boots, and flats from the plant-based material.
Article continues below advertisement
Reebok Cotton + Corn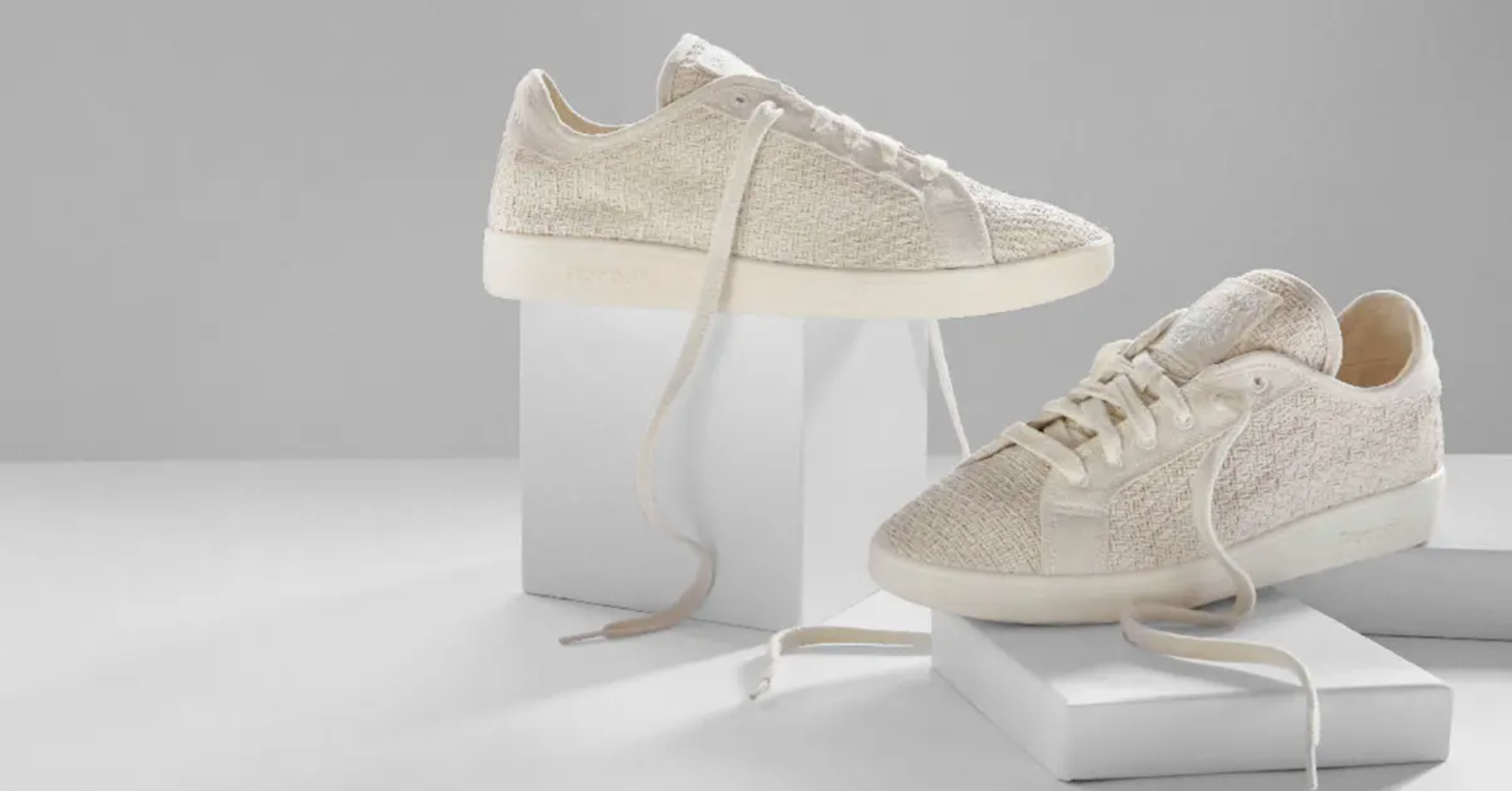 Reebok's Cotton + Corn shoes are made of 75 percent bio-based materials, including cotton, a corn-derived bio-based TPU, and castor bean oil. When Reebok first launched the sneakers, they included a bit of leather — but after a campaign from PETA, the shoe brand updated the design to be completely animal-free. Originally released in just dye-free white, Cotton + Corn shoes now come in a few colors and retail for anywhere between $26 and $85 on Amazon and Reebok's website (don't ask me why).
Article continues below advertisement
Cariuma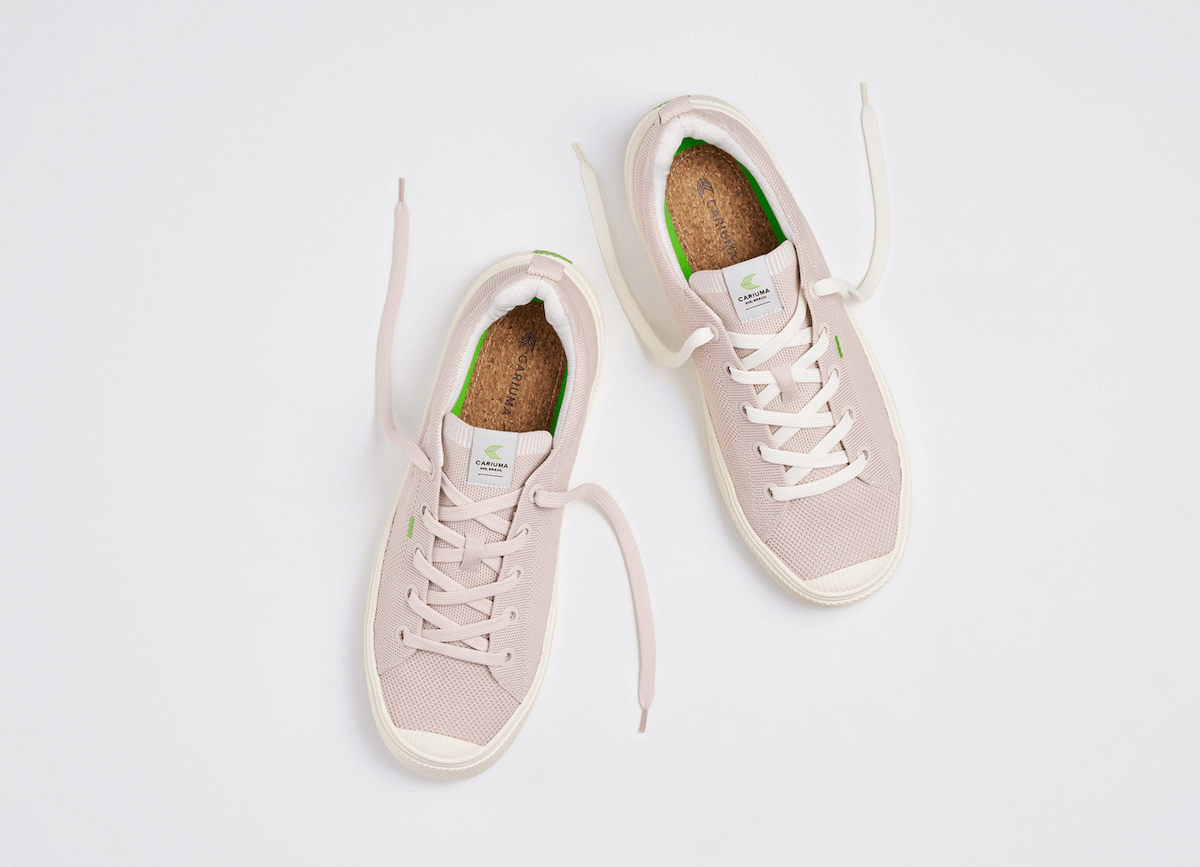 Based in Rio, Brazil, Cariuma's trendy sneakers have probably made an appearance in your Instagram feed at some point. The company uses GOTS-certified, OEKO-TEX certified, and FSC-certified fabrics, such as bamboo, rubber, organic cotton, sugarcane, cork, mamona oil, and recycled PET to make its sneakers. Unfortunately, the brand also uses a lot of leather and suede from cows; however, 43 percent of Cariuma's product range is vegan, and the brand is committed to having vegan products represent more than 50 percent of its collection by 2021.
Cariuma's has a wide, colorful range of low-rise vegan sneakers, which retail for $98. The company ships its products in recycled paper packaging to 49 countries.
Article continues below advertisement
Will's Vegan Store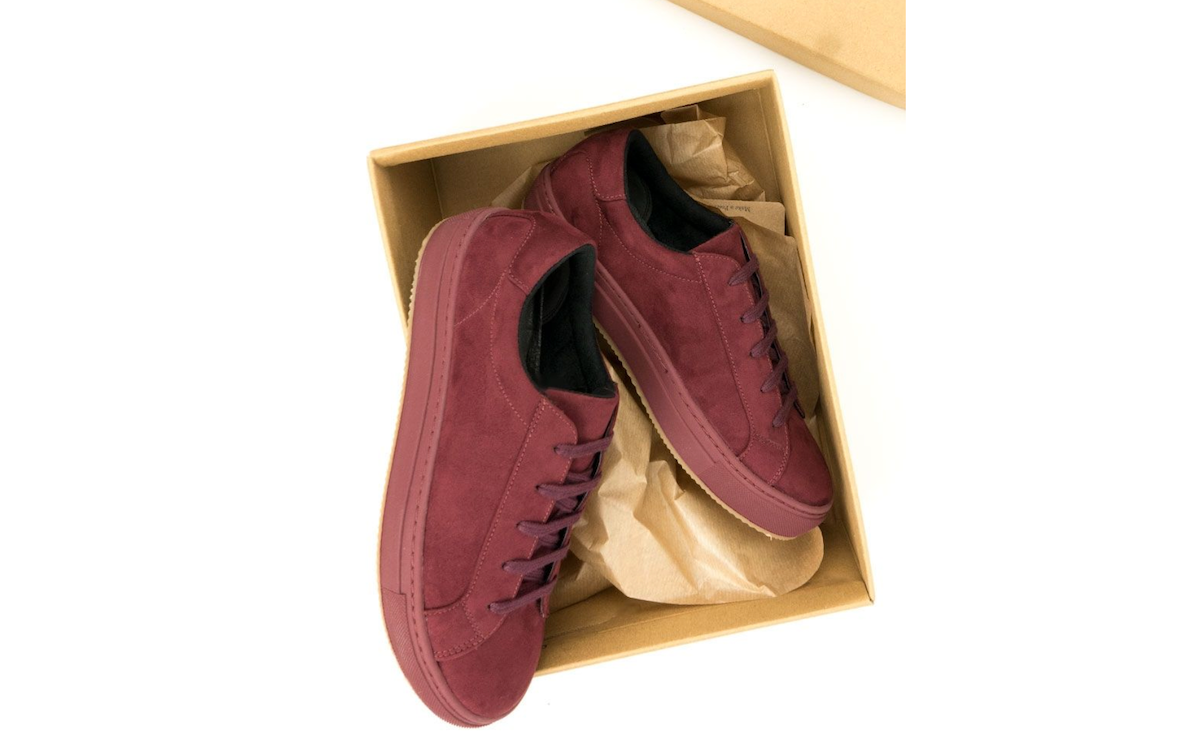 Article continues below advertisement
Adidas X Parley for the Oceans
For the runners out there, it may be hard to find a pair of supportive athletic shoes that are somewhat sustainable — especially if you are serious about running and need to replace your training sneakers with new ones on a regular basis — but the collaboration between Adidas and Parley for the Oceans is a decent compromise.
The high-tech running shoes are made from marine plastic waste collected from beaches, and they range in price from $85 to $180. Of course, coming from a massive company like Adidas, there's far less transparency on the impact of the manufacturing process, the labor regulations, etc. — but again, these are a good compromise for eco-minded runners who need something high-tech that will ship fast; plus, purchasing these supports Parley for the Oceans, a nonprofit organization doing some pretty cool work for our oceans.
Article continues below advertisement
As a reminder, all of the shoes on this list do have an environmental impact, as does pretty much every new item money can buy. So when you finally wear out your kicks, make sure to recycle them — check out Nike's Reuse-A-Shoe recycling program.