Slutty Vegan's Pinky Cole on Giving Back, Her New Cookbook, and "Not Giving a F--k" (Exclusive)
To learn more about Slutty Vegan's founder Pinky Cole, we interviewed her for our "Green Routine" series.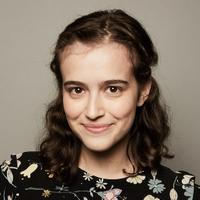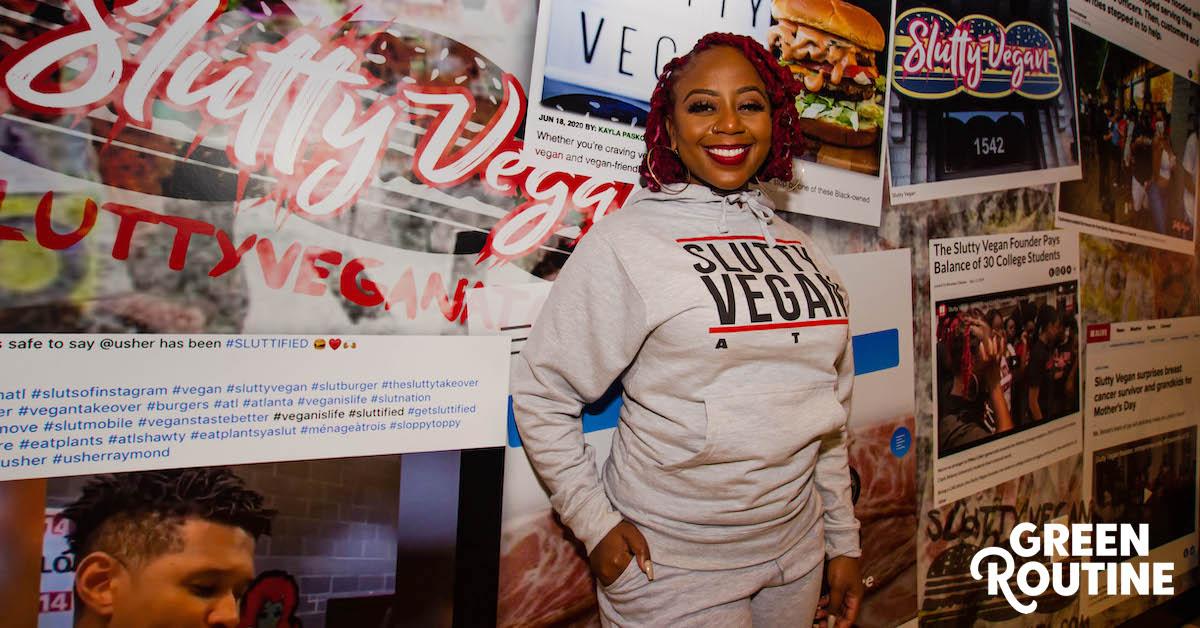 "Slutty Vegan is for everybody," Slutty Vegan founder Pinky Cole tells Green Matters on a recent call. "It is a place where everybody can feel safe, and all the rules of the world stay outside those doors."
In Atlanta in 2018, Cole opened the first Slutty Vegan, a fast-casual burger joint that's 100 percent plant-based, with a mission of giving back to the communities it serves, all while "doing it our way, creating our blueprint, not giving a f--k what anybody has to say," Cole states.
Article continues below advertisement
Slutty Vegan quickly became a cult classic in the area, with hours-long lines outside every day, all to try menu items like the Fussy Hussy and the Sloppy Toppy. Less than four years later, there are five Slutty Vegan locations throughout the South, with three more scheduled to open soon, in Birmingham, Ala.; Columbus, Ga.; and Athens, Ga., Cole says.
Cole also tells Green Matters that New Yorkers can officially start preparing to finally try her droolworthy burgers — two Slutty Vegans will open in New York City in 2022, though she can't yet reveal exactly where or when. She also shares that the Slutty Vegan team is expanding, and getting ready to bring on some C-suite executives.
Article continues below advertisement
"We are really in full force," she says. "And I'm excited to see this little mom and pop company that was just once upon a time an idea, now slowly turning into this corporate mega empire. And it just feels so good to know that I'm at the forefront of it."
On top of that, Cole has her first cookbook coming out this year, and she also recently appeared on the cover of Essence magazine. To learn more about Cole's vegan story, her advice for those interested in veganism, her habit of giving back, and more, we interviewed Pinky Cole for our "Green Routine" series.
This interview has been edited and condensed for clarity.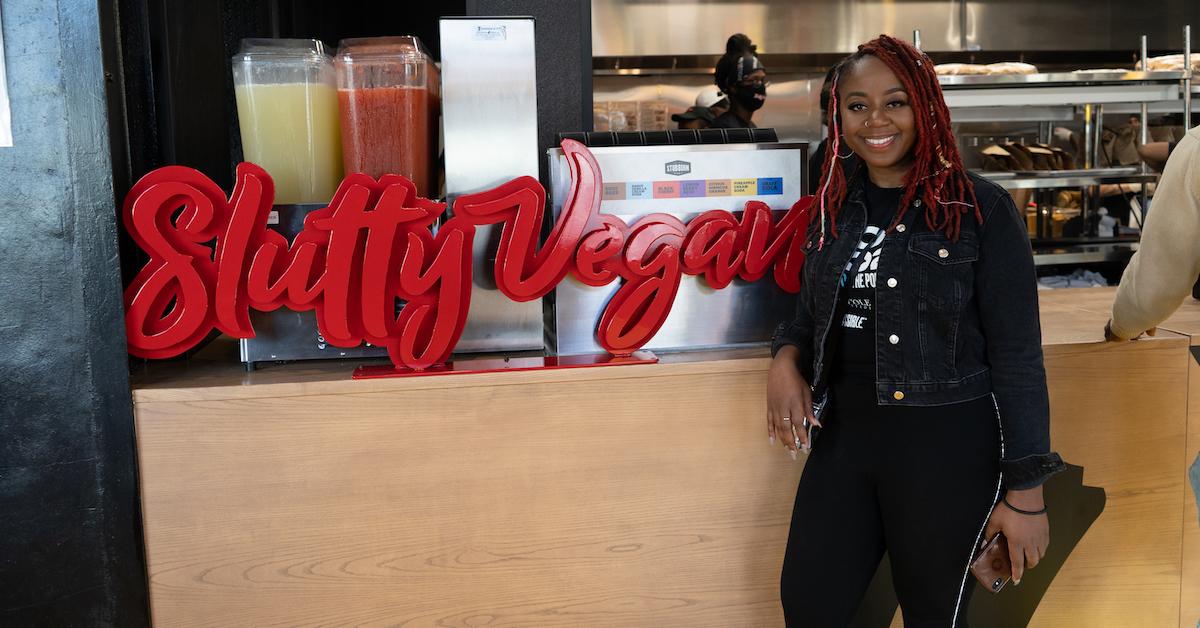 Article continues below advertisement
GREEN MATTERS: Can you share a bit about your vegan story, and what inspired you to go vegan?
PINKY COLE: I have always been more health conscious, since I was a kid. My mother is a Rastafarian, so I grew up in a vegetarian household. So I wasn't eating regular fast food. I was eating a home cooked meal every single day. In 2007, I decided to completely remove all meat products except for fish, and cheese. And then in the last eight years, I said, "You know what? I'm ready to go vegan." And I did it cold turkey. And I'm glad that I made the decision. It was more of a moral, mental decision for me. And when I made it, that's the best that I've ever felt in my life.
I wouldn't go back to eating meat again. And nothing wrong with people who eat meat, to each his own, but I know me, what I want for my body, and what I prefer to consume. I just don't want to consume animals or animal byproducts.
GM: Did learning about animals and the environment impact of animal products motivate you, or was it mostly health?
PC: When I first went vegan, those weren't necessarily the reasons — it was really a lifestyle change at first. But as I evolved into the vegan lifestyle, I started to learn about why you shouldn't eat meat for the animals. The environment — I learned that after the fact. But initially, it was more of a lifestyle change, but I'm so glad I was able to evolve in this lifestyle and educate other people. Which is why I say, whatever reason you go vegan for, whether it's for the animals or not, there is someone, something that's being benefited.
Article continues below advertisement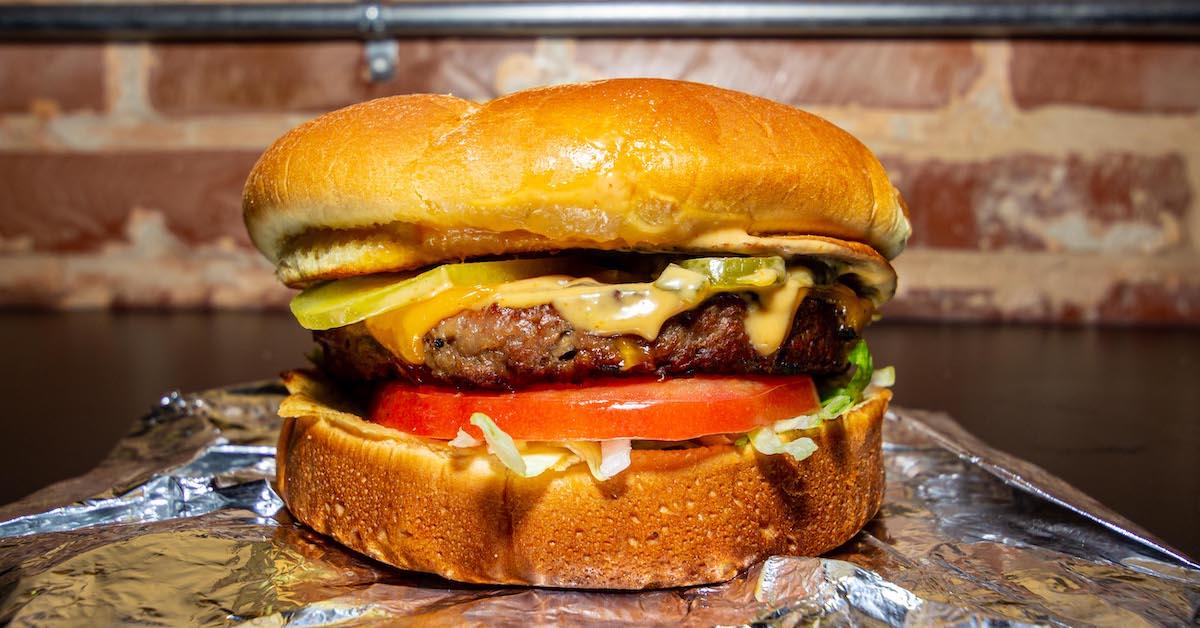 GM: Your cookbook Eat Plants, B*tch: 91 Vegan Recipes That Will Blow Your Meat-Loving Mind is coming out this year. Do you have a favorite recipe that you're most excited to share?
PC: I created the book specifically for the non-vegans. I want them to be able to tackle this lifestyle in a way they never imagined, without pushing my agenda on them. So you got burgers, you got fries, you got cheesesteaks, you got egg rolls. One of my favorites is the cheesesteak, but there are so many that are really good.
Whether you're flexitarian, vegetarian, a meat eater — I think that this is something for everybody. Because you don't have to limit yourself just to a label to be able to have this cookbook and cook really good food. It's just good food, but it so happens to be vegan.
Article continues below advertisement
GM: You founded the Pinky Cole Foundation — why is giving back so important to you?
PC: I really love helping people, it makes me feel good. I also feel like it's God's test to me: I get all the blessings — are you going to share those blessings, or are you going to hold onto them yourself? So I get an opportunity to pay it forward and bless other people. But that is what really brings me the rush and brings me joy, to know that my resources, my platform, help somebody to be better.
So yes, we have a great business, business does well. But what's most important to me is making sure that I can funnel some of the revenue from that business to be able to help people in the communities in which we serve. And we've been very successful at doing that. And I like to say that I'm being the change that I wish to see, and I pray that more entrepreneurs jump on the bandwagon and pour into the community in which they serve so that the community can rise up as their business rises up.
Article continues below advertisement
GM: What is your No. 1 tip for someone looking to go vegan?
PC: If you want to go vegan, all you have to do is commit to yourself and make the decision. People think it's so hard — nobody's putting a gun to your head. You can wake up one day and just shift your consciousness and say, "You know what, I don't want to eat this way anymore. I don't want to eat a dead body. I want to be able to be conscious about what I put inside of me." And the minute that you make up your mind, you're already halfway there. So it's all about the mindset.
Article continues below advertisement
GM: How does it feel to know you just started this business a few years ago and it's grown so much?
PC: I'm just Pinky from around the way. So for people to admire me, and be inspired and motivated by my work, tells me that I'm on the right path. That part gets me emotional and that feels really good. Because I don't have it all figured out. But I think I'm doing something right.
"Green Routine" is a series from Green Matters that invites notable people in the environmental space to share the efforts they make to live more sustainably.
Green Matters' new book, Green Living, is the perfect guide to living an eco-friendly lifestyle for people at every stage of the process. You can order Green Living here.