Why Was There a Ring Around the Moon? November's Moon Ring, Beaver Moon, and More, Explained
A moon ring, aka a 22-degree halo or winter halo, baffled people this weekend, coinciding with the Full Beaver Moon.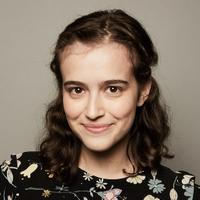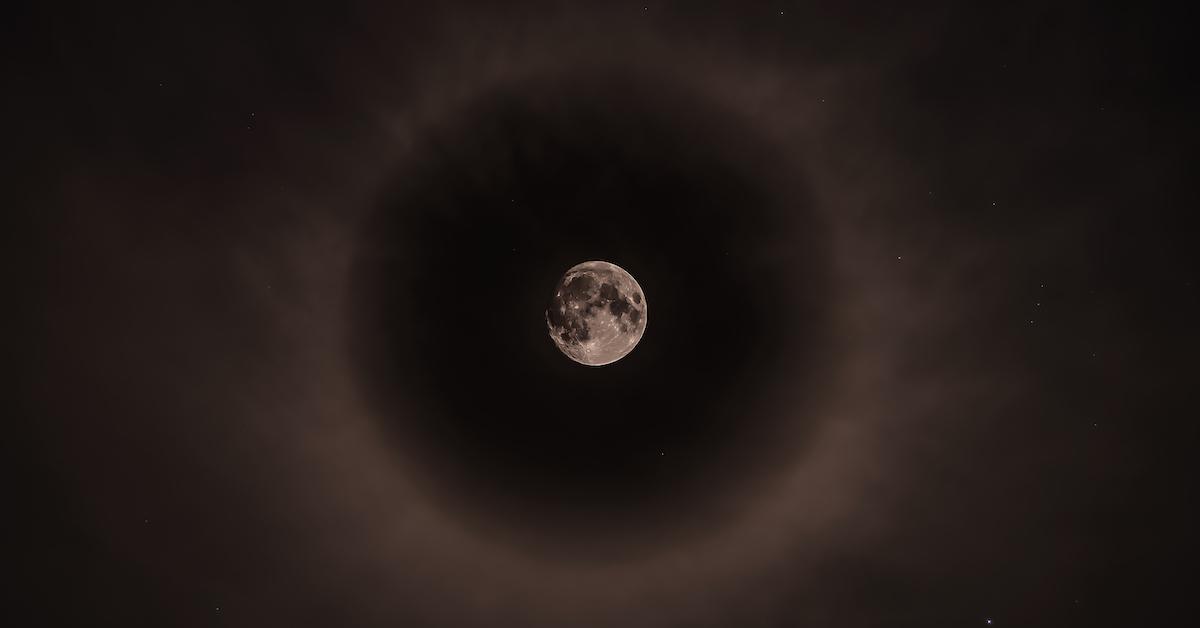 While most of us are just doing our best to survive the COVID-19 pandemic this week, the moon is absolutely thriving. In the wee hours of Monday, Nov. 30, many people looked up to notice a mysterious ring around the full celestial object, leaving many wondering: Why was there a ring around the moon?
Article continues below advertisement
On top of all that, late Sunday night and early Monday morning also brought a full moon, a Beaver Moon, and a lunar eclipse. Curious about the moon's striking behavior this week? Read on to learn more about it.
Why was there a ring around the moon?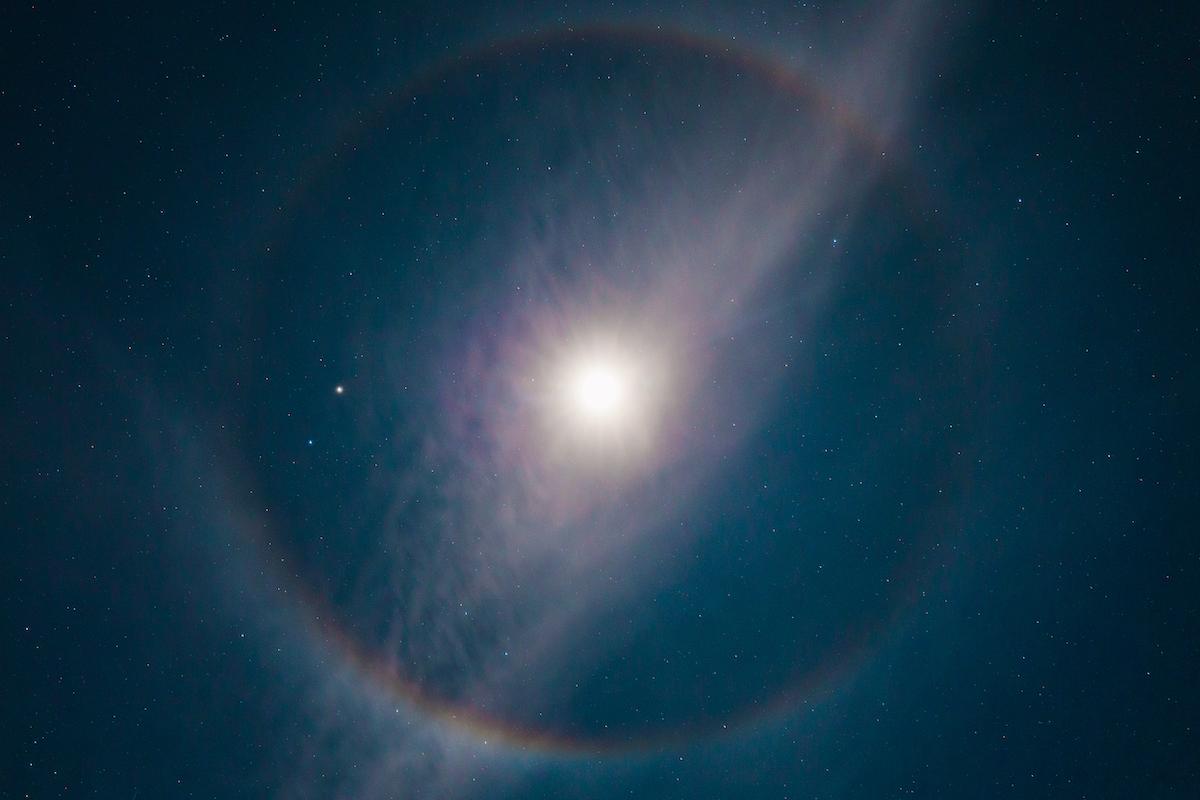 Late at night on Sunday, Nov. 29 and into the early morning hours of Monday, Nov. 30, the moon appeared full around the world — and in some areas, it also appeared to be surrounded by a ring of light.
Article continues below advertisement
Known as a moon ring, a winter halo, or a 22-degree halo, this optical phenomenon occurs when cirrus or cirrostratus clouds form high up in the atmosphere. These clouds are very cold — no matter how hot the surrounding climate is — and they contain millions of six-sided ice crystals.
Article continues below advertisement
An observer's angle while observing a moon ring is also key. Similar to looking at your reflection in a mirror, each eyeball and camera lens sees its own version of this halo, as a moon ring is really "the effect of a collection of light rays traveling in particular directions and converging on a receiving lens be it an eye or camera," as per Atmospheric Optics. Pretty cool, right?
Do rings around the moon forecast rain?
Have you ever heard someone say "ring around the moon means rain soon?"
Article continues below advertisement
Many people believe that moon rings indicate rain is coming, but is this true? As explained by Atmospheric Optics, the cloud that forms the halo is sometimes on the "advancing edge of a warm front with its associated heavy rain." If southwestern winds happen to occur, causing hazy skies, this can lead to a halo forming around the sun; if thick clouds then obscure the sun, then it's highly probable that rain will come in just a few hours.
That said, most halos do not indicate that rain is coming. You're better off sticking to the Weather Channel for rain predictions.
Article continues below advertisement
What is the Full Beaver Moon?
Did you know that every full moon has a name? Typically corresponding to each month of the Gregorian calendar, full moons have titles such as the Worm Moon, Strawberry Moon, and Harvest Moon. According to The Old Farmer's Almanac, November's full moon is always called the Beaver Moon, and this year, it occurred at 4:30 a.m. ET, on Monday, Nov. 30, 2020, but it could also be seen Sunday evening around the world.
Why is November's full moon called the Beaver Moon?
As Farmers' Almanac explained, many Native Americans and colonial Americans referred to November's full moon as the Beaver Moon — and for a few reasons. For one thing, November is typically when beavers settle into their lodges for the winter. Lodges are shelters that beavers make for themselves out of mud, logs, and sticks, which they typically use to store food and take shelter in during the winter.
Article continues below advertisement
Additionally, when the North American fur trade flourished in the 1800s, November was typically the time of year in which people trapped beavers to kill them for their fur.
November also brings us a penumbral lunar eclipse.
The morning of Nov. 30 also brought us the final lunar eclipse of 2020, which could be seen from North America, South America, Australia and most of Asia, according to AccuWeather. Specifically, this was a penumbral lunar eclipse, which is when the moon passes through the penumbra (the outer shadow of the Earth), and misses the umbra (the darker inner shadow of the Earth).
During a total lunar eclipse, the moon appears red — but penumbral lunar eclipses are much more subtle, as the only difference you may notice is the moon simply appearing a bit less bright than usual.