Illegal Giraffe Trade in the U.S. Is Destroying the Global Giraffe Population
An increase in the international trade of giraffes to the U.S. has caused the global giraffe population to decrease by about 40 percent.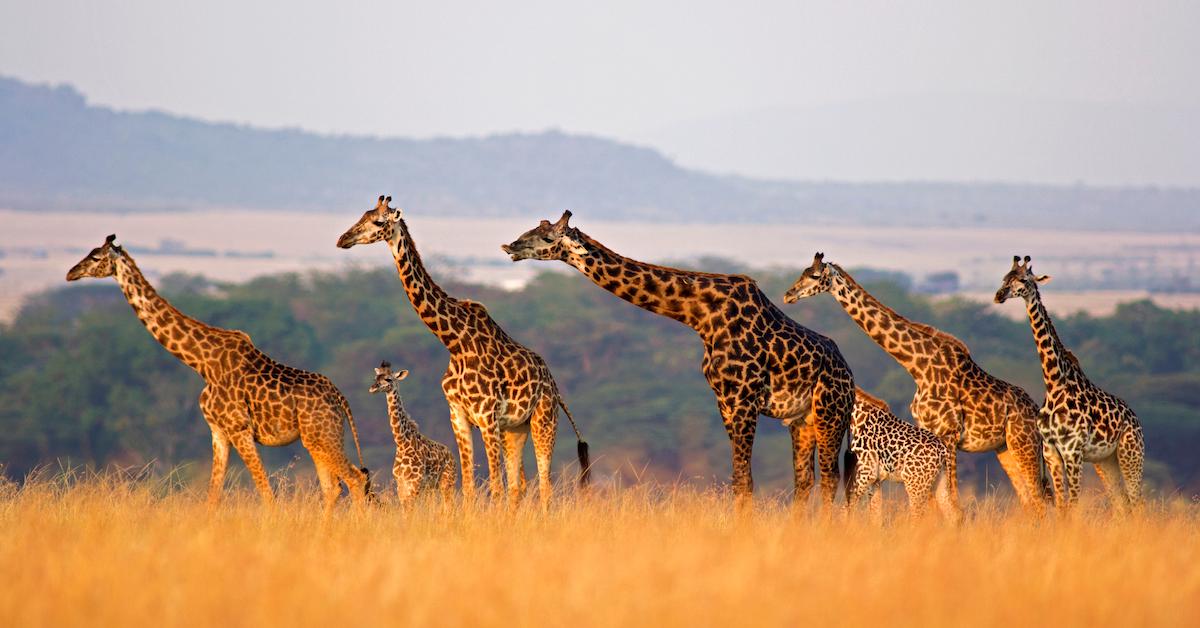 Giraffes are super cute — but do you really need a dead one in your home?
According to a new report by The Independent, the past few decades have seen an increase in the international trade of giraffes due to lax regulations, with giraffe-based leather, home decor, taxidermy, and more growing in popularity in the U.S. And consequently, over the past 30 to 40 years, the global giraffe population has decreased by about 40 percent, and some giraffe species have even been named endangered.
Article continues below advertisement
Are giraffes endangered?
The current population of mature giraffes in the wild stands at less than 100,000, according to the International Union for Conservation of Nature (IUCN) Red List. In 2016, the IUCN classified giraffes as vulnerable. In the spring of 2019, the U.S Fish and Wildlife Service announced it was reviewing whether giraffes should be added to the Endangered Species Act's endangered and threatened wildlife list. A few weeks later, the IUCN officially listed the Masai giraffe as endangered.
Article continues below advertisement
Giraffe bodies are being traded illegally.
Article continues below advertisement
The giraffe trade is regulated now, but the animals still need our help.
It wasn't until August of 2019 that more than 100 countries backed the Convention on International Trade in Endangered Species (CITES) in a motion to start regulating and tracking the trade of giraffe parts, as Reuters reported at the time. While this did not make the practice of trading giraffe parts illegal, it did make it compulsory for countries to report all trades, meaning those attempting to trade body parts from poached giraffes can now be legally held accountable.
"It was easier to import giraffe skins, bones and trophies than an elephant, for example, because they weren't CITES-listed," Adam Peyman of HSI's wildlife department told The Independent. "One vendor of giraffe skins basically confirmed this during our investigation. He said it was hard to import elephant products, so giraffes were this 'new exotic' to replace a strictly-regulated species."
Article continues below advertisement
"We hope the U.S. – which strongly supported this proposal – will echo this important decision by listing giraffes under our own Endangered Species Act as soon as possible," Elly Pepper of the NRDC said in a statement after the CITES vote last year. "With a million species threatened with extinction, many within decades, we must act now to get ahead of destructive trade in giraffes and other species."
Even though giraffes now have some protections under CITES, the trade of giraffe parts is still an issue affecting the species' population. For that reason, the NRDC and other conservationist groups are calling for the U.S Fish and Wildlife Service to give giraffes more protections under the Endangered Species Act. To get involved, you can sign Friends of the Earth's petition asking the North American and EU governments to ban the giraffe trade, and you can check out this NRDC blog post for more ways to help giraffes. And, this should go without saying, but please don't buy anything made from the body parts of giraffes.