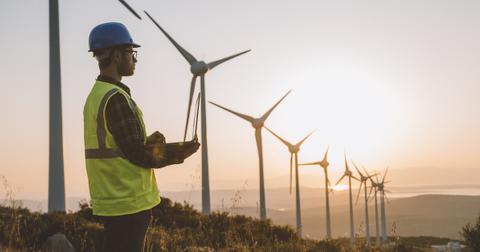 Renewable Energy in the U.S. Doubled in the Past Decade — So Why Is Climate Change Getting Worse?
By Sophie Hirsh
Renewable energy is on the rise — and settle in, because it's only going to keep growing. According to new data, the U.S. has doubled its use of renewable electricity generation between 2008 and 2018. And not only that, but 90 percent of the new renewable energy sources were either wind or solar power.
The U.S. Energy Information Administration (EIA) shared the statistics this week, reporting that in 2018, renewable generation provided the U.S. with 742 million megawatthours (MWh) of electricity. That's just about two times as much energy as the 382 million MWh that renewable generation provided the country with in 2008. It also means 17.6 percent of the nation's electricity generation came from renewables in 2018. The remaining energy came from fossil fuels (63.4 percent) and nuclear plants (about 19 percent), the EIA added.
More From Green Matters
.

Travel

It's no secret that transportation is a significant source of emissions — so how can you go on a road trip and still make it sustainable? Learn more.

.

Renewables

Did you also know that purchasing an electric vehicle also comes with a significant financial incentive from the government?

.

Community

As we live, breathe, drive cars, and cut down trees, we as a people emit greenhouse gases into the air. This is marked by what's called a carbon footprint.