Renewable Energy in the U.S. Doubled in the Past Decade — So Why Is Climate Change Getting Worse?
The U.S.'s reliance on renewable energy sources has significantly increased since 2008.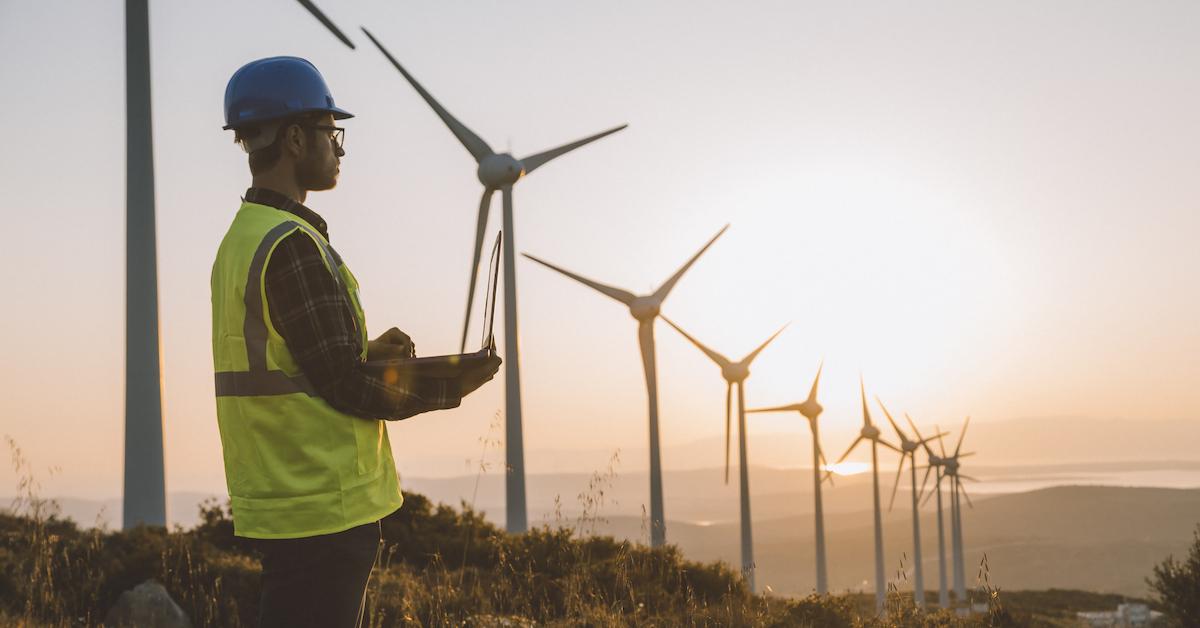 Renewable energy is on the rise — and settle in, because it's only going to keep growing. According to new data, the U.S. has doubled its use of renewable electricity generation between 2008 and 2018. And not only that, but 90 percent of the new renewable energy sources were either wind or solar power.
Article continues below advertisement
The U.S. Energy Information Administration (EIA) shared the statistics this week, reporting that in 2018, renewable generation provided the U.S. with 742 million megawatthours (MWh) of electricity. That's just about two times as much energy as the 382 million MWh that renewable generation provided the country with in 2008. It also means 17.6 percent of the nation's electricity generation came from renewables in 2018. The remaining energy came from fossil fuels (63.4 percent) and nuclear plants (about 19 percent), the EIA added.
Article continues below advertisement
Additionally, the EIA reported that 90 percent of that energy increase came from wind and solar power. That means that wind and solar power use specifically increased fivefold between 2008 and 2018, Grist reported. The forms of renewable energy accounting for the remaining approximate 10 percent increase include hydroelectric (the greatest source of renewable energy in the country), biomass, and geothermal generation, the EIA noted. Furthermore, Trib Live reported that the increased reliance on wind and solar generation were possible thanks to changes in policy, increased capacity, and declining costs — which will only continue declining as the demand for renewable energy increases.
So, with such a notable shift from fossil fuels to renewables, why is climate change becoming more serious of an issue day by day? For one thing, human activity that causes greenhouse gases is significant.
Globally, the greatest causes of greenhouse gas emissions (sorted by economic sectors) are electricity and heat production (25 percent) and agriculture of plants and animals (24 percent), according to the IPCC's 2014 report. We may be using more renewable energy sources, but energy is still the largest source of greenhouse gas emissions on the planet. Similarly, we may be eating less and less meat (in general, animal-derived foods have the highest environmental footprints, as per Business Insider), but agriculture is still a close second.
Article continues below advertisement
To measure the planet's fight against climate change, leaders from all around the world partnered with the United Nations to sign the Paris climate accord, aka the Paris Agreement. The agreement's central goal is to keep the global temperature increase this century below 2 degrees, and ideally at no more than 1.5 degrees Celsius, according to the United Nations.
Article continues below advertisement
(You may recall President Trump announcing his intention to withdraw the U.S. from the agreement back in 2017, as the New York Times reported. But as the NRDC noted, thanks to a few hoops that the agreement has in place, the U.S. will not actually be eligible to withdraw until Nov. 4, 2020 — the day after Election Day.)
If you want to help contribute to the rising statistics of Americans using renewable energy, there are plenty of actions you can take. If you own a house, consider installing solar panels on your roof to generate your own energy. Apartment-dwellers can sign up for a local renewable energy provider, such as Green Mountain Energy, so your electricity check supports clean electricity sources. Click here for more ideas on how you can reduce your environmental footprint.