These New Animal Species Have Been Discovered — or Rediscovered — in 2022
Experts have already discovered a few new and rare species in 2022.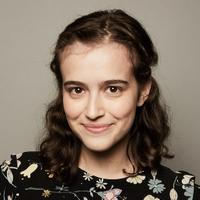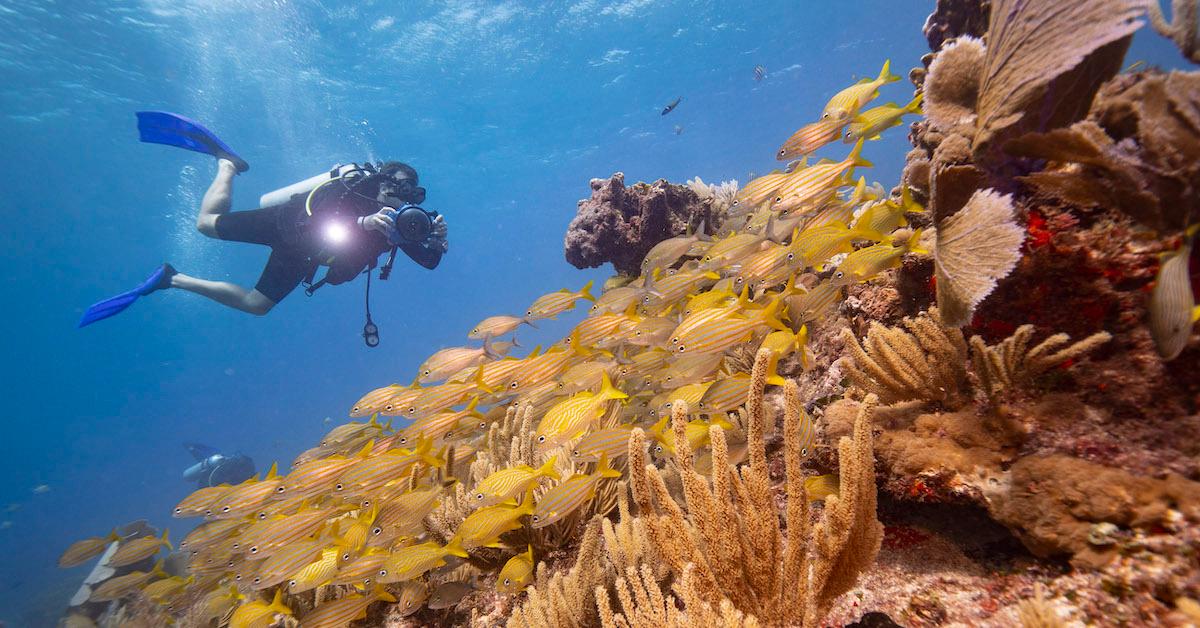 Amidst seemingly constant news that more and more species are going extinct, it's always exciting when experts discover new species, or rediscover an animal or plant from a species that hasn't been spotted in decades (or even centuries). It can also be a thrill when someone spots an animal or plant from an incredibly rare species that humans have only seen a few times in the past.
There are sure to be a number of new species in 2022, so every time one is spotted this year, we'll keep updating this article.
Article continues below advertisement
The small longhead darter fish
In early January 2022, the Ohio Division of Wildlife (OWD) shared a Facebook post, finally revealing that fish management crews had discovered a small longhead darter fish this past fall. The species, which is originally from Ohio, was considered extirpated (locally extinct), and no one had reported spotting or capturing one in over 80 years, since 1939. But now, it's clear that the species is not actually extinct in Ohio.
According to the New York State Department of Environmental Conservation (DEC), the longhead darter currently has populations in Kentucky, New York, North Carolina, Pennsylvania, Tennessee, Virginia, West Virginia, and now, Ohio, even though it is threatened in each of those states. Should you ever be on the lookout, typically, the longhead darter is olive-yellow in color with square markings on the back, is about 4.5-5 inches long, and has a narrow head, as per the DEC.
Article continues below advertisement
Blanket octopus
In January 2022, marine biologist Jacinta Shackleton was delighted to experience a rare sighting of a seriously beautiful sea creature called the blanket octopus off the coast of the Great Barrier Reef, as reported by The Guardian. She shared a video and photos on her Instagram of the young female blanket octopus, a species that is known for its luminous, rainbow-esque appearance. Interestingly, females can grow up to 6 feet long, while males are typically less than 1 inch in length, according to National Geographic.
Article continues below advertisement
Shackleton told The Guardian that previously, biologists have only recorded seeing about three other blanket octopi near the Great Barrier Reef, as the animals are known for their full lifecycles occurring in the open ocean, far from the coast. In fact, the first live male blanket octopus was only observed in 2002. And in July 2021, another female blanket octopus was spotted in Florida.
Article continues below advertisement
224 new plant and animal species in the Greater Mekong region
In January 2022, the World Wildlife Fund (WWF) finally announced that in the year 2020, a total of 224 new species were discovered in the Greater Mekong region, which spans areas of Cambodia, China, Laos, Myanmar, Thailand, and Vietnam, as per EcoWatch. Even though 2020 is long over, it's not unusual for a delay between a new discovery and the announcement, the WWF stated.
A few of the animal and plant species discovered are: the Popa Langur, a long-limbed and long-tailed monkey; a devil-horned newt; bamboo that is resilient to droughts; a rock gecko; a big-headed frog; and a species of the mulberry tree, as per Reuters.
Article continues below advertisement
Rose-veiled fairy wrasse
The rose-veiled fairy wrasse was discovered in March 2022, in the ocean's "twilight zone" in the Maldives. It's a gorgeous multi-colored fish that's named after the nation's flower, the pink rose. It looks almost identical to the red velvet fairy wrasse, with slightly different coloring, and was mistaken for an adult version of it in the 1990s, only now securing its own species name decades later.
Article continues below advertisement
The ivory-billed woodpecker
In April, researchers exploring the swamps of Louisiana suddenly observed the tin trumpet call that ivory-billed woodpeckers are known for — followed by an actual sighting of the bird, for several seconds. This was the first spotting of the ivory-billed woodpecker since 1944, though U.S. wildlife officials only officially declared the species extinct less than a year ago, in September 2021. Looks like this species still has some wood to peck!
Article continues below advertisement
The 'Gasteranthus extinctus' wildflower
The Gasteranthus extinctus wildflower was named as such back in 2000, because it was, well, seemingly extinct, according to Gizmodo. But this year, biologists discovered that the plant still exists, as they discovered it growing in both Ecuador's Centinela region and the Andes Mountains' foothills, nearly 40 years after it was last spotted, as per The Guardian.
In the late 1990s, deforestation (primarily for agriculture) swept through western Ecuador, and supposedly killed off a number of plant species, The Guardian added. However, it looks like Gasteranthus extinctus miraculously survived — and just might need a new name!
Article continues below advertisement
The kentriodontid dolphin and squalodelphinid dolphin in Switzerland
Researchers from the University of Zurich in Switzerland recently identified "two families of dolphins previously unknown in Switzerland." According to the study, published in the journal PeerJ in May 2022, the researchers compared ear bones from about 300 fossils of dolphins and whales from this period.
They discovered that the kentriodontid dolphin and squalodelphinid dolphin both swam in Switzerland's waters about 20 million years ago, in an ocean located in the Swiss Plateau region. Switzerland is a landlocked country today — but millions of years ago, an ocean ran through the country, which was "part of an island landscape," as per CBS News. So while these prehistoric dolphins no longer swim in Switzerland, it is still a remarkable discovery.
Article continues below advertisement
The giant water lily, Victoria boliviana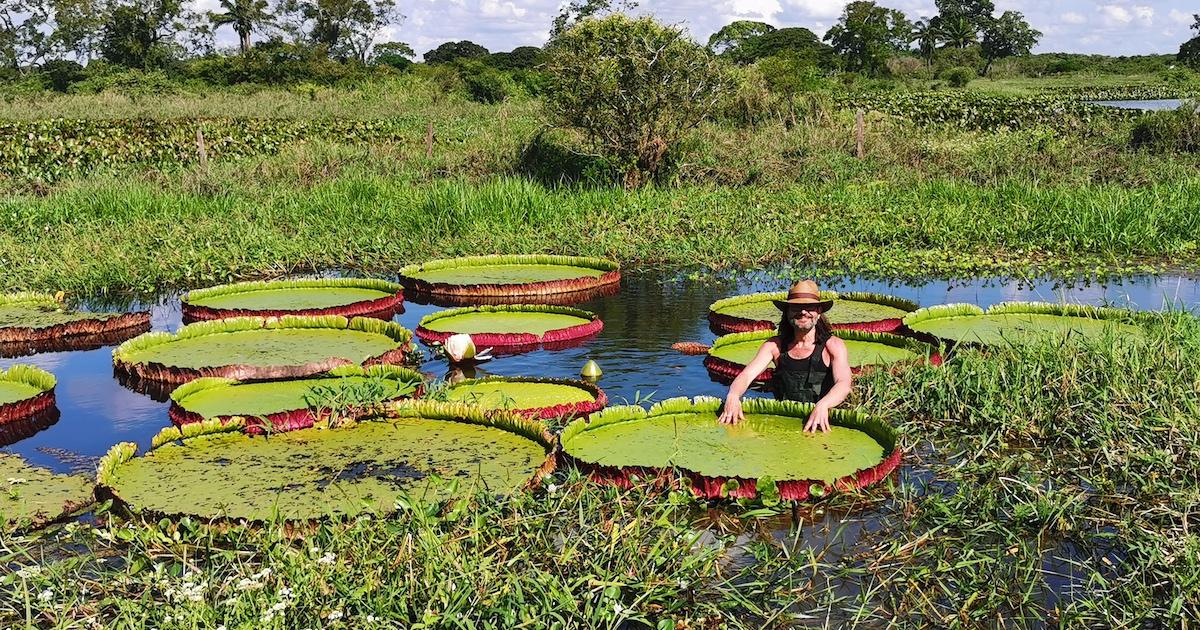 In July, researchers at the Royal Botanic Gardens Kew in England announced that they had discovered a third species of the Victoria genus of water lily, and named it the Victoria boliviana. The species is the largest water lily in the world, with some of them measuring more than 10 feet in diameter in the Bolivian wild.
Not only were these water lilies flying under the radar in Bolivia for years, but they'd also been hiding in Kew's Herbarium for 177 years, as researchers mistook them for their sister species, Victoria amazonica. And according to Kew, identifying and classifying new species is "crucial to conservation efforts in the face of biodiversity loss and climate change."
Article continues below advertisement
The 'Delissea argutidentata' plant in Hawaii
In October 2022, Kamehameha Schools, Three Mountains Alliance, the Hawaii Department of Land and Natural Resources finally announced that in March 2021, they discovered a small group of Delissea argutidentata plants growing in the wild — even though the species had been considered extinct decades ago.
According to a news release from Kamehameha Schools, three of the Delissea argutidentata plants were found growing on a dead māmane stump in a remote area of ma uka Kona on Hawai'i Island — but the researchers are not sharing exactly where the plants were found, so as to safeguard them.
Article continues below advertisement
The Wakatobi sunbird
The Wakatobi Sunbird, aka the Cinnyris infrenatus, was discovered by Irish and Indonesian zoologists living on Indonesia's tiny Wakatobi islands. According to Silicon News, they look somewhat similar to a hummingbird, with blue feathers on the neck, yellow feathers on the belly, and brown feathers on the back and top of the head. The feathers are said to glisten in the sunlight, which is how the species got its name. There are various types of sunbirds, but this is a new sub-species.
Article continues below advertisement
The Black-naped Pheasant-Pigeon
On Nov. 17, the American Bird Conservancy announced that a group of conservationists and scientists recently rediscovered the Black-naped Pheasant-Pigeon, a species that has not been scientifically documented since it was first discovered in 1882. The animal, which is a large pigeon and looks similar to a pheasant, was spotted on Fergusson Island off of eastern Papua New Guinea, which is the only place these birds have been known to live.
"After a month of searching, seeing those first photos of the pheasant-pigeon felt like finding a unicorn," stated John C. Mittermeier, ABC's Director of the Lost Birds program. "It is the kind of moment you dream about your entire life as a conservationist and birdwatcher."
Article continues below advertisement
The Galápagos Pink Iguana
The Galápagos Pink Iguana was first discovered in the 1980s in the Galápagos on Isabel Island. Since then, they have not once been seen reproducing, leaving officials worried that the species could go extinct — but in December 2022, scientists came across both Galápagos Pink Iguana hatchlings and juvenile Galápagos Pink Iguanas.
Though this is not a new species, it's a truly incredible discovery, and one that has provided the "first hope for saving this enigmatic species from extinction," as per Galápagos Conservancy's Paul Salaman.
This article, originally published on Jan. 13, 2022, has been updated.