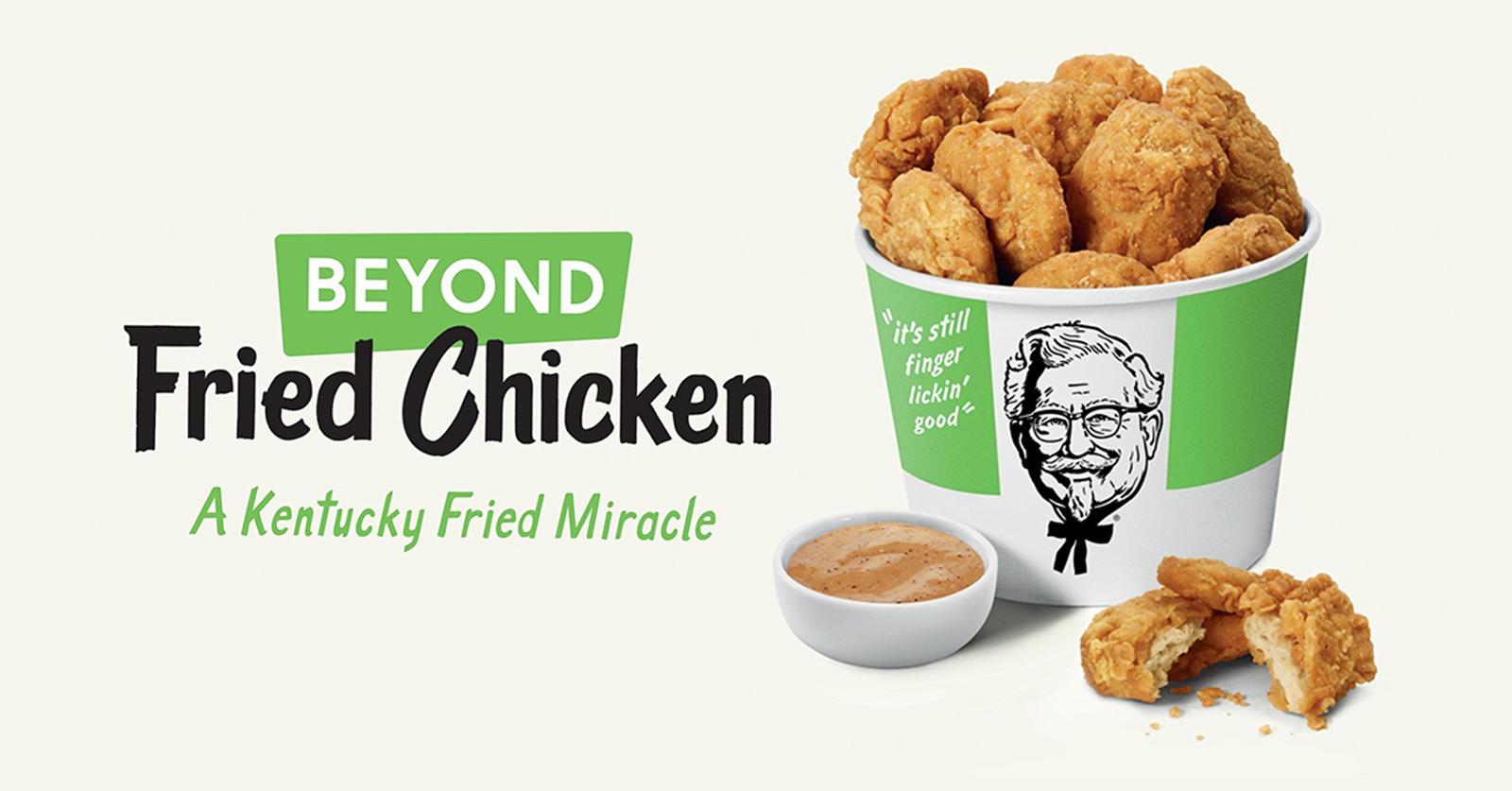 KFC and Beyond Meat Partner Up to Sell Vegan Fried Chicken
By Sophie Hirsh

Aug. 26 2019, Updated 5:15 p.m. ET
Article continues below advertisement
Beyond Meat shared the exciting news in a press release on Monday. Beginning Tuesday, Aug. 27, the KFC located on Cobb Parkway in Atlanta will offer both vegan nuggets and boneless wings. The wings can be tossed in one of three sauces: Nashville Hot, Buffalo, or Honey BBQ. (A spokesperson for Beyond Meat tells Green Matters that the sauces are considered vegetarian, not vegan.)
Here's how the trial will work: Georgia residents can stop by the Cobb Parkway KFC location anytime between 10:30 a.m. and 6:30 p.m. on Tuesday and buy six-piece or 12-piece meals of either the nuggets or the wings. Alternatively, all customers will receive a free sample of Beyond Fried Chicken with the purchase of any KFC menu item, while supplies last. 
Article continues below advertisement
Other vegan options at U.S. KFC restaurants include a selection of side dishes, as long as you ask for them to be prepared without butter. Based on the KFC website, the corn on the cob, sweet kernel corn, green beans, baked beans, potato wedges, and the house salad all appear to be vegan. Just make sure to confirm the ingredients at your local KFC before ordering.
Article continues below advertisement
Even though the trial is only taking place in one KFC location and lasting for just day, there's a good chance that KFC will soon expand the plant-based options across the country. According to Beyond Meat, KFC will analyze customer feedback from the Atlanta trial when planning future trials or a "potential national rollout." So basically, if you live in Atlanta, do your part for all the chickens out there, hit up KFC on Tuesday, and let them know how great Beyond Fried Chicken tastes. (And assuming KFC is using its original 11 herbs and spices, I have no doubt it will taste delicious.)
"KFC is an iconic part of American culture and a brand that I, like so many consumers, grew up with," Ethan Brown, Beyond Meat's CEO and founder, said in a statement, according to PR Newswire. "To be able to bring Beyond Fried Chicken, in all of its KFC-inspired deliciousness to market, speaks to our collective ability to meet the consumer where they are and accompany them on their journey."
Article continues below advertisement
"KFC Beyond Fried Chicken is so delicious, our customers will find it difficult to tell that it's plant-based," added Kevin Hochman, president of KFC U.S. "I think we've all heard 'it tastes like chicken' – well our customers are going to be amazed and say, 'it tastes like Kentucky Fried Chicken!'"
In June, when asked about creating a vegan chicken option, Hochman told Business Insider, "If you would have asked me six months ago, I would have said no, to be completely honest with you ... Because we're about fried chicken." But now, less than a year later, a man who was once against plant-based fried chicken alternatives has completely changed his tune, and even thinks that the vegan version tastes just as good as the original. Hopefully KFC customers all across the U.S. will get to try Beyond Fried Chicken in the near future.