The Beyond Burger Joins Blue Apron's Summer Menu
Beyond Burgers are now on the menu at Blue Apron, with two vegetarian recipes centered around the vegan burgers.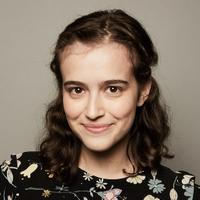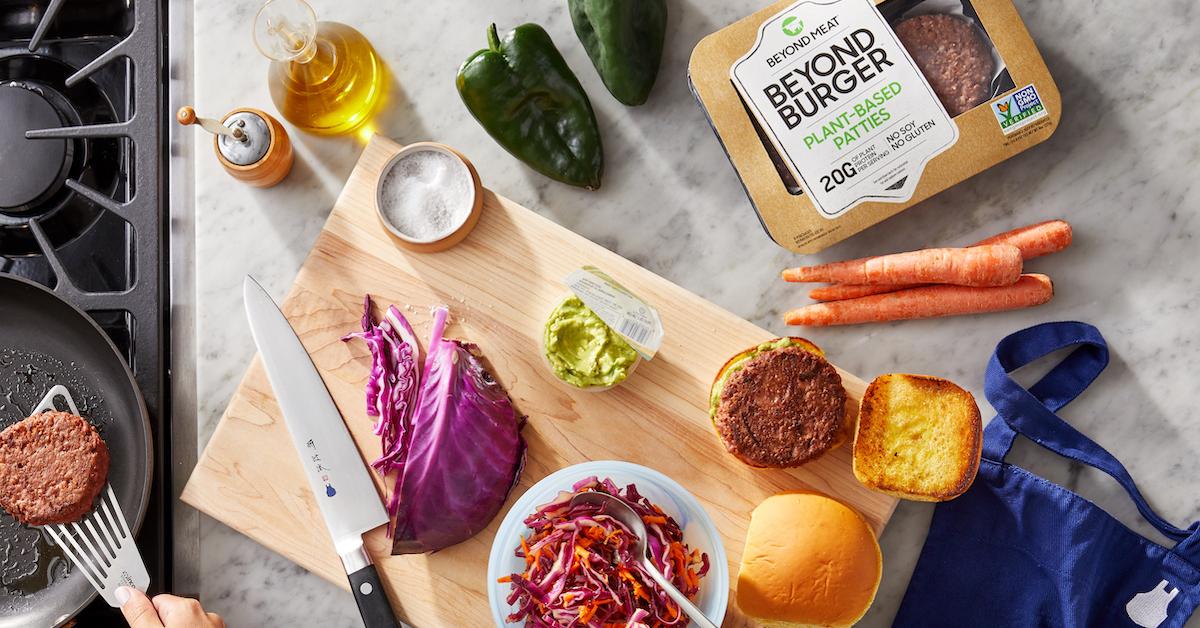 While meal delivery kits may not be the most eco-friendly in terms of packaging, more and more of these companies are making efforts to lower their emissions in other ways — for instance, by offering more plant-based options. And that's exactly what Blue Apron is doing. Meal delivery kit company Blue Apron has just partnered up with Beyond Meat, bringing customers two new meals centered around the vegan Beyond Burger.
Article continues below advertisement
In case you're not familiar with Blue Apron, the meal kit delivery subscription mails customers recipe cards along with pre-portioned ingredients every week. So far, Blue Apron has announced two upcoming meals that will feature Beyond Meat — both of which will use the vegan company's new "meatier" Beyond Burger. The upgraded 4-ounce patty contains 20 grams of protein, it's non-GMO, and it's free of soy, gluten, and cholesterol.
The week of Aug. 19, 2019, Blue Apron will offer Caramelized Onion and Cheddar Beyond Burgers with Garlic Green Beans, and the week of Aug. 26, the company will offer Jalapeño and Goat Cheese Beyond Burgers with Corn on the Cob, according to a press release shared on Business Wire. Both recipes are vegetarian, but still include animal products including cheddar and goat cheese.
Article continues below advertisement
As Blue Apron explains on its website, a University of Michigan study found that it takes 99 percent less water, 46 percent less energy, and 90 percent less greenhouse gas emissions to produce a Beyond Burger as opposed to a cow-based burger.
Blue Apron does offer vegetarian options every week, but most of the company's vegetarian meals are not vegan, and they are not usually centered around a "protein," like most of its "signature" meals are.
Article continues below advertisement
While a vegetarian diet is a great way to lower your carbon footprint, going vegan is even better. According to a study by the University of Oxford, going vegan is one of the best things we can do for the planet. "A vegan diet is probably the single biggest way to reduce your impact on planet Earth, not just greenhouse gases, but global acidification, eutrophication, land use and water use," Oxford researcher Joseph Poore told The Guardian last year. "Really it is animal products that are responsible for so much of this. Avoiding consumption of animal products delivers far better environmental benefits than trying to purchase sustainable meat and dairy."
That said, even though Beyond Meat is an entirely vegan company, its founder and CEO Ethan Brown is all for Blue Apron bringing plant-based meat alternatives to the masses. "We're thrilled to partner with Blue Apron to empower consumers to prepare and enjoy delicious Beyond Burgers at home," Brown said in a statement. "The Beyond Burger delivers the delicious taste, texture, and juiciness of a beef burger but comes with the added nutritional and environmental benefits of consuming plant-based meat."
Article continues below advertisement
And customers can look forward to more Beyond Burger-based meals at Blue Apron in the future. As Blue Apron's Culinary VP John Adler said in a statement: "We look forward to bringing home cooks more recipe creations that feature Beyond Meat's innovative and delicious products."
It's definitely exciting that Blue Apron is expanding its range of vegetarian offerings with the Beyond Burger. But hopefully, Blue Apron will consider making its next Beyond Burger meals with a vegan cheese option instead.