Joshua Weissman's Vegan Videos Will Inspire You to Make a Full Meal, From Scratch
While most of Joshua Weissman's creations are not vegan, the popular YouTube chef has made a few droolworthy plant-based dishes we're dying to try.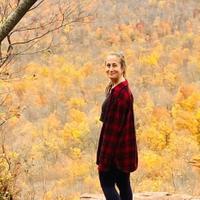 If you're familiar with popular YouTuber and chef, Joshua Weissman, you probably don't think of him having a large presence in the plant-based space. The 26-year-old creator boasts 5.7 million subscribers, with popular videos that recreate things like the Popeyes Fried Chicken sandwich and the best hot chocolate of all time — all from scratch — but with few plant-based recipes. That said, Joshua Weissman does have a few vegan videos that will inspire you to make an amazing meal from scratch later.
Article continues below advertisement
Proper Tomato Sauce Using Fresh Tomatoes
In this video from early on in his career, Weissman teachers viewers how to make a proper tomato sauce — sans all the additives that many at your local grocery store use. This one requires Roma tomatoes, olive oil, and salt, making for a seriously delicious and fresh topping to your spaghetti.
Crispy Roasted Potatoes 3 Ways
Although only one of the ways to make crispy potatoes is vegan, it's truly genius if taters are your guilty pleasure. You'll simply need 3 pounds of small yukon gold potatoes, one whole head of garlic, 3 large sprigs of thyme, 3 bay leaves, 1/4 cup extra virgin olive oil, flakey or kosher salt for seasoning, and extra virgin olive oil, for drizzling.
Article continues below advertisement
5 Ingredient Homemade Flour Tortillas
Whether you're making mushroom tacos or a vegan quesadilla, these 5-ingredient tortillas are seriously game-changing and super easy to make. You'll use 2 1/2 cups of all-purpose flour, 1 teaspoon of fine sea salt, 1 1/2 teaspoons of baking powder, 3 tablespoons of vegetable shortening or vegetable oil, and 3/4 cup plus 1 tablespoon of warm water. Your dinner guests will be beyond impressed.
Article continues below advertisement
Homemade Fruit Jam (feat. Krewella)
Popular musical duo, Krewella, joins Weissman in this video, in which he makes homemade fruit jam. In addition to your choice of fruit, all you'll need is granulated sugar and an element of acid — such as lemon, vinegar, other another type of citrus juice. Once you're done, we have a full guide to canning safely and sustainably.
Article continues below advertisement
Real Dashi and Miso Soup (Miso Shiru)
For a delicious and cozy start to your meal, Weissman's Dashi and Miso Soup is everything. For the dashi you'll need 1 quart of cold water, 4 2-inch pieces of kombu (kelp), and 1 1/4 cup of bonito flakes; and for the miso soup, you'll need 1 quart of dashi, 2 1/2 tablespoons of miso, salt, soft tofu, and thinly sliced green onion. Yum.
Article continues below advertisement
The Easiest Homemade Sauerkraut
OK, we're topping all of our grilled Field Roast sausages this summer with Weissman's "easiest" homemade sauerkraut — you simply let cabbage sit in salt water, until it ferments. Then, you have some seriously funky and delicious sauerkraut on your hands.
Article continues below advertisement
Ultra Easy Healthy Meals | But Cheaper
Only the last segment of these easy healthy meals is vegan, but it looks bomb nonetheless. His charred kale salad calls for 1 bunch of kale, 4 cloves of garlic, and 1 1/2 tablespoons extra virgin olive oil. And although it's obviously quite healthy, it's beyond flavorful.
Article continues below advertisement
Easy and Healthy Snacks Anyone Can Make At Home
The first snack in this video, the popcorn, requires some vegan substitutes for the butter and parmesan. But the rest of the snacks are already vegan — the marinated olives are marinated in olive oil, coriander, garlic, bay leaves, lemons, and orange zest; the kale chips are tossed with oil, salt, MSG, mushroom powder, serrano powder, and garlic powder; and the cured cucumbers are cured in salt, sichuan chili oil, sesame oil, sweet and sour sauce, soy sauce, and Chinese Black Vinegar.
Article continues below advertisement
The Ultimate Homemade Sourdough Bread
For "Fermentation Friday," Weissman made the "ultimate" sourdough that really makes it seem easier than it is. Calling for sourdough starter, whole wheat flour, all purpose flour, room temperature water, bread flour, whole wheat flour, water, and sea salt, it's all vegan. But it's certainly more time intensive than the other recipes on this list.
Article continues below advertisement
Ultra Bubbly Homemade Focaccia Bread (Plus An Easy Sandwich)
We had no idea that focaccia is vegan, but here we are! This version is pretty simple — all you need is bread and whole wheat flour, water, instant yeast, mature sourdough starter, fine sea salt, EVOO, za'atar, and flaky salt. Dip it in oil or melt some vegan cheese of choice between a piece you sliced in half, for a next-level grilled cheese. The choice is yours.
Article continues below advertisement
Vietnamese Fresh Spring Rolls That Anyone Can Make (2 Ways)
You've probably had these at a Vietnamese restaurant before — not only because they're almost always plant-based (unless they're made with chicken or fish sauce), but because they're freaking delicious. Weissman's are plant-based and they're absolutely beautiful, though we may need to practice this recipe a few times to make sure it comes out looking like his.
Article continues below advertisement
Impossible Burgers With Emma Chamberlain
Weissman invited fellow YouTuber Emma Chamberlain to his show, and they had an Impossible Burger cook-off. Chamberlain is a known vegetarian, and in this video, she makes her burger without any animal by-products. The end result looked seriously amazing, and it made for a pretty memorable collaboration.
Article continues below advertisement
Veggie Crunch Wrap Supremes With Brie Larson
OK, this isn't Weissman's video, but the chef guided famous actress Brie Larson to make a vegetarian Crunch Wrap Supreme (yes, like Taco Bell's!) using a giant zucchini from the Room actress' garden. If you want to recreate it and make it fully vegan, all you'll need to do is sub the sour cream for a vegan alternative in the spicy crema.
Green Matters' new book, Green Living, is the perfect guide to living an eco-friendly lifestyle for people at every stage of the process. You can order Green Living here.