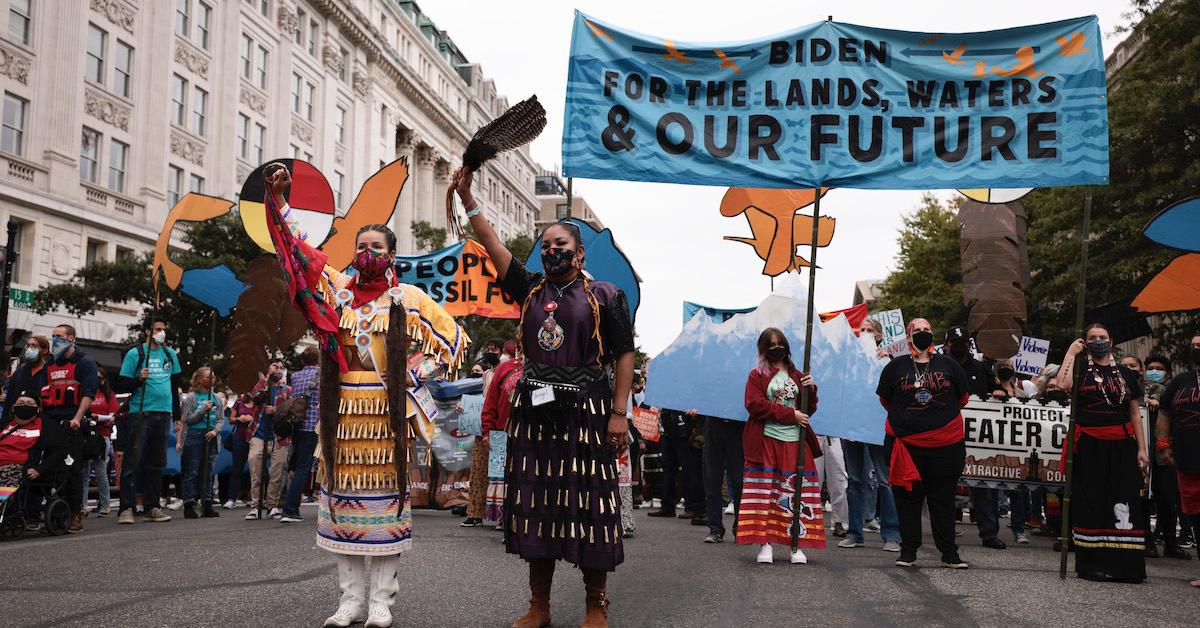 If You Aren't Familiar With Indigenous Peoples' Day, Here's a Run-Down
Even though you may have only just become familiar with the term "environmental racism" within the last few years, it's been a rampant problem for many centuries — since America became what it is today. In fact, the U.S.' entire existence is based on colonization, violence, and subjecting minorities to incredibly unsuitable living conditions.
Years later, we celebrate Indigenous Peoples' Day — but what is it?
Article continues below advertisement
Indigenous Peoples' Day is a nationwide holiday, intended for U.S. residents to reflect on the negative impact colonization had on Indigenous communities. Keep reading for more on what the annual bank holiday means, why Christopher Columbus is no longer celebrated, and how to support Indigenous people in the U.S.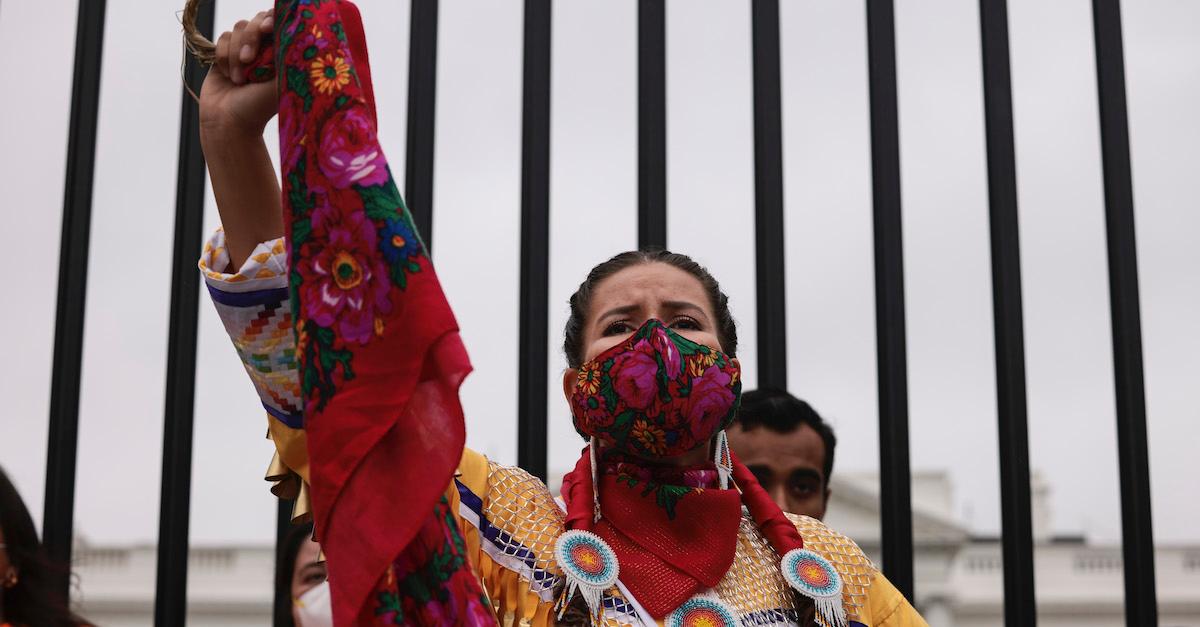 Article continues below advertisement
What is Indigenous Peoples' Day?
In the U.S., Indigenous Peoples' Day is what people used to refer to as Columbus Day, prior to 2021. Last year, the Biden administration announced it would be referring to the holiday, which was previously named after the infamous Italian colonizer, as Indigenous Peoples' Day.
"NOW, THEREFORE, I, JOSEPH R. BIDEN JR., President of the United States of America, do hereby proclaim Oct. 11, 2021, as Indigenous Peoples' Day," reads a briefing room announcement that was released by the White House.
"I call upon the people of the U.S. to observe this day with appropriate ceremonies and activities," it continues. "I also direct that the flag of the U.S. be displayed on all public buildings on the appointed day in honor of our diverse history and the Indigenous peoples who contribute to shaping this Nation."
So, why was Columbus taken out of the equation? We're finally starting to face the darkest parts of our country's history.
Article continues below advertisement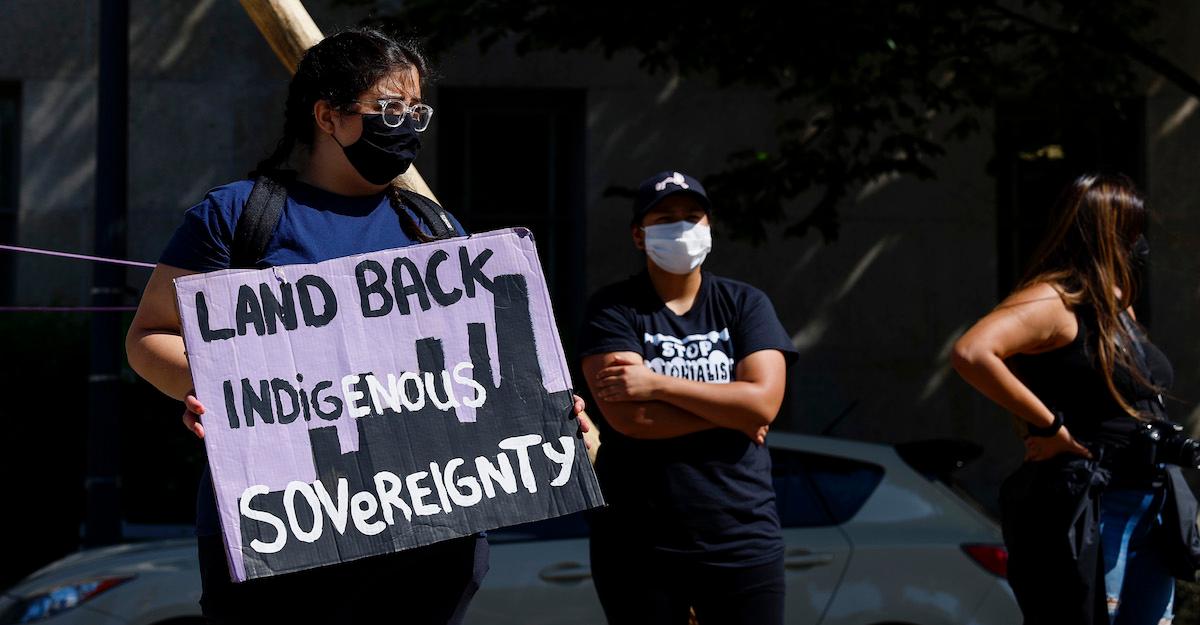 Why was Christopher Columbus bad?
Though you may have grown up with the idea that Christopher Columbus was a hero, he was actually a ruthless colonizer who committed murder and enslaved thousands of people. According to Ohio State University, he made his was to what is now considered the U.S. years after Native Americans did, despite his title as the country's "founder."
Upon arrival, the Italian explorer was met by thousands of Native Americans, whom he ended up enslaving, raping, and kidnapping.
Article continues below advertisement
Columbus and his men overworked the Native Americans they enslaved, and they enforced brutal punishments. They also introduced Native Americans to a wide range of diseases, which ultimately killed them in large numbers.
In the end, Columbus left his mark on the U.S., as an evil colonizer. Our country is now built on colonization and slavery, which is why Columbus Day was "rebranded" to Indigenous Peoples' Day, to honor those who actually founded our country, but were sadly abused and killed.
Article continues below advertisement
Here's how you can show your support for Indigenous People, on Indigenous Peoples' Day:
Even though you should always remember to include Indigenous People in your activism and philanthropy, you may be looking to do your due diligence as an American on Indigenous Peoples' Day to the minority group — and a great way to do so is to pay it forward.
To this day, Indigenous People are subjected to redlining, racism, and oftentimes, they are the first to face the effects of climate change.
Indigenous Environmental Network is an organization that protects native land, and builds sustainable communities. Likewise, Honor the Earth also supports Native environmental organizations across the U.S. — both gladly accept monetary donations.
And if you'd like to stay up to date on happenings in the Indigenous community, we strongly suggest you follow Indigenous activists on social media — there are so many who continue to fight for environmental and social causes on a regular basis.