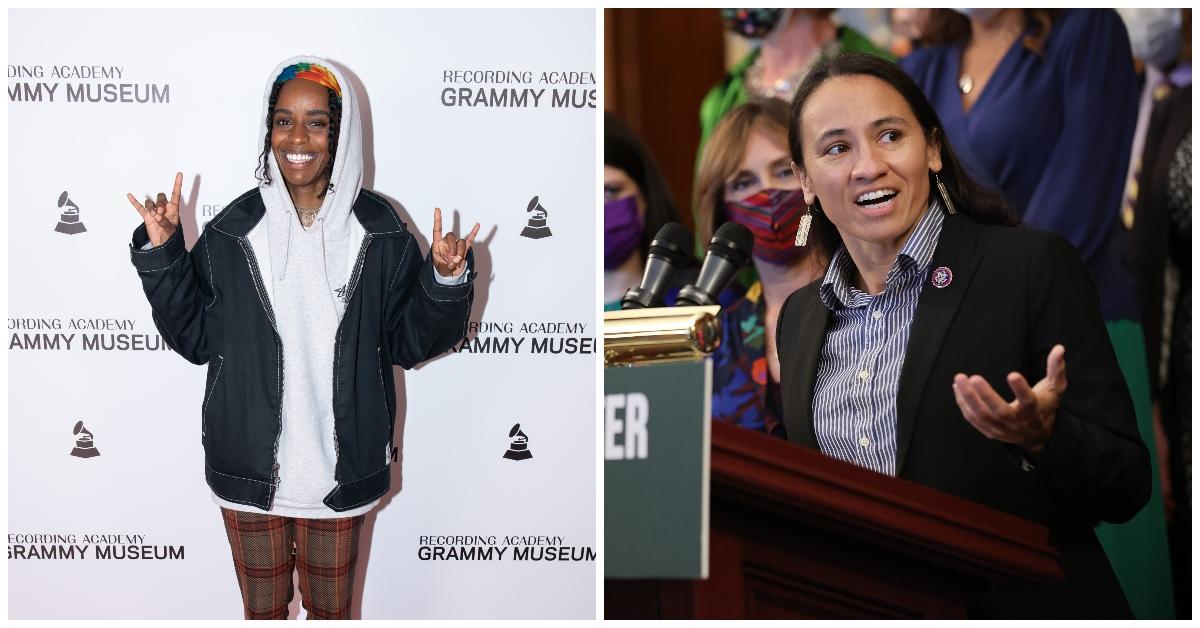 7 Native American Activists to Follow to Stay Informed, Beyond Indigenous Peoples' Day
To stay informed beyond Indigenous Peoples' Day, which falls on Monday, Oct. 11, 2021, there are several Indigenous activists you should follow.
Monday, Oct. 11, is Indigenous Peoples' Day — the holiday, which is formerly known as Columbus Day, honors the Native Americans who actually founded the U.S. Respecting and remembering those who came before us, and staying up to date on issues in the Indigenous peoples' community, is vital when looking to decolonize your environmentalism. So if you're looking to stay informed beyond today, we recommend following the below Indigenous activists.
Article continues below advertisement
Jasilyn Charger (@jasilyncharger)
Jasilyn Charger is an environmentalist from South Dakota's Cheyenne River Sioux tribe. She is a community organizer who has participated in countless protests against the Keystone Pipeline and for LGBTQ rights, according to Earth Guardians. Charger also co-founded the International Indigenous Youth Council, The One Mind Movement, and 7th Defenders, which advocates for underprivileged youth from the Cheyenne River Reservation, and helped start the Standing Rock Pipeline Resistance Movement.
Shayla Oulette Stonechild (@shayla0h)
Shayla Oulette Stonechild, aka @shayla0h, is a Mètis and Nehiyaw Iskwew (Plains Cree) trauma informed yoga instructor, podcast host, TV host, and activist from Vancouver, B.C. who is working to decolonize the wellness space. According to her website, she founded a nonprofit organization called Matriarch Movement, which brings wellness workshops to BIPOC women in Canada. Her podcast of the same name also focuses on amplifying the voices of Indigenous women, particularly in the wellness space.
Article continues below advertisement
Sharice Davids (@repdavids)
Representative Sharice Davids, who goes by @repdavids on Instagram, is a member of the Ho-Chunk (Winnebago) people. She happens to be the first "out" LGBTQ Congress member from Kansas, and is also one of the first two Indigenous women in Congress ever. As a politician, Davids tackles a wide variety of important issues such as: mental health, LGBTQ rights, women's rights, BIPOC rights, and climate change — we could definitely use more congresspeople like her.
Article continues below advertisement
Xiuhtezcatl Martinez (@xiuhtezcatl)
Xiuhtezcatl Martinez, who goes by @xiuhtezcatl on Instagram, is a 21-year-old activist and hip-hop musician who hails from Colorado. In addition to being the former youth director of Earth Guardians, he has given countless TED Talks, and has spoken before the U.N. on environmental issues. He was at the forefront of Juliana v. United States, a lawsuit that tackled the U.S. government's failed approach to climate change, as well as Martinez v. Colorado Oil and Gas Conservation Commission.
Article continues below advertisement
Raykeea Angel Wilson (@angelhaze)
Raykeea Angel Wilson, who goes by the name @angelhaze, is a Detroit native and Cherokee descendent who identifies as agender and pansexual, according to Rap and Hiphop Fandom. Their music touches upon a wide range of important issues, including LGBTQ rights, body image, and Indigenous rights. They are extremely proud of their multiracial heritage (their late father was African American) and they are self-taught in the Cherokee language, with hopes to further shed a light on their community.
Article continues below advertisement
Pinar Sinopoulos-Lloyd (@queerquechua)
Pinar Sinopoulos-Lloyd or @queerquechua is a queer indigenous activist who founded Queer Nature, an LGBTQ-run nature education program that mainly focuses on decolonizing environmentalism. Sinopoulos-Lloyd, who goes by they/them pronouns, also co-founded Intersectional Environmentalism (IE), which pushes for inclusivity in the sustainability space. Sinopoulos-Lloyd is also the trans ambassador of Native Women's Wilderness, and they were named the Audubon National Society's National Environmental Champion in 2020.
Article continues below advertisement
Quannah Chasinghorse (@quannah.rose)
19-year old model and activist, Quannah Rose Chasinghorse, comes from Alaska's Han Gwich'in community. She advocates against oil drilling in Alaska, and is a longtime member of the International Gwich'in Youth Council, the Gwich'in Steering Committee, and the Alaska Wilderness League. In 2019, Chasinghorse spoke at the Alaska Federation of Natives Convention and has since spoken at many events and panels on climate action. She also made Teen Vogue's 2020 list of Top 21 under 21.