How to Get Hired for the World's Cutest Job, as a Professional "Bear Hugger" in New Mexico
You can now become a "bear hugger" in New Mexico, for the sake of conservation.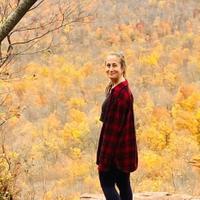 Article continues below advertisement
"Now hiring professional bear huggers," the New Mexico Department of Game and Fish wrote in a Facebook post on March 13. "Must have ability to hike in strenuous conditions, have the courage to crawl into a bear den, and have the trust in your coworkers to keep you safe during the process."
The cheekiness of the post — combined with adorable photos of people hugging baby bears — caused the job posting to go viral.
"P.S. we do not recommend crawling into bear dens. This was part of a research project in Northern New Mexico and all bears were handled safely under supervision," the post continues. "If you do, our officers will have to have a chat with you. P.P.S. Don't feed the bears."
And while I'm simultaneously LOLing and filling out the application, the position does have some specific qualifications. That said, here's how to apply.
Article continues below advertisement
How to become a bear hugger in New Mexico:
Article continues below advertisement
The deadline is March 30, and there are a few dates beyond that you should be aware of. Candidates need to be there in-person by the end of April for physical assessments and interviews. Beyond that, there are psychological and medical exams, armor fittings, and basic training.
Beyond physical and emotional strength, though, the "bear hugger" position, which is also known as a Conservation Officer, also has some educational requirements.
To be seriously considered for the position, candidates should have a B.S. in biological sciences, police science or law enforcement, natural resources conservation, ecology, or "related fields" (Agricultural Science, Animal Science, biology, botany, chemistry, etc.).
Considering my B.S. is in communications, I think I'm SOL. Dang.
Article continues below advertisement
Here are other environmental jobs to consider:
While some of us might not be qualified to become a professional bear hugger, there are loads of sustainability and environmental jobs out there.
One that might have less qualifications than the above is an ecotourism guide. If you enjoy traveling and are aware of ecological issues, this is a fun and flexible job that might let you work in a museum, or outside in the wilderness.
If you'd rather stay local, look up local animal sanctuaries and see if they're hiring. You'll probably get to hug some animals, and you won't need to go back to college to do so.