Mackinac Horse Carriage Wreck Reignites Public Demand for a Horse Carriage Ban
A carriage driver was injured in Mackinac horse carriage wreck accident in June 2023. Is it finally time for a horse carriage ban?
Thousands of tourists visit Michigan's Mackinac Island yearly to experience a step back when transportation was only on bicycles or horse-drawn carriages. However, the idyllic scene on the island's Main Street turned chaotic on June 18, 2023, when a horse pulling a carriage got spooked, causing an accident.
Article continues below advertisement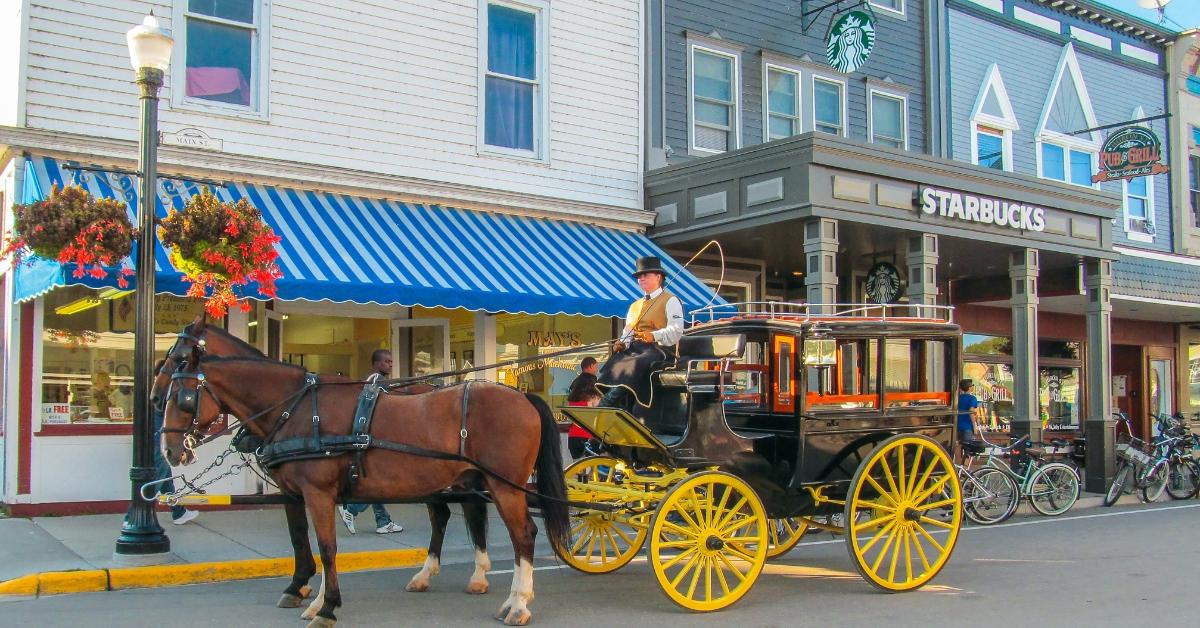 Article continues below advertisement
What caused the Mackinac horse carriage wreck?
According to the Town Crier, the horse was part of a two-horse team on a private livery carriage from Mackinac Island Carriage Tours that was traveling down Main Street near the Bicycle Street Inn and Suites when it was spooked by an umbrella someone opened.
The horses broke out in a run, then turned abruptly. The TikTok video showed a person falling out of the carriage onto the road. At one point, it looks as if the carriage drives over the person. The person, later identified as the carriage driver, lay lifeless in the middle of the road as other people ran out to help.
Article continues below advertisement
The June 2023 carriage wreck is not the only accident to happen on the island.
Mackinac Island Police Chief Doug Topolski said incidents where a carriage horse injures people are rare, the Town Crier reported. In 2016, a 79-year-old woman visiting the island was killed when a horse-drawn carriage ran her over after she fell off a bike, CBS News reported.
Article continues below advertisement
"This is a good example of why people should be careful around horses and realize that they can be startled by balloons, or umbrellas, or bags going across the street," Topolski told the Town Crier. "People should always give the horses the right of way, and realize that they can't be stopped on a dime."
Article continues below advertisement
In 2021, year-round Mackinac Island resident and TikTok creator @megsonmackinac shared a video of the aftermath of an accident where spooked horses from a Mackinac Island carriage took off and crashed into a statue. Thankfully, it appeared no people or horses were injured in that crash.
Animal activists want a ban on horse carriages.
Animal activists have repeatedly called for a ban on horse carriages, especially in urban areas where horse-drawn carriages share the road with vehicles. In 2022, the argument to ban carriage horses in New York City was reignited after a carriage horse collapsed on the street due to extreme heat. Chicago has had a carriage horse ban in the city since 2020. After the incident, over 24 celebrities signed a petition urging the NYC city council to ban the carriages, People reported.
Article continues below advertisement
"Tragic outcomes for horses haunt New York City's history, as well as other cities across the country," states a letter by the Animal Legal Defense Fund signed by the celebrities. "Horses, carriage passengers, pedestrians, cyclists, and others are put at risk by this cruel and reckless industry. We say: No more."
The Animal Welfare Institute (AWI) supports a ban on using horse-drawn carriages as tourist attractions in cities. According to the AWI, "The constant exposure to traffic, noise, and pollution; the long hours of standing and walking on hard surfaces; the hard labor under sometimes extreme weather conditions; and lack of pasture access are not consistent with the owner's responsibility to provide high-quality, long-term care for the horses."
Hopefully, soon, horse drawn carriages will be banned for good — for the safety of the animals and the humans involved.