Ryder, the Carriage Horse Who Collapsed in NYC This Summer, Has Died
In August, animal lovers in New York City were horrified to see footage of a carriage horse named Ryder being beaten by his driver in midtown Manhattan. After two months of protests from activists and an insufficient response from Ryder's owners, reports have emerged that carriage horse Ryder is dead.
Article continues below advertisement
It's devastating to hear that Ryder has passed away — but what exactly happened to cause the horse to die? Here's a look into this messy situation, and what we know so far about Ryder's death.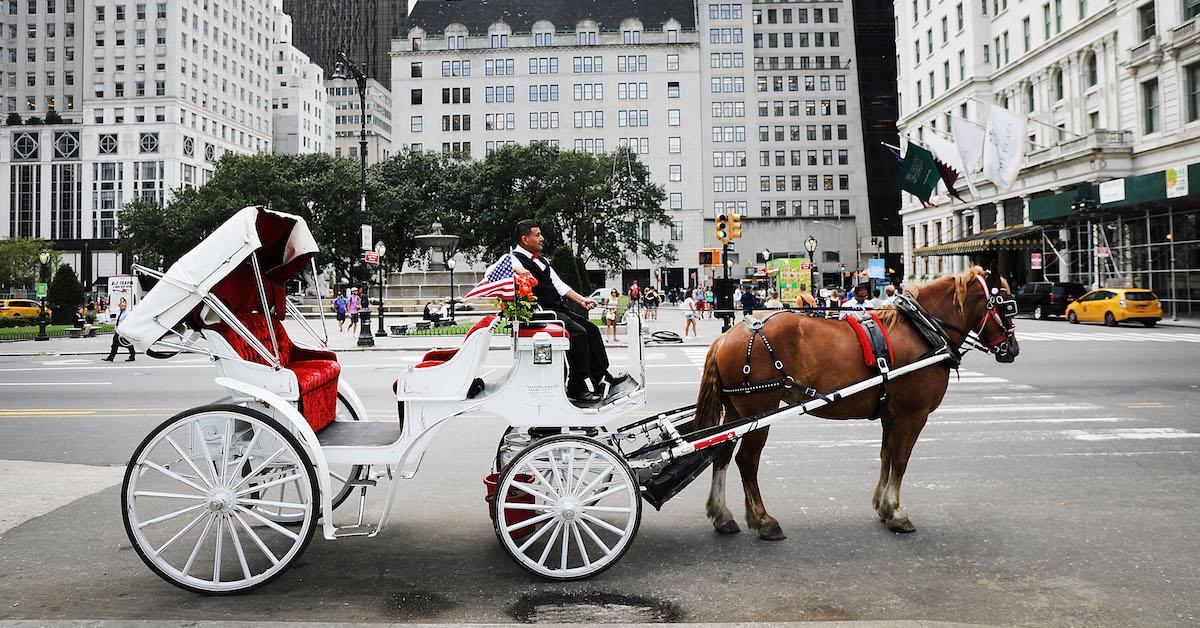 Article continues below advertisement
Ryder the carriage horse has passed away — what was the cause of death?
As reported by amNewYork, Ryder had been living at the Sanctuary at Maple Hill Farms in Upstate New York at the time of his death. On Monday Oct. 17, two months after Ryder made national headlines for collapsing, the sanctuary, the Equine Rescue Resource, and the Unbridled Heroes Project announced in a joint press release that Ryder was "recently humanely euthanized due to his medical condition and age," as per amNewYork.
The press release claimed that Ryder was dealing with "a variety of serious medical conditions that required for him to be put down," though it's unclear exactly what those issues are, as per The New York Daily News.
Article continues below advertisement
Though Ryder's cause of death has not yet been confirmed, animal activists want to remind people that his death was not random. For one thing, Ryder's owners had claimed he was about 13 years old — but a recent investigation found that he was at least 26 (which is elderly for a horse), as per animal rights legislation group NYCLASS. The investigation also found that he was malnourished.
Article continues below advertisement
Animal activists are devastated about Ryder's death.
"We are devastated to learn that carriage horse Ryder has died," Edita Birnkrant, Executive Director of NYCLASS, said in a statement. "Ryder's death was the result of savage cruelty and greed. To make a profit, the horse carriage industry would have literally worked Ryder to death if it weren't for viral videos and the people who exposed their endless lies and cover ups. Their mistreatment of Ryder is the reason he is dead."
"Ryder's death is yet another tragic reminder that horse carriages do not belong on the streets of NYC and was wholly avoidable had NYC Council Speaker Adrienne Adams respected the wishes of 71 percent of New Yorkers to pass a ban on horse carriages," Allie Taylor, the president of local group Voters For Animal Rights, tells Green Matters in a statement.
"Ryder would be alive today had Adams given the bill a vote earlier this year," she added.
Article continues below advertisement
Here's a refresher on Ryder's collapse and the aftermath.
On the corner of 45th Street and 9th Avenue on Wednesday, Aug. 10, Ryder the carriage horse fell to the ground after his driver jerked his reins. Footage of the incident showed Ryder's owner slapping and whipping him, as Ryder struggled on the ground, apparently from heatstroke and thirst on the hot summer day.
Cops arrived on the scene and hosed down the horse, but it took him about an hour to be able to stand up. Ryder was then reportedly taken into care, but for weeks, it was unclear where exactly he was, and if he was receiving proper care.
Article continues below advertisement
In response, animal activists took to the streets of New York City to protest the horse carriage industry, and to demand that his owners surrender him to a sanctuary. While Ryder's owners Ian McKeever and Colm McKeever initially denied abusing the animal, the Manhattan District Attorney's office and the Department of Health are currently investigating the brothers regarding Ryder's treatment.
Article continues below advertisement
How to help ban carriages horses in Central Park and throughout New York City:
If you want to help protect and free other carriage horses in New York City, NYCLASS recommends contacting your Council Member and asking them to sign on to co-sponsor Intro 573, which would replace live carriage horses with electric carriages.
You can also contact NYC Council Speaker Adrienne Adams at 718-206-2068, 212-788-7210, or SpeakerAdams@council.nyc.gov, and ask her to pass Intro 573.
NYCLASS is also organizing a protest on Tuesday, Oct. 18, at 12 p.m. ET at 45th Street and 9th Avenue — where Ryder collapsed — to demand the government pass Intro 573.
You can find more information here, on NYCLASS' website.