Plus-Size Outdoor Influencers That You Should Definitely Be Following
Oftentimes plus-size folks are underrepresented in the outdoor community — which is why these influencers are must-follows.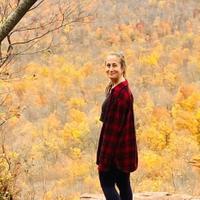 Even though exploring the outdoors should be for everyone, it's often white-washed, and it's also unfortunately largely portrayed as a hobby for thin people to enjoy. And because that totally is not the case, we think it's absolutely crucial to follow plus-size outdoor influencers on social media. They're working to remind everyone that outdoor exploration shouldn't be exclusive to one particular size, and TBH, we love that more than anything.
Article continues below advertisement
Below, we've listed a diverse selection of fabulous, highly inspiring folks who are into a wide range of outdoor hobbies, from hiking, to van-life, climbing, and more. Check out a few of them below and hit that follow button, because not only are these people doing something awesome for the plus-size community — they're also going on some seriously awesome adventures that you won't want to miss out on.
@thestrongsarah
Sarah Hulsey, the creator behind @thestrongsarah, is an avid rock climber who wants everyone to know that "climbing is for everybody" — which is also the name of the company she founded alongside her husband, Drew Hulsey. She is constantly posting updates of herself climbing inside and outside, and often posts reminders about how we view and talk about plus-size folks.
Article continues below advertisement
@fatcrazydoctor
Jenny Katherine is the doctor and outdoor enthusiast behind the Instagram account, @fatcrazydoctor. She is an avid hiker and skier — and in fact, she recently wrote an incredible essay for Ski Magazine about the challenges she's faced as a plus-size skier. from finding clothes that fit, to reactions from other skiers, she has faced quite a bit of adversity being a plus-size person in the outdoor world, though she has continued pursuing her passions regardless.
Article continues below advertisement
@diarrajasmineyoga
Even though Diarra Jasmine (who uses the pronouns she/them) is mainly a yogi, they also love hiking, swimming, and meditating in the great outdoors. As a #VanLifer they are constantly on the move from place to place, and they always make a point to note when they are exploring land that was stolen from Indigenous peoples.
Article continues below advertisement
Alexa Rosales, behind the account @alexaannerosales, founded the group @bodyliberationoutdoorclub. The organization, which now has 17 chapters, provides a community for plus-size folks to enjoy outdoor recreation together. Being New York based, Rosales often photographs herself exploring the Empire state, but also treks beyond New York state lines, even exploring other countries such as Guatemala.
Article continues below advertisement
@unclejemima99
Amanda is the queer powerlifter and hiking enthusiast\ behind @unclejemima99. You can often find her exploring New York's endless trails alongside her adorable dog and/or husband. She is also good about always noting when the land she explores was previously stolen from Indigenous communities.
Article continues below advertisement
And when she isn't hiking, she's advocating for fat people in the lifting community. She also founded @biggirlbarbell which works to de-marginalize gyms, which are also generally considered to be fat-phobic spaces.
Article continues below advertisement
@jennybruso
Jenny Bruso (who goes by she/they) is self-described as a "queer fat femme adventurer." They are the founder of @unlikelyhikers, a group that works to de-marginalize hiking, regardless of your skin tone, size, or abilities. She has also popularized the hashtags #FatAndOutdoorsy and #MyBodyTookMeHere.
Article continues below advertisement
While she isn't posting about her fabulous international treks through deserts, forests, and beyond, Jenny is also sponsored by a number of major outdoor companies, including: Gregory Packs, Merrill, REI, and Eddie Bauer, for whom she is a model and spokesperson.
Article continues below advertisement
Kanoa Greene
Kanoa Greene is a surfer, hiker, skier, biker... you name it. She travels all over the world, from Costa Rica to Utah, enjoying her favorite outdoor activities as a member of the BIPOC and plus-size communities. She is truly a positive light, giving her followers messages like "pause sometime this week and enjoy the outdoors," and to "move in whatever way brings YOU joy."