Social Media Users Claim "Cranberry Juice Challenge" Reveals Nasty Surprise in Your Drink
A new cranberry juice challenge claims to show bugs living in your mouth. But, is it legit? Scientists say no. We did our own experiment.
In 2020, business was good for cranberry producers due to a viral video of a guy riding a skateboard and chugging Ocean Spray cranberry juice to Fleetwood Mac's "Dreams." The video sparked a cranberry juice challenge, where even members of Fleetwood Mac and the CEO of Ocean Spray drank the juice while riding a skateboard.
Article continues below advertisement
However, the latest cranberry juice challenge is a little more icky. TikTok creator Lenny Montalbano, who calls himself the "surveillance pro," claims that swishing cranberry juice around in your mouth can uncover bugs that live in your mouth. Here's a look into the cranberry juice challenge of 2023, and whether there's any truth to the rumor that bugs are lurking in your beverage.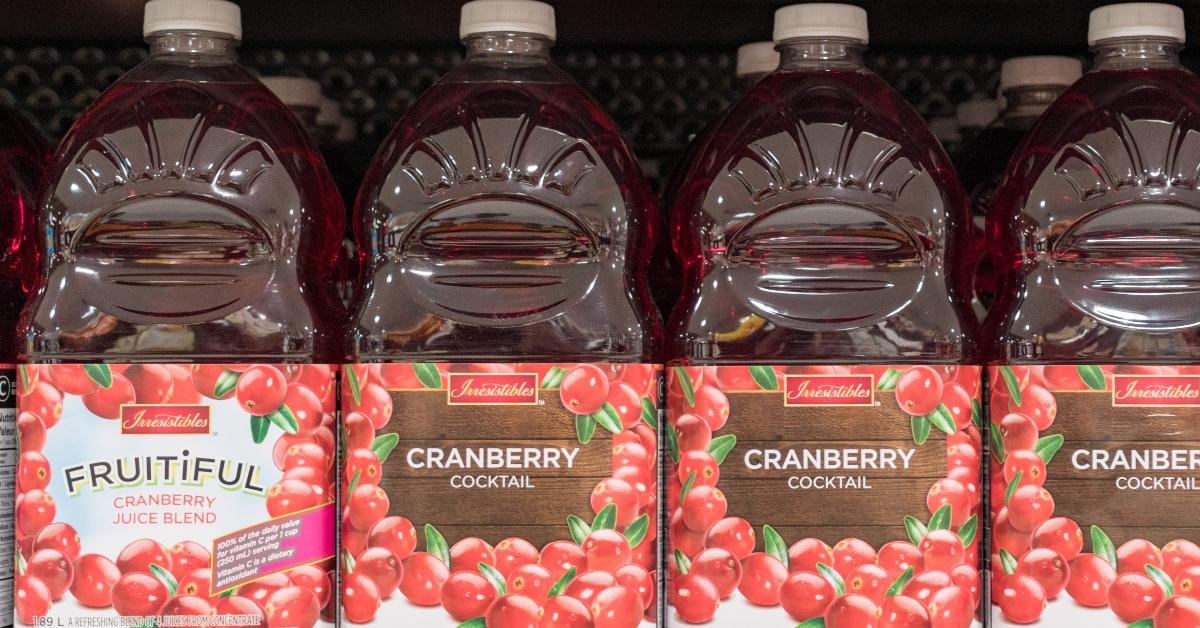 Article continues below advertisement
The cranberry juice challenge is making people think bugs are lurking in their mouths.
As of Oct. 23, 2023, over 4 million people have viewed Montalbano's TikTok video, where he and his son do an experiment that supposedly shows that using cranberry juice as mouthwash can uncover parasites that live within you.
In the video, Montalbano gives his son a cup with a little bit of cranberry juice in it. His son drinks the juice and starts swishing it around in his mouth. "We do it as long as we can," Montalbano says. "We're not going to stop this process, so you can literally see this. This is so gross."
Article continues below advertisement
After swishing the cranberry juice for a bit, his son slowly spits the cranberry juice out onto a white plate. Little "chunky clumpy things" are visible in the juice on the plate, and the juice liquid looks lighter than it did when the boy drank it.
Article continues below advertisement
It looks gross to begin with, and gets worse when Montalbano adds a little bit of 70 percent isopropyl alcohol to the plate. The addition of the alcohol causes the "chunky clumpy things" to start swimming around like Sea Monkeys. "This is what's in your mouth people," Montalbano says. "Look at them swimming around in here. Gross."
Scientists are debunking claims of bugs appearing in cranberry juice challenge videos.
Do we really have parasites living in our mouths? Researchers say no. A review published science education nonprofit Health Feedback debunks the claims.
Article continues below advertisement
The website explained that the clumps that appear after swishing cranberry juice in your mouth are actually "the result of a long-recognized chemical reaction between tannins in the juice and proteins in the saliva."
So no, the clumps are not actually bugs, though they may look somewhat bug-like.
Article continues below advertisement
We tested the theory with wine, and it worked!
However, the debunking study doesn't explain why the clumps start swimming all over the place when you add alcohol. So, for the sake of experiment, I wanted to try this cranberry juice challenge myself. While I don't usually have cranberry juice around the house, I do have red wine, which also has tannins.
I swished some red wine around in my mouth (I don't recommend this, especially at 10 a.m.) and spit it out on a plate. Then, I added alcohol and watched in horror and amazement as the little clumps on the plate started doing the backstroke.
Scientists may claim that bugs appearing in your gargled cranberry is a myth, but it was definitely shocking to see the clumps I'd just spit out moving around. I may start gargling with the juice (not wine) on a more regular basis.