Paving Paradise: Man Shocked After Trees Are Clear Cut From Behind His Apartment
A creator documented his shock after someone clear cut trees from his apartment backyard. Deforestation like this contributes to climate change.
Having an outdoor oasis, whether it's your backyard or an apartment balcony, is great for relaxing and enjoying nature. And if that were ever taken away suddenly, it would be shocking and depressing.
Article continues below advertisement
That's exactly how one man felt when he found someone had clear cut trees from his apartment backyard. TikToker and tattoo artist Lincoln, aka @inkinlinkin, posted a video on June 14 showing the devastation done to the tree-filled area behind his apartment.
Article continues below advertisement
The 29-second video displays the words "When your apartments suck and clear cut all of your beautiful trees." The beginning of the video shows a pan of Lincoln's apartment balcony. He has many plants, flowers, and a couple of bird feeders. A black cat is perched on the apartment ledge.
A thick group of trees lines the back of the apartment, helping to block out the noise from surrounding businesses and traffic. It's a cozy space where you can imagine sitting there with a cup of coffee or glass of wine, listening to the birds around you.
Article continues below advertisement
Then, about 19 seconds into the video, it cuts to a video taken from the same spot on the balcony, but all the trees are all gone. What is left is an empty sand lot and the back of some office or store buildings, which were hidden before by the trees. The peaceful quiet is shattered by the loud hum of trucks that are there finishing up cutting the trees down. All that is left of the green foliage is one taller stump. A yellow ribbon tied around it indicates that it too will soon be gone.
The video ends on Lincoln, who has a "wow" expression on his face. He puts his hand to his forehead in anguish.
Article continues below advertisement
TikTok commenters shared disgust over the tree removal.
The video has been viewed about 574,000 times, as of publication. Most of the over 5,300 people who commented on the video sympathized with Lincoln's dismay over the lost trees.
Article continues below advertisement
"I knew it was gonna be bad but i didn't think it was gonna be TRAGIC. WHY?!?," said one commenter.
"Property value plummeted!! I would request lower rent," said another.
"I swear they should be sued for emotional damage. That is insane."
"Went from garden oasis to asphalt hellscape."
Article continues below advertisement
Several commenters referred to the Joni Mitchell song "Big Yellow Taxi" and its lyric: "They paved paradise to put up a parking lot."
Cutting down trees contributes to climate change.
Article continues below advertisement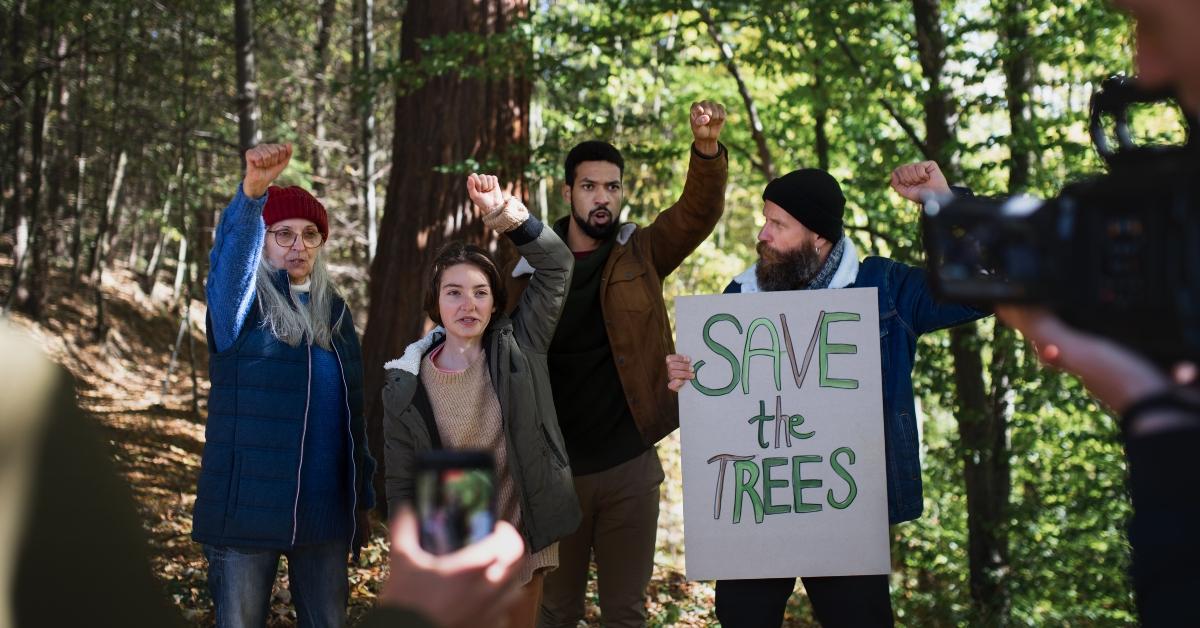 Over 18 million acres of forests are destroyed each year, as per Conservation.org. According to the World Wildlife Fund, forests are critical in mitigating climate change because "they act as a carbon sink – soaking up carbon dioxide that would otherwise be free in the atmosphere and contribute to ongoing changes in climate patterns."
Deforestation contributes to other environmental impacts, including soil erosion, greenhouse gas emissions, water cycle disruption, and biodiversity loss.