How to Build a Capsule Wardrobe, According To The Woman Who Invented It
Building a capsule wardrobe is a good way to cut back on your waste when it comes to clothing.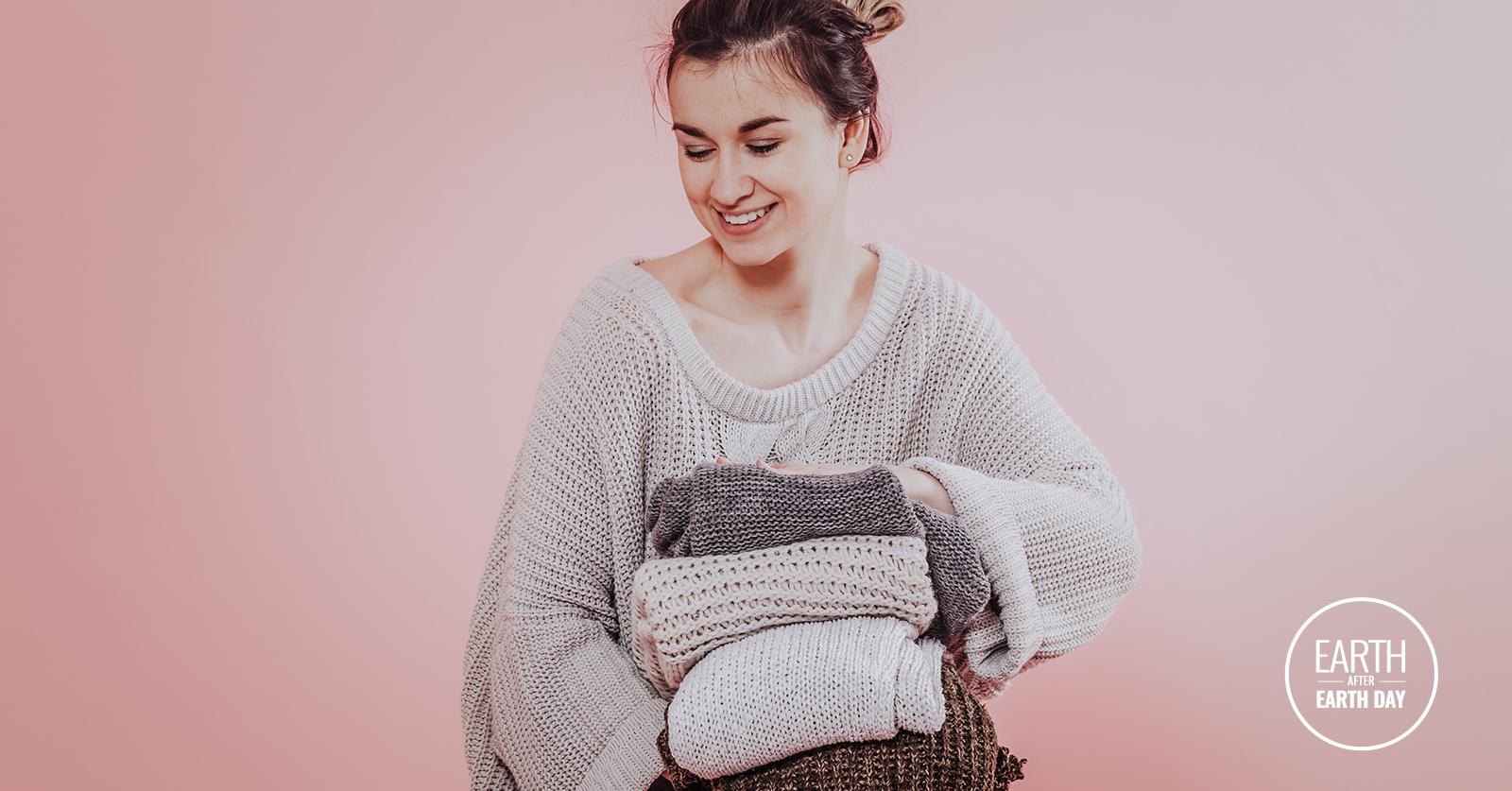 Fast fashion is costing us dearly.
Article continues below advertisement
Worldwide, fashion is a $2.5 trillion industry that is one of the biggest consumers of water. People go through 80 billion pieces of clothing every year, and the average American produces 82 pounds of textile waste annually. Far from previous generations, when clothes were made to last, mended, and invested in, our cheap clothes today are seen as disposable. So we dump them, en masse, into landfills every single day.
Article continues below advertisement
Article continues below advertisement
Pieces need to be built to last, hold universal appeal, and be able to work in many settings. Which is exactly why the capsule wardrobe is so essential.
Article continues below advertisement
What was founded as sensible fashion is how the truly eco-conscious dress today.
Susie Faux, owner of a London boutique called Wardrobe in the 1970s, found the fashion industry impractical—and noticed people (and women especially) were spending far too many resources on multiple fashion items that weren't well-made, didn't fit right, and would likely be out of season by the following year.
So Faux came up with the "capsule wardrobe"; comprised of certain essential, timeless pieces that could last decades and be paired with seasonal accents like jewelry. American designer Donna Karan took the idea and ran with it, releasing a capsule collection in 1985 that featured seven interchangeable pieces for the office.
Article continues below advertisement
Ultimately Faux's goal was to streamline the wardrobe with high-quality, tailored pieces that could be mixed and matched. But the capsule wardrobe had another effect: to significantly reduce the amount of clothing that ends up in a landfill while supporting designers and farmers who create high-quality goods. Sure, you'll pay more for each individual piece. But in the long term, you'll spend a fraction of what you do now by not needing to race out for replacements every season.
What Faux may not have realized at the time is how exceedingly relevant and important—capsule wardrobes would stay for the next 40 years.
Article continues below advertisement
When it comes to clothes, fit is as important as function.
"Thirty percent of internet shopping is sent back," Faux told Green Matters by phone from Israel, where she's now based. She claims that number is largely due to fit. "People are buying clothes that don't fit—maybe they're a size 10, but not everywhere [on their body]," she said, "and they don't get it tailored to fit properly. People buy because they're short on time, but they don't realize that with a capsule wardrobe, you save on time and money."
Article continues below advertisement
Faux explained there are two things that make clothes expensive: cut and cloth; both of which she insists are worth paying for. With Americans having shied so far away from tailoring, and by not demanding high-quality fabrics, Faux intimated we've sold ourselves short. She laughed when I mentioned I've only ever had bridesmaid gowns tailored—and that the thought of having a shirt tailored seems foreign to me.
"People would phone the shop [in London] for appointments, and shop once or twice a season," she said. "There was no impulse shopping. They ended up spending less money on fewer items, but those clothes would last so much longer. However, trying to find these clothes is very difficult today. A lot of women divisions have closed because they are less profitable.
Article continues below advertisement
"If we apply capsule to everyone," she continued, "we have to ask: What is his or her lifestyle? What is the most important piece for that lifestyle? That might be a perfectly tailored dress to see friends in; or a beautiful jacket for the office. For others, it might be nice jeans and tops. But for the average person, women and men who go to work need the best clothes they can. Women have a much harder time convincing themselves to spend money on work clothes. But working women should buy the best jacket they can afford. Because that's what men do. Women hold back because of not feeling worthy. The most important thing to spend on is a jacket. Build around the jacket until you have a wardrobe. You have unbelievable gravitas by wearing a jacket every day in the office."
Article continues below advertisement
A capsule wardrobe means a highly functional closet.
A capsule wardrobe doesn't have to mean a completely empty closet (though you're sure to be surprised at just how little space Faux's recommendation of a dozen year-round items actually take up). Plenty of bloggers have massaged the meaning of "capsule" to include upwards of several dozen pieces; and even Faux's suggested total doesn't account for accessories used to diversify the clothes you keep. What you include in your capsule wardrobe is as personalized as your lifestyle, however there are a few universal truths, according to Faux: like every man needing one tailored suit; or women needing a couple perfectly tailored button-down shirts and decent jeans.
"Every woman should have two or three beautiful white shirts, a belt, bag, and shoes," Faux said. "Now, you can do anything. It can be moccasins or sneakers, a bag and a white shirt. If the bag and shoes look well, you look well." Faux also recommended brands, though she revealed some exasperation at how limited and trendy designer collections have become. "Trilogy. An easy jacket from Max Mara. Even Michael Kors. Equipment shirts are around $200—you can have a couple of those with jeans."
Article continues below advertisement
If you just spit out your water at a $200 button-down shirt, hear Faux out. "Spend money on a shirt!" she insisted. "When you put a shirt on, the first two buttons should be open without it being too high or too low. Polite, but still fun. There shouldn't be any gaps between the buttons where the shirt is pulling—women need to "hitch up" their bra straps."
Get a good shirt, she reasoned, and you'll have it for years.
Article continues below advertisement
"I can go out in clothes that are 10 years old that are still perfect," she said. A $200 shirt, for a decade? Do the math as you clean out your closet in anticipation of launching your own capsule wardrobe, adding up all those $20 impulse shirt purchases.
In addition to the pants ("They don't have to be denim," Faux said, "You can also do a woolen trouser with white button-down shirt"), she recommended a body dress for the ladies, either cap sleeve or sleeveless. "Just perfectly straight, to just past the knee." The same mathematical equation applies to wading through your piles of discarded, ill-fitting jeans, dresses or sweaters. Does a $1,000, tailored dress that fits you perfectly forever still seem crazy when you start adding things up?
Article continues below advertisement
Faux also said to play up tapered fits. "The key to good clothes is in tapering. If you taper, you make it look much younger. We always tapered [at the shop]. Fuller things belong on tiny people—we catered to sizes 8 to 18, and always dressed our biggies in fitted clothes. Bigger women just make themselves look bigger with loose clothing."
Putting together a capsule wardrobe doesn't have to be torture.
To get started on your capsule wardrobe, all you need to do is dump your closet out. All of it. For real. Eye each and every piece. Try it on. If it doesn't fit, hasn't been worn in three months, or isn't beloved, throw it onto the "donation" or "resell" pile. Double down on clothing from exes (or ex's clothes), things that are stained or worn ragged, and one-time-wear items like old bridesmaid gowns. Yes, it hurts. It will also (eventually) feel liberating.
Article continues below advertisement
With what's left, assess each piece's versatility. Blacks and neutral colors match with more variations. Classic cuts will wear better for longer. Anything you can't quite bear to part with, put in storage under your bed, in an attic, or tucked away in a suitcase. The folks at WhoWhatWear recommend settling in on a couple pairs of pants and shorts (depending on climate), a few tops, and a basic dress (or two). If you can further whittle your wardrobe downt to just five pairs of shoes, you're going places.
Don't drive yourself crazy by worrying about jewelry, clothes for working out or gardening, underwear or PJs—and don't rush out on a $4,000 shopping spree to buy timeless pieces. The whole point of a capsule wardrobe is to lower consumption and simplify your own life. Try the capsule for a season, and use that opportunity to reassess. Then, going forward, follow the goddess of the capsule wardrobe's advice and seek out high-quality, tailored pieces that will last you a lifetime.