What's the Best Toothpaste for the Environment?
What's the best toothpaste for the environment? Keep your oral hygiene routine clean for you and the planet.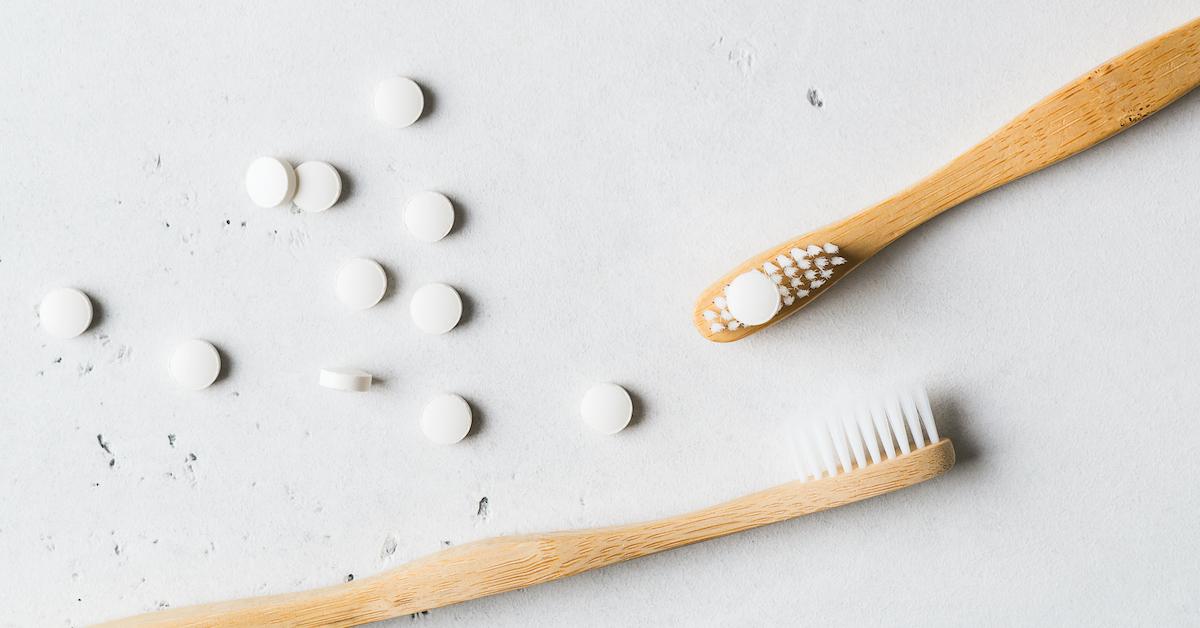 It may not be what your dentist tells you, but what's "clean" for your teeth isn't always what is clean for the environment. A lot of conventional oral care products contain ingredients that can cause potential harm to the planet. Sure, these ingredients – like sodium lauryl sulfate (SLS) and triclosan – keep your pearly whites looking shiny and feeling clean; but remember, everything you spit down the drain ends up somewhere else. Those ingredients don't just disappear. They come out the end of a pipe somewhere – usually in one of our vital waterways – and if your toothpaste's ingredients aren't safe for the planet, they can cause significant harm.
Article continues below advertisement
There are a lot of factors that go into choosing a toothpaste. First and foremost, no one wants to brush and rinse with a toothpaste that tastes terrible, so flavor is key. Secondly, health is a top concern; if you have sensitive gums or stained teeth, you might choose a specific toothpaste that is formulated to help those health concerns. Your dentist may also play a role in which toothpaste you choose; maybe your dentist has recommended a specific paste. But how often do you consider the environmental impact of your toothpaste? From its packaging to its ingredients, toothpaste holds more weight than you might realize.
With Delta Dental estimating that the average American uses 20 gallons of toothpaste throughout their lifetime, using an environmentally friendly toothpaste is crucial. If 20 gallons of toothpaste per person ultimately ends up in our environment, then choosing the best toothpaste for the environment should be one of the most important factors for all of us.
Here's everything you need to know about choosing the best toothpaste for the environment.
Article continues below advertisement
Is toothpaste environmentally friendly?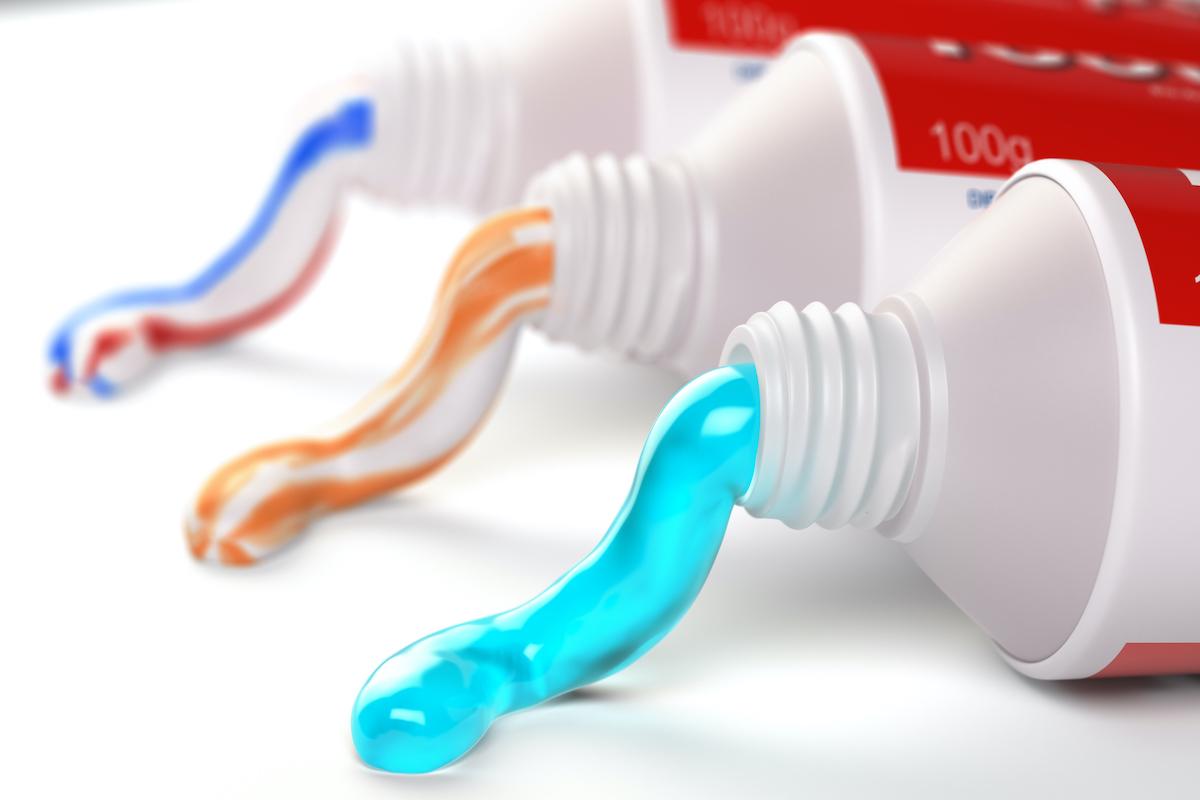 Conventional toothpaste is not always environmentally friendly. This is generally a twofold issue, as most conventional toothpaste uses plastic packaging (toothpaste tubes) and contains harmful ingredients that can cause pollution.
In order for toothpaste to be more environmentally friendly, it must use plastic-free packaging and contain ingredients that are not harmful to the planet. Some toothpastes are considered environmentally friendly for these very reasons.
Toothpaste ingredients that are generally considered harmful include fluoride, sodium lauryl sulfate (SLS), carrageenan, propylene glycol, triclosan, and unnecessary additives like artificial colors and sweeteners. Triclosan is one of the worst offenders, though it has mostly been phased out of popular toothpaste products; it converts to a dioxin in the sunlight. While this isn't as big a deal in your bathroom, when triclosan gets down the drain and eventually to our waterways, the sunlight outdoors transforms it into dioxin, which is an extremely dangerous compound for humans and animals alike.
According to the World Health Organization (WHO), dioxins bioaccumulate in fatty tissues, and over time, can cause reproductive and developmental problems in infants; dioxins are also considered endocrine disruptors and carcinogens. Even worse yet, when triclosan combines with the chlorine present in tap water, it can form chloroform – also a probable human carcinogen.
Article continues below advertisement
What's the best toothpaste for the environment?
Some popular, fairly eco-friendly toothpaste brands include Dr Bronner's, Jason, Tom's of Maine, and Weleda — though these are all packaged in plastic.
There are a few plastic-free toothpaste tubes out there; for example, Goodwell Co.'s toothpaste comes in a sugarcane-based tube, and toothpaste by Davids is packaged in a recyclable aluminum tube.
Toothpaste tablets are also an alternative to conventional toothpastes that use plastic packaging. Huppy Tooth Tabs are an all-natural, plastic-free alternative to toothpaste that come in backyard-compostable packaging – even the shipping label and cardboard mailer box can break down in an at-home compost. If you're new to tooth tabs, they look like mints; you chew them a bit, add water to the toothbrush, then start brushing. They foam up, thanks to safe and non-toxic ingredients, becoming a kind of paste.
Article continues below advertisement
Georganics also makes a toothpaste powder that turns into a paste when you add water. The toothpaste powder comes in a glass jar and is formulated with natural and/or organic ingredients like Diatomaceous Earth, sodium bicarbonate, herb oils, and more.
There's also Uncle Harry's, which sells its all-natural toothpaste in a glass jar that you can dip your toothbrush straight into, avoiding the need for a tube.
The above brands are all cruelty-free and made with safe-for-the-environment ingredients. Formulated with plant-based ingredients like eucalyptus, coconut oil, sodium cocoyl isethionate (derived from coconut), xylitol, bentonite, charcoal powder, licorice root, and more, even though these toothpastes and tabs also go down the drain, they won't harm the environment when they inevitably make their way to the waterways.
So, while traditional toothpaste might not be totally environmentally friendly, certain eco-friendly brands of toothpaste and alternatives do exist.
Article continues below advertisement
How to Make Zero-Waste Toothpaste
Another option is to make your own zero-waste toothpaste using a few base ingredients that most environmentally friendly toothpastes use anyway. With baking soda, xylitol, bentonite clay, coconut oil, and peppermint oil, you could make your own toothpaste with no excess, frivolous packaging or harmful ingredients.
Is Colgate toothpaste environmentally friendly?
Colgate is one of the most widely popular toothpaste brands. People recognize, know, and trust Colgate, which is why many people who care about the environment want to know what the environmental impact of Colgate is. Is Colgate toothpaste environmentally friendly? The answer is complicated.
All in all, Colgate – as a brand – seems to be trying to commit to sustainability. Just this January, Colgate launched a new line of toothpaste in 100 percent recyclable tubes, according to The Guardian, and also has its Smile For Good U.K. brand, which has a vegan formulation packaged in tubes made of HDPE plastic, making them recyclable. (Toothpastes that use animal fat-based glycerin are not vegan; Colgate's Smile for Good uses plant-based glycerin.)
Article continues below advertisement
According to Colgate, its toothpaste is 99.7 percent natural, and the brand wants to pivot to a more sustainable approach to toothpaste. CEO and president of Colgate-Palmolive told The Guardian, "Colgate wants to make tubes a part of the circular economy by keeping this plastic productive and eliminating waste. If we can standardize recyclable tubes among all companies, we all win. We can align on these common standards for tubes and still compete with what's inside them."
Colgate added that it expects 100 percent of its packaging to be recyclable by 2025 across all of its various product lines. For now, TerraCycle runs a recycling program for Colgate toothpaste tubes, boxes, toothbrushes, and floss packaging.
While Colgate appears to be committing to more sustainable practices, ingredients, and packaging, the truth is that there is more the brand can do. In fact, other brands are actively doing it. Brands that make toothpaste tablets and tooth powders don't need to rely on recyclable packaging because their packaging is entirely zero-waste. If Colgate is going to make plastic tubes, sure, they should be recyclable; but the truth is, there are better, more sustainable, lower-waste options for packaging: metal toothpaste tubes, glass powder jars, and compostable/biodegradable packaging.