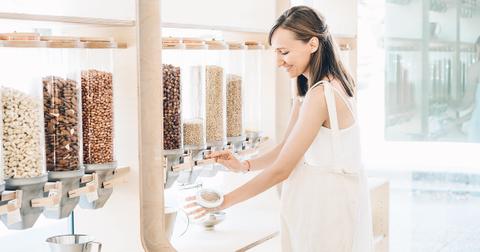 Find Zero-Waste Stores in Your Area — See Our Faves!
By Stephanie Osmanski

Updated
Living a zero-waste lifestyle gets a little easier when you have the right, sustainable resources available at your fingertips. Whether you're lucky enough to live near a big city where you can find a sustainable shop that offers in-bulk purchases and plastic-free packaging, or you make your eco-friendly buys online, knowing where to go is always the first step.
If you are new to shopping at zero-waste stores, grab a reusable tote and read up on what you can expect. For starters, most zero-waste stores have a variety of items, spanning from beauty and wellness to home goods and clothes to the low-impact bathroom and kitchen essentials you'll need. What sets these stores apart as "zero waste"? For the most part, the items in zero-waste stores are made with quality, healthy, and non-toxic ingredients and have plastic-free packaging that is either recyclable, reusable, refillable, or compostable.
What else will you find at a zero-waste store? Of course, it depends on the store, but you might also find items that are largely locally sourced: soaps, candles, plants, and even jewelry that is made nearby by local artisans. Most zero-waste stores are also small businesses, so it's possible that the owner makes some of the items and works behind the register, too. Apart from being environmentally friendly, shopping at your local zero-waste store can also be a great way to meet like-minded people who care about the planet and this lifestyle as much as you do.
Want to know where to shop zero waste? Keep reading for online stores and brick-and-mortar zero-waste stores by city.
Atlanta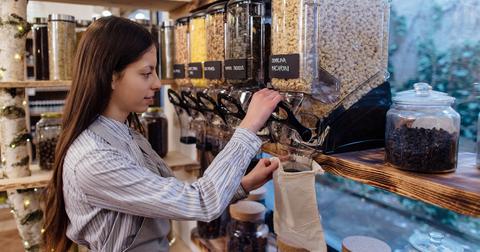 While Buffalo Exchange isn't technically a zero-waste store, it is a popular second-hand chain where people can buy, sell, and trade clothing.
Value Village is another Atlanta-based thrift store, toted as the city's largest thrift department store. Since opting for second-hand is always the more sustainable option than buying new, it might be a good idea to check out these local thrift stores before assessing other options.
Austin
If you're looking to stock up on grocery, body care, and household cleaning products in bulk, shops like Central Market, H-E-B, and Wheatsville Co-ops have large bulk aisles to choose from. Sprouts farmers' market also sells groceries, vitamins and body care, beer and wine, and in bulk.
You can also check out the Austin Reuse Directory to search for local spots to drop off, buy secondhand, rent, or repair something.
Burlington
Like most co-ops, the City Market/Onion River Co-op in Burlington, Vermont offers a bulk department for spices, oils, cereals, rice, pasta, flour, grains, beans, nuts, and more. Just bring your own container to fill up and record the tare weight.
At Healthy Living Market, you can bulk up (literally) on more than just food. Non-toxic home cleaning products from Common Good are available, as well as in-bulk foods and on-tap kombucha.
Natural Provisions is another great zero-waste, bulk store in Burlington to try it. You can get everything from bulk food to baking supplies, as well. Even pre-cooked foods can be purchased using your own container.
Boston
With two locations — one in Brookline and one in Dedham — the Boston General Store sells everything from zero-waste kits for cleaning, shopping, and traveling to bulk kitchen and bathroom essentials.
Las Vegas
In Reno, Nev., Black Rock Refill is fighting plastic pollution with its plastic-free refill services and various reusable body care, skincare, cleaner, and food storage items. Black Rock also has its own recycling program in conjunction with Terracycle, allowing customers to drop off non-recyclable items – items not traditionally recycled – so that these items do not end up in a landfill. The drop-off location for these non-recyclable items, however, is not Black Rock Refill; they can be dropped off at McKinley Arts & Culture Center at the Riverside Farmers Market.
Los Angeles
The Refillery is a mobile refill station that traverses LA. Here's how it works: You schedule a no-contact appointment and The Refillery mobile shows up on a house call to refill any products you might need more of. You can either use your own containers or purchase one at the station and refills are sold by the ounce. The Refillery carries everything from home goods and laundry essentials to personal care and pet items.
Based in LA, Refill Evolution is a female-owned business that refills everyday essentials. All of the brands they carry are eco-friendly, cruelty-free, non-toxic, biodegradable, and use natural fragrances (essential oils).
Sustain LA is another women-owned business that offers pick-up, delivery, and contact-free appointments. Offering zero-waste living options and events, Sustain has a refill station and also offers rentals and zero-waste party planners for big parties.
Miami
According to Verde Market, their way is the sustainable way of life. You can get just about anything your heart desires in bulk here: grains, nuts, seeds, and snacks and even superfoods like bee pollen, spirulina, cacao, and maca. Liquids like oils, vinegars, honey, and orange juice are also available in bulk and you'll also find package-free dog treats, cleaning supplies, body care items, and candles.
Washington, D.C.
Mom's has a BYOC — bring your own container policy — and also brings attention to ingredient watch lists that include banned food ingredients and "shady" body care ingredients to be wary of. Apart from its Washington, D.C. location, Mom's Organic Market can also be found in Virginia, Maryland, Pennsylvania, and New Jersey.