The Green New Deal has been around for some time, with origins stemming back as far as the early 2000s. However, a new, invigorated version of the Green New Deal was introduced about a year ago from some of the newest (and youngest) members elected into Congress. You've likely heard the term Green New Deal thrown around a bunch — after all, cities like Los Angeles and New York have since passed their own Green New Deals after becoming inspired by the federal-level one most recently re-initiated by Rep. Alexandria Ocasio-Cortez.
While support for the Green New Deal largely seems bipartisan — with 92 percent of Democrats, 88 percent of Independents, and 64 percent of Republicans saying they support the Green New Deal in a 2019 poll — many people are still wondering exactly what the deal entails.
Ready to catch up on all things Green New Deal? Keep reading!
What Is the Green New Deal?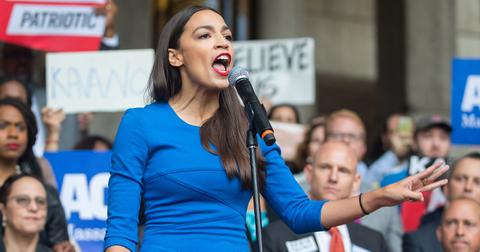 The Green New Deal is a proposed package of United States legislation and initiatives that will attempt to address and rectify issues pertaining to climate change and economic inequality. Some people wonder about the distinction — is the Green New Deal a bill or a resolution? — but the Deal is a duo of resolutions within a bill: House Resolution 109 and S. Resolution 59. Both resolutions are sponsored by Rep. Ocasio-Cortez of New York and Sen. Ed Markey of Massachusetts.
The Green New Deal has the support of more than just Ocasio-Cortez and Markey, however. Nine other members of Congress have also put their stamp of approval (or in this case, support) for the Deal, including Reps. Deb Haaland, Ro Khanna, John Lewis, Carolyn Maloney, Joe Neguse, Ilhan Omar, Ayanna Pressley, José Serrano, and Rashida Tlaib.
So, what is it? The proposal suggests remaking the United States' national grid by completely converting to 100 percent renewable energy, reducing greenhouse gas emissions from human sources by 40 to 60 percent by 2030, and achieving net-zero carbon neutrality by 2050.
What Are the Goals of the Green New Deal?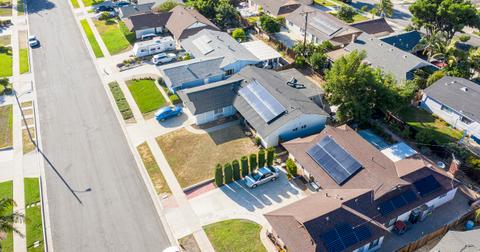 The Green New Deal has some pretty lofty goals in the name of rectifying climate change and saving the environment. Some of these goals have received criticism for being unachievable in an unrealistic time frame, however it's important to note that experts and activists are currently proclaiming a state of climate crisis. After all, scientists have estimated we have 12 years to remedy and manage the effects of climate change. In times of crisis, lofty goals and a quick deadline are what's needed.
According to Ocasio-Cortez's plan, the Green New Deal would call for a 15-member committee to develop and execute the plan in its entirety. The committee would have a year to finalize the plan and the overall deadline for the committee to complete the following tasks would be within a 10-year timeframe.
The main goals the Green New Deal seeks to achieve include:
100 percent of national power generation from renewable sources;
Building a national, energy-efficient "smart" grid;
Upgrading residential and industrial buildings for comfort, safety, and state-of-the-art energy efficiency;
Decarbonizing manufacturing, agricultural, and other industries;
Decarbonizing, repairing, and improving transportation and other infrastructure;
Funding massive investment in the drawdown and capture of greenhouse gases;
Making "green" technology, industry, expertise, products, and services a major export of the United States, with the aim of becoming the undisputed international leader in helping other countries transition to completely carbon neutral economies and bringing about a global Green New Deal.
While each of these bullet points is outlined on Ocasio-Cortez's website, the Green New Deal is a 14-page resolution with many ideas and suggestions on how to mitigate the effects of climate change. The Green New Deal includes a push to invest into electric vehicles and high-speed rail systems, as well as increasing state-sponsored jobs, and addressing economic inequality by focusing these various improvements in "frontline and vulnerable communities" historically susceptible to poverty. The Deal also calls upon universal healthcare, an increase in minimum wage, and the prevention of large companies creating monopolies.
Will Green New Deal Pass and Is There a Vote on It?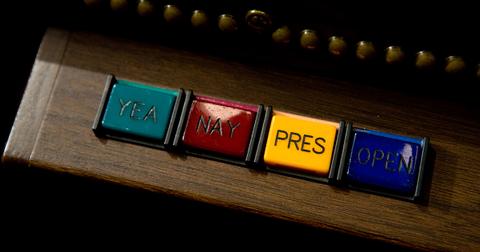 In 2019, after gaining much traction regarding the Green New Deal, the 116th United States Congress voted on the Green New Deal on March 25, 2019. The resolution did not advance to the US Senate, as most Senate Democrats voted "present" instead of for, or "yea" on, the bill.
Let's back up a little bit. If you can't remember from your high school history class days what it means to vote "present" during a vote, we'll remind you; many Senate Democrats voted "present" on March 25, 2019, causing an abstention. This was in protest to Republicans in the Senate pushing up the date and calling for an earlier than scheduled vote. The deal failed to advance in a margin of 0-57.
So, will there be another vote? The Green New Deal isn't dead just yet. It all comes back to Ocasio-Cortez's 15-member committee. A committee is now called upon to create "a detailed national, industrial, economic mobilization plan capable of making the U.S. economy 'carbon neutral' while promoting 'economic and environmental justice and equality.'" This plan is to be released in early 2020.
How Much Will the Green New Deal Cost?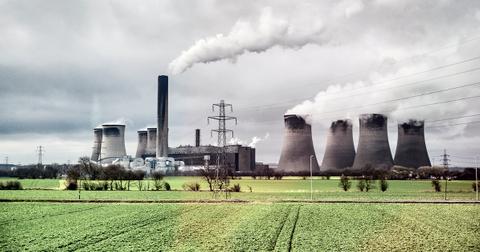 Implementing the Green New Deal would mean a massive shift in how things are currently run in the United States, which is why another one of the resolution's potential criticisms is that it could be costly.
One such criticism comes from President Donald Trump, who claimed the Green New Deal would cost $100 trillion. Those who support the plan — including Ocasio-Cortez — concede that it will be expensive, but also pose that climate change could be just as expensive, if not fatal to humans and life as we know it. Ocasio-Cortez has also said that since a massive goal of the Green New Deal is to balance out economic inequalities and injustices, the amount of economic growth it could cause could potentially end up paying for the initial expenses in the long run.
For now, it's impossible to put a specific price tag on the Green New Deal, though according to a New York Times article, some local green legislation does suggest some indicators.
For example, the State of Vermont has its own independent goal of achieving 90 percent renewable energy by midcentury, according to NYT. The cost for this plan is an estimated $33 billion for Vermont alone. However, as jobs in the renewable energy departments increase, it ends up paying for it and saving consumers money in the long run.
Here's one more example, as offered by NYT: Revamping the national electric grid could cost nearly $476 billion. However, the plan has the potential to earn more than $2 trillion in benefits, according to the Electric Power Research Institute.
Does the Green New Deal Ban Air Travel?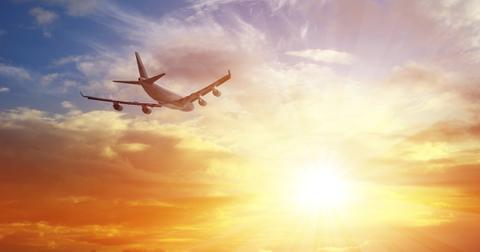 One of the most-searched-for questions regarding the Green New Deal is whether it will ban air travel; it will not.
The source of this misunderstanding is President Donald Trump, who has publicly declared that the Green New Deal will take away peoples' "airplane rights." It will not do that either.
What the Green New Deal does do is put a specific emphasis on renewable energy and more sustainable transportation, which is why the deal calls for a large investment into transportation alternatives such as electric vehicles and high-speed rail systems. While flying is one of the most detrimental modes of transportation as far as emitting greenhouse gases into the air, the Green New Deal won't ban air travel. (And of course, as you may know, whenever you fly, you could simply opt to pay the Carbon Offset Fee.)