Chia Seeds Are a Superfood, Can Replace Eggs in Baking, and So Much More
Chia seeds aren't just good for making novelty planters, they are actually quite nutritious as well.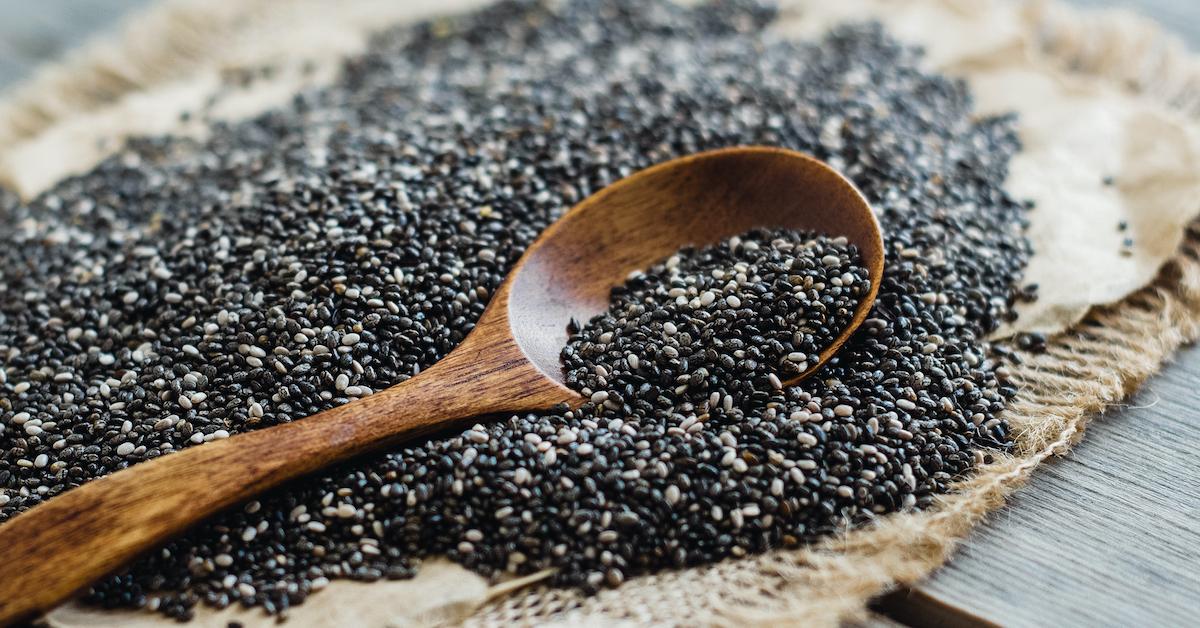 When they first began telling us that we could eat chia seeds, many people were understandably skeptical. People were even more surprised to find out that these tiny seeds, once used to decorate novelty terra cotta planters, were actually quite nutritious.
A few decades after the Chia Pet's first appearance, many people are finally beginning to see what chia seeds are good for besides growing yourself a friend — and some of the answers might surprise you.
Article continues below advertisement
What are chia seeds good for?
According to Healthline, the Aztecs and Mayan peoples considered chia seeds to be an essential part of their daily diet. These ancient civilizations understood that chia seeds helped provide a much-needed energy boost. This also happens to be why they are named as such, as chia means "strength" in the ancient Mayan language.
Article continues below advertisement
Cultivated from the plant Salvia hispanica, chia seeds are tiny black seeds that are distantly related to the mint plant. A superfood, chia seeds are eaten by every health-conscious individual that can get their hands on them. They are great for smoothies, meal replacements, and energy supplements.
As with any natural remedies, these foods and supplements are not meant to be a replacement for actual medical care. It's best to consult your doctor before adding any unfamiliar foods or supplements to your daily routine, especially if you have any persistent medical conditions.
Article continues below advertisement
Why are chia seeds good for you?
Chia seeds are packed with a ton of vitamins, nutrients, fiber, protein, and carbohydrates: all without an ounce of added sugar. According to Medical News Today, a 1-ounce serving of chia seeds contains more omega-3s, calcium, phosphorus, and fiber than the same size serving of flaxseeds.
Article continues below advertisement
A 1-ounce serving of chia seeds also clocks in at about 131 calories, 8.4 grams of fat, 13 grams of carbs, 11.2 grams of fiber, and 5.6 grams of protein. All of this adds up to an energy-dense superfood.
Why do people grind up chia seeds?
Chia seeds can be eaten whole, but many people choose to ground them up in order to better release their nutrients. According to Foodsguy, grinding chia seeds is the best way to gain the benefits of their omega-3s, though some studies indicate that this step isn't strictly necessary. However, some people grind chia seeds in order to make flour out of them, which can be added or substituted for all-purpose flour to make cakes, muffins, or bread.
Here are a few common uses for chia seeds:
Article continues below advertisement
Chia seeds can be used as flour or a thickening agent.
Chia seeds thicken as they absorb moisture, which is why so many people use them in smoothies, soups, stews, yogurts, and puddings. In this way, chia flour can be used to replace flour in baked goods, which results in a healthier final product that might not make you feel as bloated as regular flour might have.
Chia seeds replace eggs in vegan baking.
You read that correctly: chia seeds can be used as an egg replacement in vegan baking. According to The Pretty Bee, whole chia seeds mixed in water create a gelatinous product that feels and behaves like an actual egg. The chia seeds don't add much taste to your desserts, and the resultant egg-like mixture can be used to bind baked goods together.
Article continues below advertisement
Chia seeds are great for thickening up smoothies.
The most common use for chia seeds seems to be using them to thicken up smoothies without adding to the overall sugar content. According to The Kitchn, a tablespoon of chia seeds can replace an entire banana in a fruit smoothie. Of course, given their texture, you might want to either grind up your chia seeds a bit if you're going to be using them for this purpose.
Article continues below advertisement
The Kitchn recommends using a high-powered blender to grind them whole before putting them into your smoothie. You can also use a small electric coffee grinder for this job. Either way, be careful not to leave a chia-bulked smoothie sitting too long. Chia seeds are very absorbent, and you might wind up with something more akin to pudding than a shake. Hey, that's an idea...
Chia pudding is a delicious, nutritious dessert
Pudding is actually one of the tastiest ways to utilize chia seeds. Instead of using cornstarch, flour, eggs, or heavy cream, you can use chia seeds. According to Chocolate Covered Katie, chia seeds can be added to any number of delicious flavor combinations of pudding. It can be made by simply combining chia seeds with plant-based milk or yogurt in a jar. Add whatever fruits and flavors you want after that, and then place in the fridge and let the thickening magic to happen overnight.