Watch the "Big Game" at These Vegan Pubs and Sports Bars Across the U.S.
If you're looking to watch the big game and get some plant-based grub, we've compiled a list of vegan sports bars and pubs across the U.S.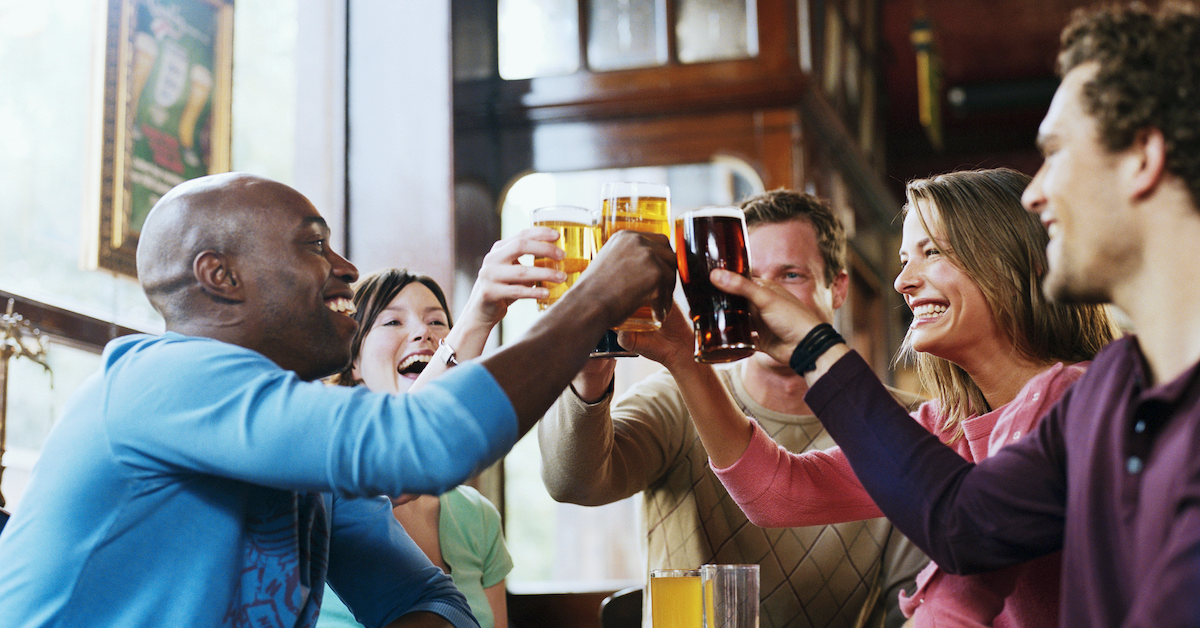 Although most people would probably associate sports bars with chicken wings, hamburgers, and cheese fries, vegans like to watch the big game, too — and while vegan pubs and sports bars might not be as common, they're in equal demand, and they're becoming increasingly more common around the U.S. With that in mind, plant-based sports fans and meat eaters alike will definitely want to make a pitstop at these meatless watering holes.
Article continues below advertisement
Hungry Tiger — Portland, Ore.
Portland, Ore. is a haven for vegan food, so it's no surprise the Pacific Northwestern city has been home to Hungry Tiger since 1985. The bar, which touts its "good food and stiff drinks," is a plant-based bar that has a patio, pinball machine, and TVs for a #sporty night out on the town. The kitchen also offers everything including: vegan corn dogs, wings, tots, tacos, burgers, and a wide variety of mac and cheeses.
Pine Box Rock Shop — Brooklyn, N.Y.
Located in a former casket factory in Brooklyn's Bushwick neighborhood, Pine Box Rock Shop provides for a perfect night out. In addition to live comedy and karaoke, you can watch the game any night of the week at the bar's many TVs, while enjoying any of the bar's rotating plant-based specials. From vegan chili, to gumbo, to empanadas, the menu is constantly changing, offering a wide variety of foods and cuisines.
Article continues below advertisement
Put Me In Coach — Los Angeles, Calif.
Los Angeles' Highland Park neighborhood was recently blessed with Put Me In Coach, a fully vegan sports bar opened by award-winning chef Richard Chang, who owns the famooous Wolfie's Nashville Hot Chicken. According to VegNews, you can expect to find a wide range of cuisines on the menu, including buffalo wings, chili dogs, pizza, Mexican street food, bibimbap, and homemade Cool Ranch Dorito-inspired chips on the menu — so prepare for a full night of eating.
Article continues below advertisement
Piper Down Pub — Salt Lake City, Utah
Although Salt Lake City's Piper Down Pub isn't completely vegan, it offers a full vegan menu that's adorned with a wide variety of plant-based versions of items commonly found at traditional sports bars. From plant-based fish tacos, to seitan wings, to vegan nachos, you're bound to find something you like — and with authentic pub vibes, TVs, and more — you're definitely going to have a solid evening.
Article continues below advertisement
Arooga's Grille House & Sports Bar — Nationwide
Arooga's Grille House & Sports Bar is another spot that isn't fully vegan, but it has a completely vegan menu that offers a wide range of plant-based versions of traditional pub classics. The Impossible Nachos are supposedly incredible, so we strongly suggest making that part of your order — and luckily, there are locations nationwide, from Pennsylvania, to Florida, to New Jersey.
Article continues below advertisement
PlantPub — Cambridge, and soon, Boston, Mass.
Massachusetts is about to be home to two of Matthew Kenney's PlantPub locations, with one opening in Boston and the other already operating in Cambridge. It's a casual bar that offers plant-based pub food and local craft beers. New England vegans had been been eagerly awaiting the Boston opening — which had been deferred because of COVID-19 — though it's now about to attract crazed sports fanatics from across Bean Town.
Article continues below advertisement
Green Matters' new book, Green Living, is the perfect guide to living an eco-friendly lifestyle for people at every stage of the process. You can order Green Living here.