Miyoko's to Bring the First Vegan Cottage Cheese to Market (Exclusive)
Miyoko's founder Miyoko Schinner recently told 'Green Matters' about her latest projects, both in the realm of vegan dairy products and her animal sanctuary.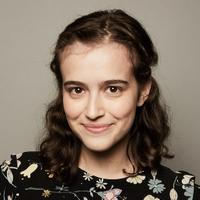 Miyoko Schinner has been in the vegan food business for over 30 years — but her ideas are still as fresh as ever. Most recently, her brand Miyoko's launched a liquid Vegan Pizza Mozzarella, a truly innovative product that I got to try at the Plant Based World Expo in New York City this week.
Article continues below advertisement
At the expo, Green Matters spoke with Schinner to learn more about how she came up with this unique vegan mozz, she revealed that the brand's newest non-dairy product will be cottage cheese, and she also told us about her farmed animal sanctuary Rancho Compasión's newest project, which will combat 4-H and FFA programs.
Miyoko's just launched a liquid Vegan Pizza Mozzarella.
Vegan cheese has certainly come a long way, and Miyoko's is proof of that — but because dairy-free cheese typically has a higher melting point than dairy cheese, it doesn't always melt as quickly. In response to that problem, Schinner and the team at Miyoko's developed a liquid Vegan Pizza Mozzarella.
The cheese comes in a bottle, and users simply pour it onto their crust in place of shredded cheese. Then, throw your pizza in the oven, and the cheese will firm up and brown, giving off the appearance, taste, and texture of melty mozzarella cheese.
Article continues below advertisement
"We're really excited about a whole new approach to making mozzarella. I think the problem was that it didn't melt because of the way plant-based cheeses are often made from oil and starch, and then it's really hard to get that thermal reversibility," she tells Green Matters at the expo.
"And we thought, why bother doing that at all?" she says. "Why do we have to make it the same old way? Let's just think outside the box, and just approach the problem from a different dimension."
Article continues below advertisement
Next up for Miyoko's is a vegan cottage cheese.
When asked what's next for Miyoko's, Schinner tells Green Matters exclusively, "We have a cottage cheese that's launching next year," though she didn't note exactly when customers can expect the product to hit shelves.
The Miyoko's vegan cottage cheese will have 10 grams of protein per serving, which Schinner is "really excited about." It's also likely going to be the first vegan cottage cheese on the market, at least in the U.S.
Miyoko Schinner isn't afraid to use the word vegan.
In recent years, the phrase "plant-based" has become a buzzword, with many food companies capitalizing on its popularity amongst health-minded consumers. In fact, during the Plant Based World Expo's keynote presentation on Dec. 9, a panelist stated that the No. 1 reason consumers buy plant-based foods is for health reasons. And while making nutritious products is important to Miyoko's (most of the brand's offerings are cashew-based), Schinner's top priority will always be the animals.
Article continues below advertisement
"We're not in it obviously just to sell plant-based meats, we're here to save the animals," she tells us.
"I always use the word vegan. I don't use the word plant-based, usually. And it's really great to see brands like VFC Foods," she adds, pointing across the expo hall to the U.K.-based vegan fried chicken company's booth.
Article continues below advertisement
The British brand, which is preparing for a U.S. launch, had videos playing on several screens at its booth, including footage of chickens suffering in factory farms. After watching that, no compassionate person would be hungry to eat a chicken — making it the perfect time to try VFC's chick'n.
"They're not afraid to talk about veganism, they're not afraid to talk about the animals," Schinner says about VFC. "It seems like [in] this industry, there are a lot of people who are just afraid to speak the truth, or they're in it because they see money in it. And we need a rebellion at the grassroots level from consumers who say, 'Enough is enough, we need to make a systemic change in the food system.'"
Article continues below advertisement
Rancho Compasión is launching LEAP, a program to combat 4-H and FFA.
4-H and FFA are national programs in which children raise and care for farmed animals, such as pigs, cows, and goats. Then, the program culminates with the kids bringing their animals to auction, where they are sold to be slaughtered. However, Schinner believes children can learn to bond with animals out of their own compassion, rather than consumption and capitalism.
Schinner is a co-founder and board member of California-based farmed animal sanctuary, Rancho Compasión. The leaders of Rancho Compasión and two other sanctuaries recently partnered together to create LEAP, or Leaders in Ethics, Animals, and Planet, a program that will launch in January 2022.
"We're going to offer opportunities to kids to actually connect with animals and help raise them, but then not take them to slaughter at the end of the day," Schinner says. "We're really hoping that this will be a program that we can grow nationwide."