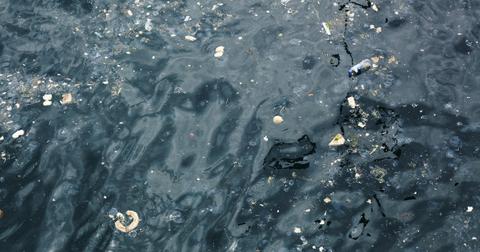 Researchers Discovered Microplastics in Animals in the Ocean's Deepest Trenches
By Sophie Hirsh
With so many eco-conscious people reducing their plastic use, you'd think the whole plastic pollution thing would be getting better. But unfortunately, the issue actually seems to be getting worse. According to a study published today, Wednesday, Feb. 27, microplastics were discovered in the bodies of more than 72 percent of marine animals dwelling at the deepest depths of the ocean. With plastic having reached the very bottom of the ocean, it's clear that we need to do a lot more if we want to see plastic-free oceans in our lifetime.
The study, published by the journal Royal Society Open Science, is titled, "Microplastics and synthetic particles ingested by deep-sea amphipods in six of the deepest marine ecosystems on Earth." For the study, the researchers collected 90 Lysianassoidea amphipods, which are a family of marine crustaceans, from six marine ecosystems along the Pacific Rim (specifically from Japan, Izu-Bonin, Mariana, Kermadec, New Hebrides, and the Peru-Chile trenches). The crustaceans were found living at various depths, ranging from 7,000 meters deep to 10,890 meters deep.
More From Green Matters
.

News

Over the past few weeks, tragic bushfires have been tearing through eastern Australia.

.

Community

Alex Trebek once purchased more than 60 acres of land and donated it to a Los Angeles conservancy.

.

Pets

The PACT Act has passed in the Senate!