New Doc 'Meat Me Halfway' Encourages Reducetarian Diets With Powerful Storytelling (Exclusive)
Brian Kateman, creator of the reducetarian movement, is premiering his new documentary 'Meat Me Halfway' on streaming platforms on July 20, 2021.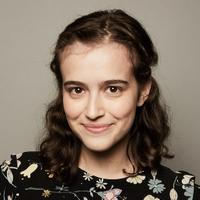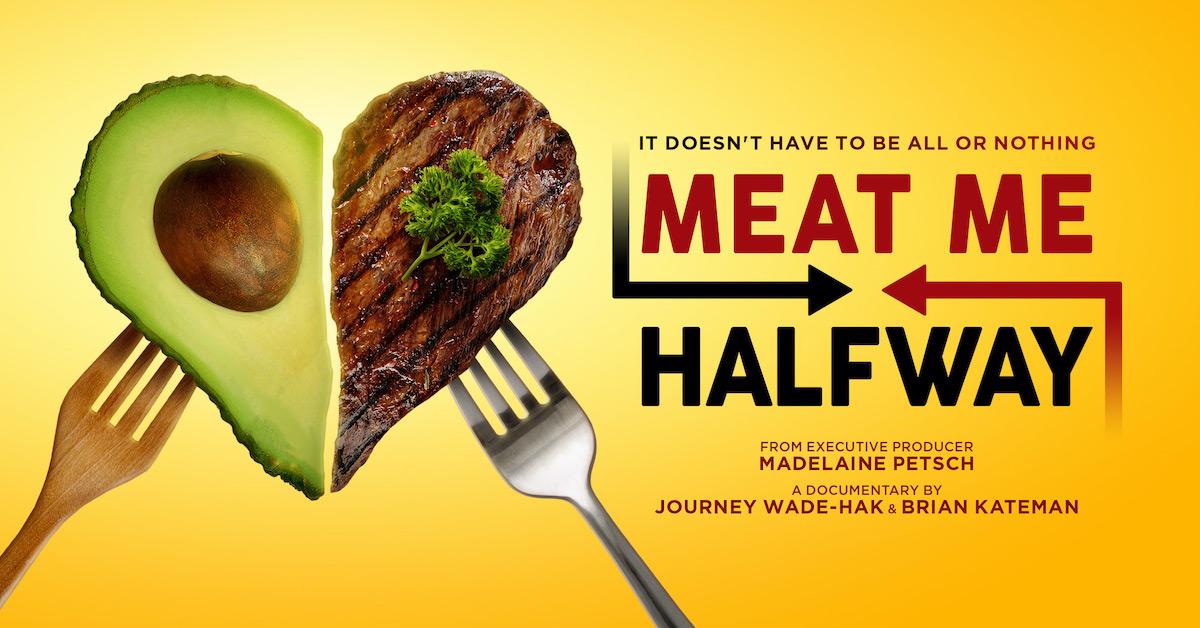 If the entire world started eating a vegan diet, it would make a huge dent in the fight against the climate crisis, save endless animal lives, and avoid many health issues — but most people on Earth simply don't want to do that.
So, instead of trying to force a vegan world, in 2014, Brian Kateman founded the reducetarian movement. And this week, his new documentary about the reducetarian movement, Meat Me Halfway, premieres on streaming platforms. The film was executive produced by vegan actress Madelaine Petsch, best known for starring on The CW's Riverdale, and it features cameos from prominent plant-based people including Ethan Brown, and Gene Baur, and Eric Adams.
Article continues below advertisement
"Factory farming is arguably the most destructive practice on the planet," Kateman tells Green Matters exclusively via email. "At the same time, very few people want to go vegan. So, we can either throw our hands up in the air and give up, or, we can offer an alternative that might put factory farming where it belongs: in the dustbin of history. This alternative is celebrating the notion that meat consumption isn't an all-or-nothing premise and that one can simply cut back on animal products."
Keep reading for everything you need to know about Meat Me Halfway: the film's biggest takeaways, how to watch it, and more.
Article continues below advertisement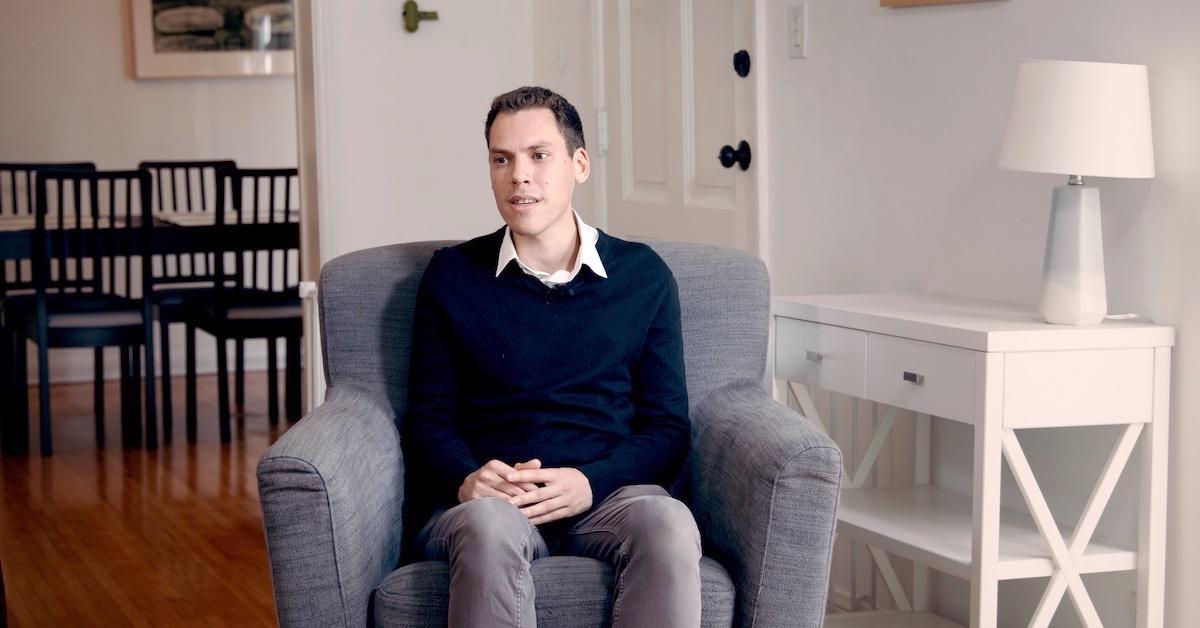 What is the reducetarian movement? By definition, it welcomes everyone.
According to the Reducetarian Foundation, reducetarianism is a diet that involves intentionally eating less meat, fish, dairy and eggs — to any degree. Everyone from plant-based eaters to people who intentionally eat just one vegetarian meal a week can technically be considered a reducetarian.
Reducetarianism has gotten flack from both vegans and meat eaters — but there are also many vegans and meat eaters who support the movement, as it finds common ground.
Article continues below advertisement
Brian Kateman's 'Meat Me Halfway' explores how reducetarianism could benefit the planet.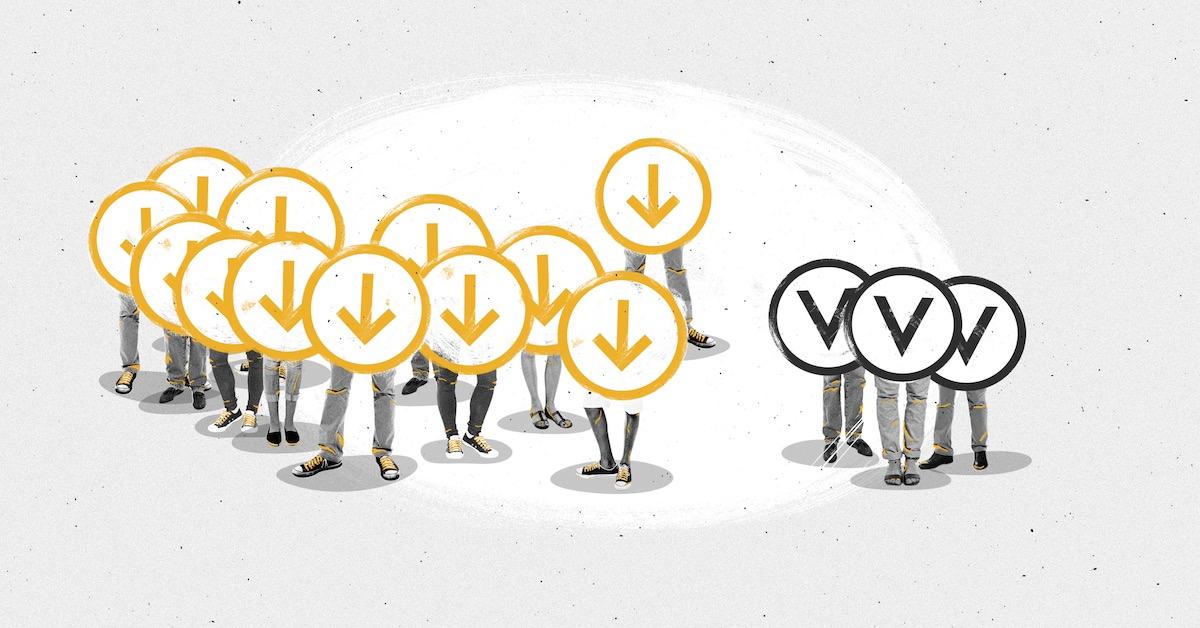 Meat Me Halfway, which Kateman co-directed and co-produced with Journey Wade-Hak, argues that convincing people to eat reducetarian diets will be easier and more effective (in combating climate change, saving animals, and protecting human health) than what we have now: a tiny population of vegans, and a large population of animal product-eaters.
In the beginning of the film, Kateman expresses his confusion about why it's so difficult to get people to eat less meat — in fact, meat consumption puzzlingly continues to grow, despite the increasing evidence and news reports that animal agriculture is a leading cause of the climate crisis. According to the film, the average American consumes more than 200 pounds of meat each year; in 2020, Americans ate the most meat in U.S. history, at an average of 225 pounds per person each year.
Article continues below advertisement
So, in Meat Me Halfway, Kateman sets off to learn more about the animal agriculture industry, the animal rights movement, "ethical" meat, and potential solutions to factory farming. Here are some of the film's most important takeaways and moments.
Article continues below advertisement
Brain Kateman had an emotional reaction at a pig save.
One of the film's most powerful moments comes when Kateman — reluctantly — attends a pig save with the Animal Save Movement.
At the pig save, along with dozens of volunteers, a skeptical Kateman is seen lining up outside of a pig slaughterhouse. The volunteers ask truck drivers to stop before turning inside, and then spend a few minutes giving water to the animals who are about to be slaughtered after a grueling life on a factory farm and (typically, very long) truck ride.
With the images and sounds of screaming pigs in the background, Kateman is seen crying tears of sadness and anger. Through tears, he narrates the feelings he went through when bearing witness. The "unique and disturbing" experience completely changed his perspective, and made him "feel a lot more sympathetic" to the animal rights activists who he previously found a bit too extreme — as well as more sympathetic to the animals.
Article continues below advertisement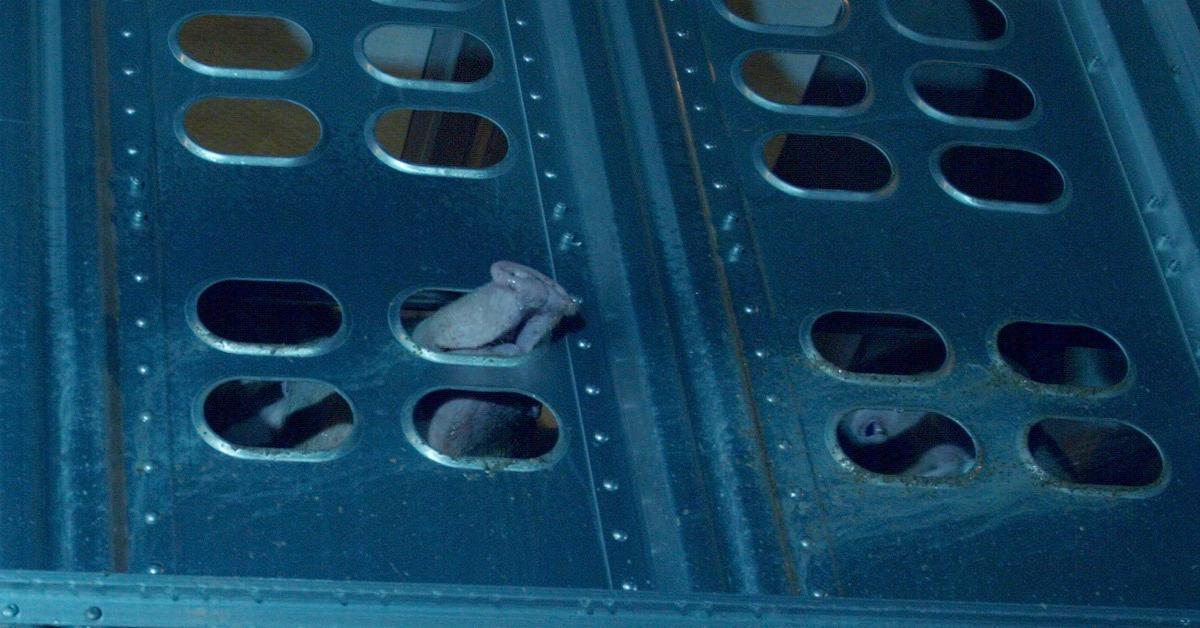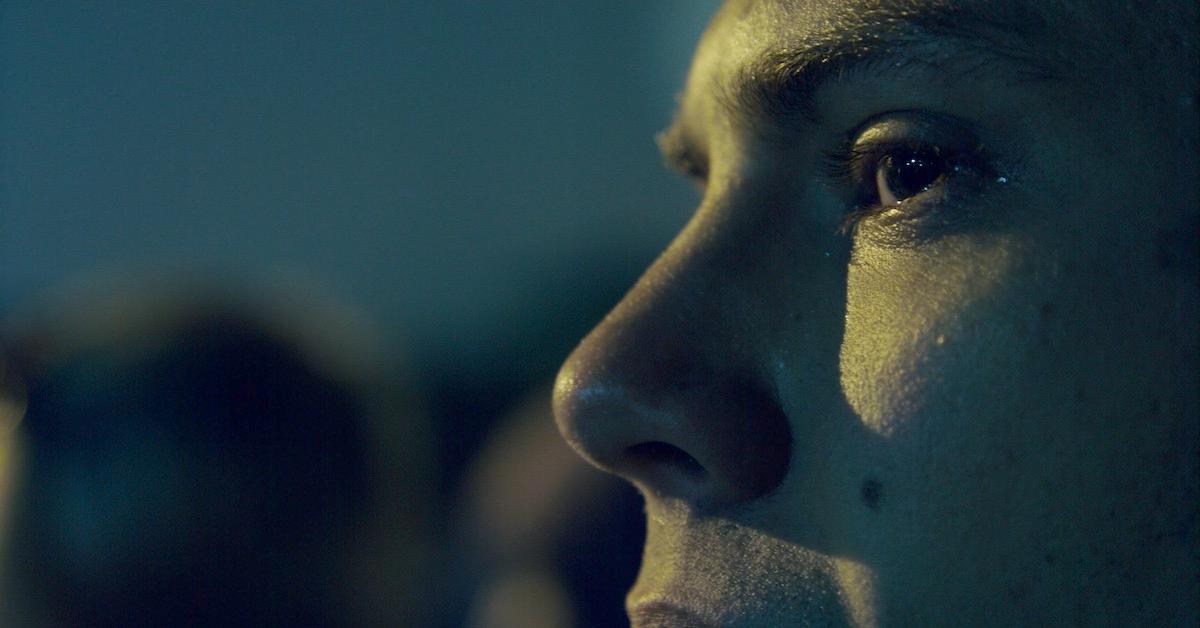 Article continues below advertisement
Kateman visited an "ethical" animal farm, but left unsatisfied.
In an attempt to see if there really is a sustainable and ethical way to slaughter animals for meat, Kateman is seen visiting White Oak Pastures, a farm in Georgia with various animal welfare certifications. Farmer Will Harris III takes Kateman on a tour of the regenerative farm, and even lets Kateman check out the kill floor — but he doesn't let the cameras film in there. Afterwards, Kateman admits that he still wasn't totally comfortable with what he witnessed.
White Oak Pastures is supposed to be one of the most "ethical" animal farms in the country, but if its slaughter process it's still too violent to film, how ethical can it really be?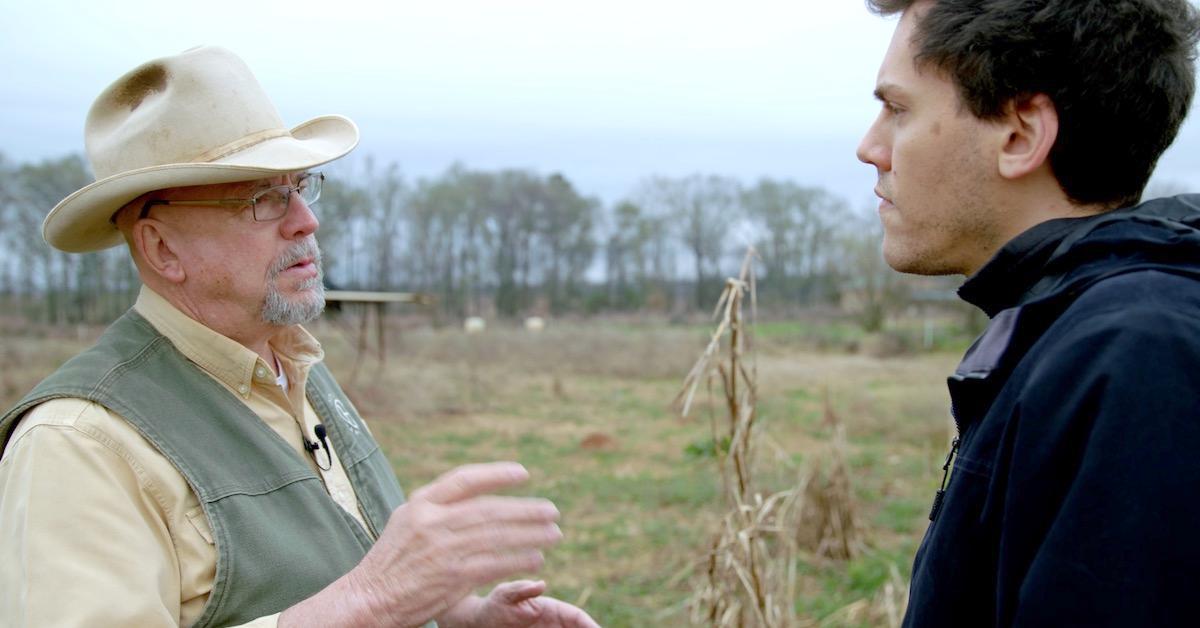 Article continues below advertisement
'Meat Me Halfway' facts:
The film is also filled with many facts about the animal agriculture industry, the medical industry, and nutrition.
For instance, Dr. Marion Nestle of NYU explains that a lot of the misinformation around food goes back to doctors, who get inadequate nutrition training in medical school. "They're not even taught how to refer patients to dietitians or nutritionists to get advice about it," she says. "The entire medical care system is set up to reimburse doctors for what they do, not what they prevent."
Dr. Walter Willet of Harvard University adds that marketing and lobbying from the meat industry has been very effective in keeping people ignorant about the truth behind their food. "The American public does not get a balanced view of the scientific evidence," Willet says in Meat Me Halfway.
The doc also makes it clear that animal products don't come from the farms most people picture, but primarily from factory farms. It also points out the growing issue of antibiotic resistance, due to the immense amounts of antibiotics given to livestock — in 2015, the U.S. alone gave 34 million pounds of antibiotics to livestock.
Article continues below advertisement
Kateman learned that healthy plant-based food is not accessible to everyone.
Eating healthy plant-based food is often an issue of accessibility and justice — food deserts (which are often in low-income or BIPOC communities) often have triple the death rates from preventable diseases as more affluent neighborhoods. So to address the issues presented by the animal agriculture industry, we also have to address food deserts, among many other things.
"I entered this process with a sense of confidence that people need to be educated on the importance of eating less meat. And that's still certainly true. But it's incomplete," Kateman tells Green Matters. "The food environment also has to be designed in such a way that better options are less expensive, more available, and just as delicious."
Towards the end of the film, Kateman is seen trying Eat Just's (Just Egg's parent company) lab-grown chicken nugget, an alternative to animal-based meat. Many believe that once cell-based meat is perfected, it will appeal to meat lovers more than plant-based meat.
Article continues below advertisement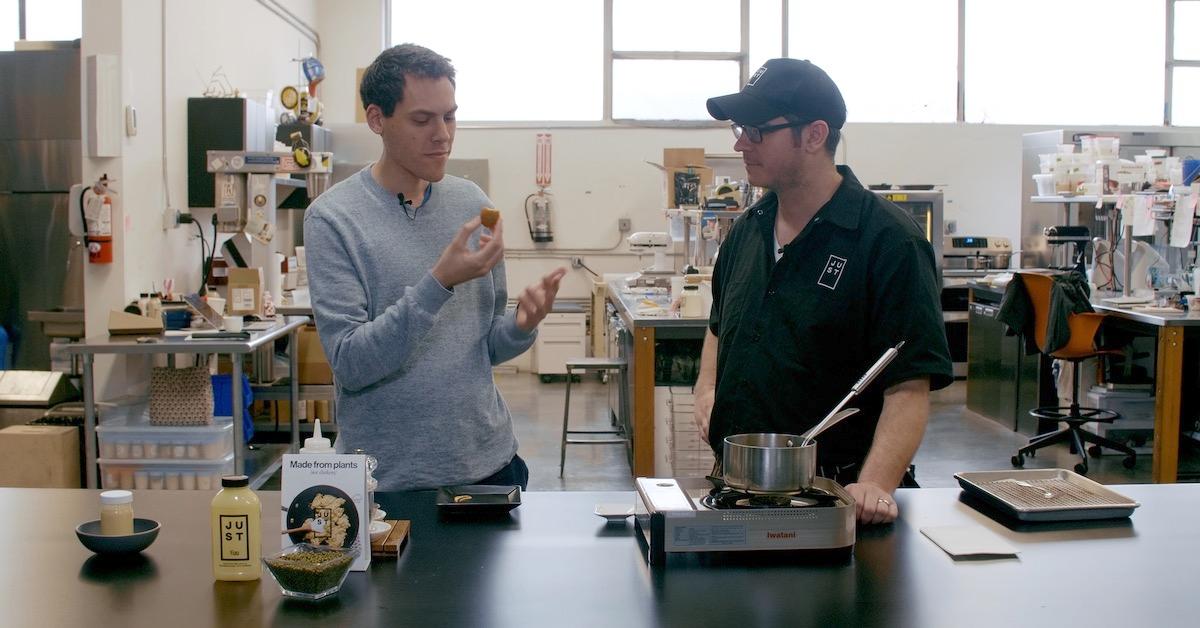 "We have a long way to go, and I'm not sure what the world will look like in the future, but we have to try," Kateman tells us. "The planet and all its inhabitants depend on it."
Overall, Meat Me Halfway has several powerful moments — including one featuring Kateman's father, which you'll have to watch to the end to witness — that are sure to inspire viewers to become reducetarians themselves. That said, most of the facts shared will be nothing new to vegans or those who have seen other similar documentaries, such as What the Health, Cowspiracy, and The Game Changers.
Meat Me Halfway debuts on Amazon Prime and iTunes on Tuesday, July 20, 2021, for $9.99.