A Living Christmas Tree Is More Sustainable Than a Real or Fake One
Living or live Christmas trees are the most sustainable choice this holiday season.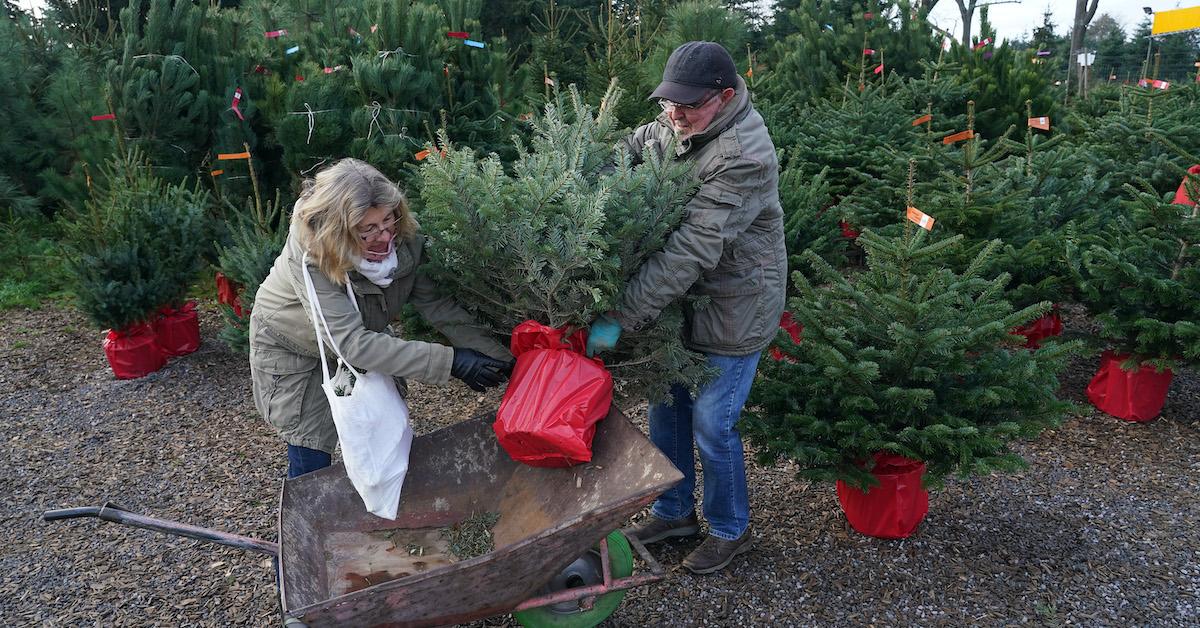 There is a great divide among about whether or not a real Christmas tree is better than a fake one. Many aspects are considered when making this decision, including tradition, economics, and longevity. At Green Matters, we're more concerned with the sustainability of those choices than anything else — and we've discovered that the most sustainable option for Christmas is actually not a traditional real Christmas tree or even an artificial one. Living Christmas trees, aka live Christmas trees, actually seem to be the most eco-friendly option.
Article continues below advertisement
What is a live Christmas tree?
A live tree, also called a living tree, is exactly what it sounds like — a tree that still has its roots, and is typically sold to you planted in soil in a pot.
Rather than cutting down a tree and letting it rot in your home, or putting up an aluminum and plastic monstrosity, you bring a living Christmas tree into your home and care for it throughout the Christmas season. When the season ends, you can then transplant the tree into soil on your property or elsewhere.
Article continues below advertisement
Living Christmas trees are the most sustainable choice.
Live trees offer many benefits that cut and artificial trees simply cannot. According to This Old House, live trees are sturdier and more fragrant than cut ones. It also goes without saying that live trees stay fresh far longer than those that have been cut away from their roots.
And, once transplanted, live Christmas trees can be repurposed as a home for local critters or simply as a daily reminder of the holiday cheer that it once brought your family.
According to Salon, living trees have the lowest environmental impact of the bunch, because they are living carbon sinks, which slow the rate of carbon dioxide in the atmosphere. Considering our current climate troubles, this is a real bonus. As long as you keep that tree alive and well, it will continue to suck up excess carbon and provide oxygen for years to come.
Article continues below advertisement
According to Earth Friendly Tips, the most eco-friendly live trees are those which are attached to a root ball. The best of these have well-developed root balls and healthy boughs. Their needles should also appear relatively full and firm, and should not be easy to pluck away from the branches.
Article continues below advertisement
Where can I purchase live Christmas trees?
According to The Spruce, garden stores, nurseries, and home improvement stores such as Lowe's, Home Depot, and Ace Hardware are the most common places to purchase living trees with the root ball attached. These retailers also usually sell real, cut Christmas trees at the start of the holiday season. In either case, such places tend to have a good selection of trees in various sizes and at many different price points.
If you have any nearby nurseries, farms, or tree farms in your area, be sure to see what their selection of living trees looks like as well. If you don't see any living trees for sale, just ask.
Article continues below advertisement
Shopping locally will not only help the local agricultural businesses stay afloat, but it will also cut down on the amount of transport time needed to get the trees to you. The easier it is for the trees to get to you, the fewer carbon emissions you're going to get from long-haul trucks, vans, or tractor-trailers.
Article continues below advertisement
Additionally, some companies are providing live Christmas trees for folks who live in and around certain urban centers during the holiday season. San Francisco-based Friends of the Urban Forest is an urban forestry group that offers live potted trees in exchange for a donation. The organization even collects these trees after the holiday so they can be replanted around the city. The program took a gap year in 2020 due to the pandemic, and hopefully it will return for Christmas 2021.
Bear in mind though, most of these trees tend to be "Charlie Brown trees'' of smaller, more gangly stature, as opposed to the 7-foot behemoths you generally see in hardware store parking lots. Little trees need love too, after all.